Amazing Birthday Wishes for your Son
Birthdays are special days that allow us to focus our love and attention on the special boy, the source of happiness in many parents' lives. Many families celebrate with special cakes, parties, and gifts, but the most remembered are the sweet words shared with loved ones on their annual day of celebration. When it comes to celebrating a treasured son's birth, there are many ways to say happy birthday to such a precious part of your life.
These love-filled birthday wishes can be shared in a printed card, spoken over the telephone, written in an email, or jotted down on a scrap of paper. The sentiment is always the same, regardless of how the message is delivered. Friends and family members may struggle at times with finding the perfect words to wish their loved ones well on their special day. We have compiled a list of lovely messages that will be perfect when writing out your next card. Let's take a look at 50 ways to wish him a very happy day!
The Best Birthday Wishes for Son
Only a few parents are privileged to be blessed with a gifted son like you. Happy birthday to the best son in the whole wide world!
I cannot find the exact words to tell you that we are so proud of what you have become through the years! Happy greetings to you on your birthday, my darling son!
The day you were born was a day to celebrate! We love you so much!
Happy birthday to a Son who generates so much great energy in our home. Because of you, every day of our lives is packed with adventure, new discoveries, fun, fun, and fun!
No cheesy lines, No stupid vines. On your birthday, a heartfelt Thank you for being just mine. Happy Birthday, Son.
I cannot believe a year has gone by this quickly, my sweet son. You continue to grow, learn and amaze. I look forward to another year of happiness with you in our lives. Happy Birthday.
You changed the world as soon as you entered in. Time flies so fast you have become a lot stronger and bigger, but you will always be my baby.
You are a gift from our Heavenly Father, and I believe that after God made you, my son, he must have stood back and said, "Wow, I ROCK!" Happy birthday to a marvelous creation.
May you reach the sky and put the sun to shame. May you touch the stars, achieve all the fame. But always remember your mother and father, who helped you reach wherever you are. Happy Birthday.
It has been a privilege to watch you grow into such a wonderful young man.
We're so excited to celebrate your special day! We love you, little one!
You are a treasure from above. Have a wonderful year, and many more!
We wish you the happiest of days and a bright, healthy future.
You are my sunshine. I love you so much. Happy greetings to you!
Today is one of my favorite holidays of the year! I love you, my dear!
You are the smartest, sweetest, kindest, most handsome guy ever!
All the best to our amazing boy. We wish you the best today and always.
How lucky we are to celebrate another year with you! We love you!
Our son is a part of us; we never could. Our son loves us so much; he never should. On his birthday, I pray for his health and boon! May he bring us a daughter-in-law very soon : )
I am so thankful for another year to spend with you. You will always be our little angel. Happy birthday my darling boy!
My baby boy is a whole year older! We're so excited to watch you grow!
You are the only reason we smile in everyday life; you are the love of our lives.
Messages of love on your birthday: we hope you have a happy, healthy, joyous year.
People generally say, "Thank God for giving me such wonderful parents." I want to break this rule on your birthday and say, "Thank God for giving me such a wonderful son."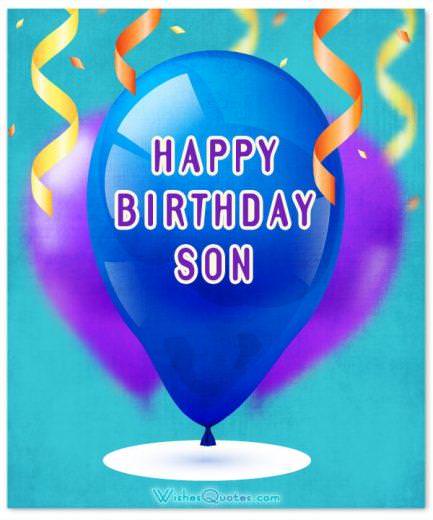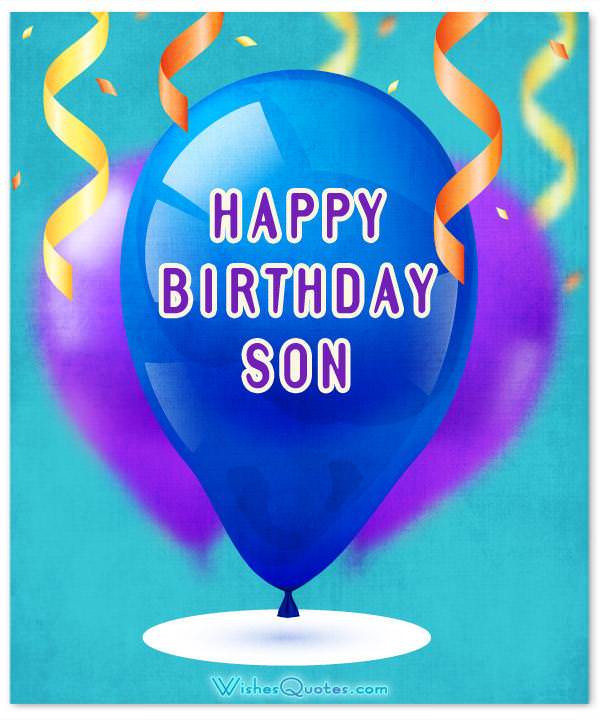 Short Birthday Wishes for Son
The whole family celebrates your birth with you today!
Wishing you love, luck, health, and happiness on your birthday.
You make the world a better place. You are such a wonderful person.
Today is your day! We hope you have a wonderfully happy time!
You will always hold a special place in my heart.
Enjoy your cake! Enjoy your day! Best wishes for the new year!
You will always have a piece of our heart. We love you!
You have grown up to be an amazing young man. Enjoy your day!
This is a happy day! How lucky we are to call you our own!
Celebrate your day knowing how loved you are today and always.
Today is a time for celebration. Have fun on your special day!
You are a fabulous son, and we treasure every moment with you.
I am so very grateful that you are my child!
We hope that all of your beautiful dreams come true!
You are a treasured member of this family. We all love you!
Today you're the star! Happy birthday to you, my number one love!
This wonderful day of your birth calls for a celebration!
Let's celebrate YOU today! Here's to another great year!
My sweet child, you are my pride and joy. I hope you have a wonderful day!
The day you were born was the best day of my life.
My sweet son, blessings to you on your special day and every day.
Today is the perfect day to celebrate you, my amazing little guy!
Happy birthday! You'll always be my sweet little baby boy.
It's your day! Time to celebrate and enjoy your day!
Today is your special day, my little guy. Have a wonderful birthday!
Birthday Wishes for Son from Mom
I am glad to have a son who shines even brighter than the sun. Here is a little Happy Birthday from his mother.
My cute little bug… You are my sweetest drug… On your birthday, say love you, mommy… And give me a little hug.
Your dad and I couldn't be prouder of you! We love you so much, our dear one.
My end is near… but please don't fear… here's from your mom a little; happy Birthday Dear.
I can still feel the first kick that made me realize someone precious is growing inside of me. Wondering how time flies as you're a big boy today. Happy birthday my Champ!
Birthday Wishes for Son from Dad
I thank God every day for the wonderful blessing he has bestowed upon your mother and me. Happy birthday, son; I hope it is your best day ever.
A special message from mom and dad: We are so thankful that God gave us a boy like you. We love you!
When your mother was pregnant, we asked God to give us a son who grows up to become hard-working, honest, and successful. You are living proof that God does answer prayers. You have made us the proudest parents in the world!
Hey Champ, on this day, I want you to know that you're the most precious thing in my life. I wish you a very happy birthday.
Funny Birthday Wishes For Son
"Frogs and snails and puppy dog tails." You are all that but so much more, my sweet son. You are responsible for all the energy, kindness, and joy in our home. Happy Birthday!
Abracadabra! Alakazam! I can't believe how lucky I am. I have the most magical son in every way, so I want to wish you a Happy Birthday. Poof!
Captain America loves you, but we love you more! Happy birthday, baby! You are the strongest avenger and our favorite superhero. Have an awesome day ahead!
I love Axl Rose for writing the song "Sweet Child of Mine." I love you even more for being that "Sweet Child." Happy Birthday.
Birthday Cards for your Son
More Birthday Wishes