Category:
Job Congratulations
The office can become like a small neighborhood with good friends and neighbors seeing each other daily. When a business coworker is promoted, finds a new job or starts a business you want to let him or her know you are cheering them on. There are other times, too, when you want to congratulate a colleague, employee or relative on a job well done. You might even want to send your boss a message on his birthday or salute him on Bosses' Day. Congratulations are always in good taste and well appreciated whether the wishes are delivered through a letter, card, email or SMS messaging. In some instances you may want to convey an attitude of respect and protocol, but how do you send formal congratulations? There is no need to worry. You will find just the right words in the right spirit on our website. Take a look at the phrases, expressions and messages available for you to inscribe on your card or to click off in an email immediately after the event. Great news, worthy of celebration, deserves recognition. Be the one whose congratulations or special wishes are remembered. Convey just the right thought on a retirement or the beginning of a new career. Choose the greetings you like best and post them to a "Facebook" wall, tweet them or put them on "Linked In" to let everyone in on the occasion. Don't waste precious time and "spin your wheels" trying to create the right phrase; let us do that for you. Your cards and notes will be memorable and effective when your words are perfect. We also offer many other categories, in addition to business greetings, to help you compose your next greetings "masterpiece."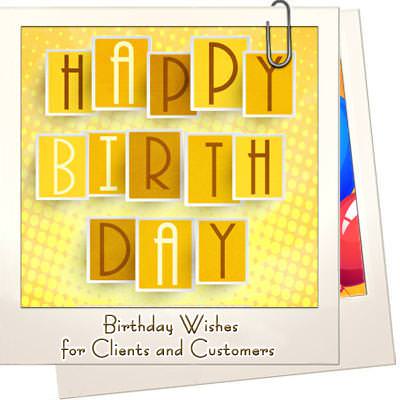 When it comes to nurturing your business relations with clients and customers, simple strategies often have the most impact. Show...
Birthdays are a great time to celebrate people's accomplishments. Age brings wisdom, achievement and satisfaction. Your boss's birthday is a...
When a coworker retires, part of your community leaves. You miss the laughter and shared frustration that you enjoyed. There...
So, here you are, having written the best formal letter you could have possibly written, no matter what the reason....