Amazing Birthday Wishes for Teenagers
A teenager is a young person between 13 and 19 years old. The reason they are called teenagers or teens because their age number ends with "teen". As you grow up, birthdays tend to get less important. But, when you are younger, especially in your teenage years, that day is probably the most special one of the year. When the time comes around, you spend the last weeks, maybe even up to a month prior to your birthday just planning all the activities you want to do to celebrate spending one more year on this Earth.  This is why; you probably get by now why this day is so important for that teenager you know that is ready to celebrate his/her birthday! Now generally, when you care for someone, and that person is going through a very important moment in their lives, it's your job to make them feel even better than they already are! On the topic of birthdays, this is generally accomplished with some great wishes that come straight through your heart, maybe even a nice hand-written personalized birthday card, which you can use to write those wishes on!  But, if you are like most people, getting through "Happy Birthday!" is difficult. It's hard enough that you had to look up on the internet for inspiration! But, worry not, my dear, because we have provided you with the best birthday wishes for teenagers on the internet!
Awesome Birthday Wishes for Teenage Girl or Boy
As you continue going down the path of life, I want you to know, that these years will be the ones you will remember for the rest of your life, so spend them wisely, and don't forget to have fun! Happy Birthday!
As you grow up, you will start remembering all the amazing things you did as a teenager, and probably laugh about most of them. But, in order to do that, you must first start doing all the amazing things that you need to do as a teenager! So my wish for you, is to have as much fun as possible! Happy Birthday!
Being a teenager is probably one of the best times in a person's life. All the fun you get to have is priceless! I truly hope that all your wishes in life come true, because this is the only thing that an amazing teen like you deserves! Happy Birthday!
As you now walk around the world proudly, as the lovely and bright teenager you are, I'd like to wish that the only thing brighter than you, is your future! Happy Birthday!
I feel like you need to know, that today, the entire world belongs to you. This is your day, and my only wish for you is that you make it into a day that you shall never forget. Happy Birthday!
You've only lived so little, yet accomplished so much. You truly make everyone around you proud, and I hope that you will continue doing so for the rest of your life! Happy Birthday!
Throughout all these years, you've been one of the most hard-working, funny and intelligent teenagers I've ever met. You truly are an inspiration to everyone around you. Happy Birthday!
This is the period in your life, where you learn how the world around you functions. So, the only thing I have to wish to you, as a teenager, is to never stop learning, never stop being curious, never stop having fun! Happy Birthday
This is the first day of a brand new year for you! You will now face new challenges, new experiences, but most importantly, new opportunities to have fun! Happy Birthday!
Inspirational Teenage Birthday Quotes
If this day was an object, it would be a door, leading you to new adventures, that you now face one year older, one year wiser, one year more experienced. Happy Birthday!
If you think you've seen it all in this life, then I'm here to tell you that you are wrong! If our lives were a video game, then this is still the tutorial! The best are yet to come! But, don't worry to grow up, enjoy your life as a teenager, because these are the years you will miss once you grow up. Happy Birthday!
You see, the most important thing in your life, is having goals, and following them through. This is the stage in your life where you set your goals for the very first time, and do a rough guess on what you want to do with your life. So, don't rush to go through your teenage years and grow up,because they are some of the most important years in your life! Happy Birthday!
You are no longer a small child, yet you're not an adult either. You are what we call, a wonderful medium! You're the best of both worlds! You are the pinnacle of human evolution! Happy Birthday!
If there is one thing I want to wish for this very special day of yours, is that may God bless you, and may all of your dreams come true! Happy Birthday!
Having you around truly makes the atmosphere pleasant! You are so young, yet so mature. I sincerely feel glad to have had you in my life. Happy Birthday!
Getting to know you, has literally restored all my faith in humanity. You are one of your kind, so continue being amazing! Happy Birthday!
My dear child, I sincerely hope that as you grow up, and get to experience all the different things this life has to offer, that you end up becoming the person you've always wanted to, and that all of your dreams come true! Happy Birthday!
Happy birthday kiddo! Well, I can't exactly call you a kiddo anymore now can I? Look at how much you've grown, getting one step closer to adulthood. All I have to wish for you is that you remain this amazing for the rest of your life! Happy Birthday!
This is the time of your life where you transition from a child to a full grown adult! What values you choose to take along with you on your journey to this Earth is up to you, but what matters is whatever you do, it comes from your heart! Happy Birthday!
Happy Birthday Teenager Images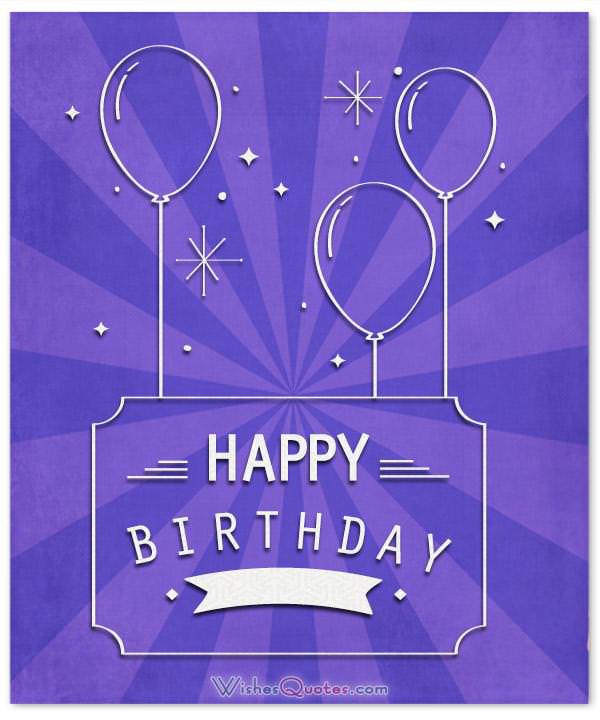 Inspirational Birthday Wishes for a Teenager
I know that as a teenager you've been living with restrictions your entire life, but this being your very special day, I am going to allow you just for this day, to do whatever you've wanted to do throughout the year. It's the only thing that such an amazing person like you deserves. Happy Birthday!
This gift of youth you've been given, is one of extreme importance. My only wish for you is that you use it wisely, and always follow your dreams! Happy Birthday!
Remembering how amazing my teenage years were, then it is not wrong to assume that your life is going great at the moment! You're one step away from adulthood, but don't hurry up to grow older, just enjoy life as it comes. Happy Birthday!
I am so excited to be able to witness this special day of such an amazing person. It truly astonishes me to see that there are still such wonderful teenagers out there. Keep on being amazing! Happy Birthday!
I want you to know, that no matter how amazing this day is, there will be one day in your life that will be even more amazing than this, and it is the day where all of your dreams come true! Now my only wish for you, is that you live through all the hardships, and get to experience this day, because you deserve it. Happy Birthday!
Getting to be a part of your life, and witnessing your growth first-hand, has been like a marvel of nature for me. I've literally witnessed something extraordinary grow right in front of me, and for that I am grateful. Happy Birthday!
So many thoughts go through my mind at this exact moment, but the one I feel the need to express the most, is how happy I am to be able to experience this special day of yours. You truly are amazing, Happy Birthday!
If there is one thing I truly want to wish to you, is that as you get older, you keep becoming even more amazing than you are today! Happy Birthday!
The most important thing for a teenager, is to have a vision for life. Always remember, all you need to be great, is a dollar and a dream. Happy Birthday!
There are plenty of things you will miss about your teenage years once you grow older, but the most important one, is this feeling of absolute freedom you now have, enjoy that feeling, now that you can! Happy Birthday!
If there is one thing I must make sure you understand now that you are steadily growing towards adulthood, is that you are amazing, and you've always been. So, never settle for mediocre, always shoot to become the best at whatever you do, and success will come! Happy Birthday!
Celebrate with a Bang: Find the Perfect Birthday Wishes Here!