Happy Summer Messages and Hello Summer Quotes
If you are excited about this summer, then chances are you will be ready to hit the beach and pool with some friends. However, the summer is also a time for many people to travel the world. Chances are you might not see some of your crew until school begins again! If that is the case, then you should send out cute and thoughtful happy summer messages to everyone you love marking the beginning of summer. Check out our wonderful collection of summer quotes and cards. People love getting notes, and a summer time greeting is the perfect way to start the season.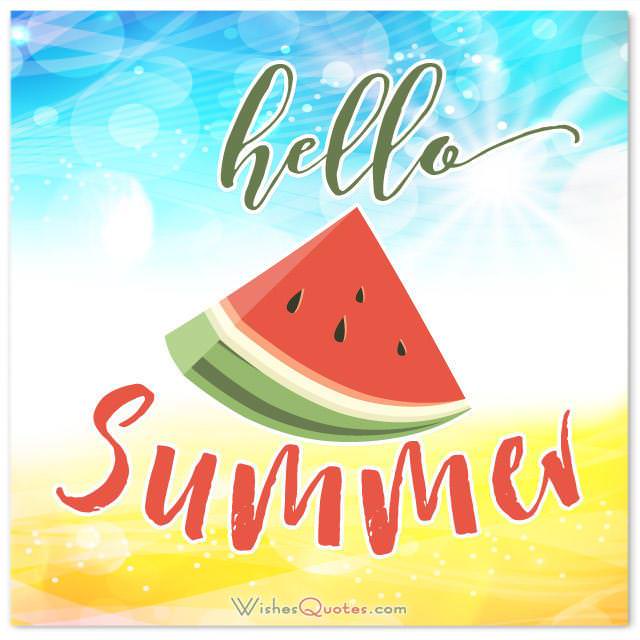 Famous Summer Quotes
A life without love is like a year without summer. By Unknown.
And so with the sunshine and the great bursts of leaves growing on the trees, just as things grow in fast movies, I had that familiar conviction that life was beginning over again with the summer. By F. Scott Fitzgerald.
Some beach somewhere, there's a big umbrella casting shade over an empty chair. Palm trees are growing, warm breezes blowing. I picture myself there, some beach somewhere. By Unknown.
Summer: Hair gets lighter. Skin gets darker. Water gets warmer. Drinks get colder. Music gets louder. Nights get longer. Life gets better. By Unknow.
I almost wish we were butterflies and liv'd but three summer days – three such days with you I could fill with more delight than fifty common years could ever contain. By John Keats.
The summer night is like a perfection of thought. By Wallace Stevens.
Summer afternoon—summer afternoon; to me those have always been the two most beautiful words in the English language. By Henry James.
it's a smile, it's a kiss, it's a sip of wine … it's summertime! By Kenny Chesney
What good is the warmth of summer, without the cold of winter to give it sweetness. By John Steinbeck.
Because it's summer and the memories are just waiting to happen. By Unknown.
Hello Summer Images and Happy Summer Cards
Happy Summer Messages
Summer: suntan lotion, palm trees, and an ocean breeze. These are easily some of my favorite things. I am very happy that you decided to come with us to the beach this summer! I hope you have an amazing time exploring our favorite destination.
The warm weather has arrived! I cannot wait to spend every second swimming and drinking margaritas on the beach with you. We are about to become the tan queens of the season. Cheers to the best summer ever!
I love the summer, and you are the best person to spend it with. Thanks for being my hot weather partner.
I hope you and your family have a fabulous time abroad. Remember to take plenty of pictures so that we can live vicariously through you! Are you sure you cannot squeeze me in your luggage? Have a happy summer vacation!
The kids are out of school, and you are ready to hit the road. I know I will not get to see much of you over the next couple of months, but keep in touch! I will have to stalk you on social media to see your beautiful face every day. Enjoy your fabulous summer trip!
One of the best things about summer is knowing my best friend will be free to lay by the pool with me all day long. I am so glad you are back from school because we are going to have the best summer ever!
I just wanted to send you a little message before you begin your summer internship. You will have an amazing time, and I know this is a dream come true. Learn lots, and take plenty of pictures! I hope this is the best summer of your life!
Dear (child's name), I remember the first time I went to sleep-away camp. I had the most amazing time riding horses, swimming in the lake, and sleeping under the stars. I know you will have a blast too, and we will all be waiting for you when you get home at the end of the summer!
There is nothing in this world better than traveling. I am so excited that you are going to see the world this summer. I know it will change your life like it did mine. We will have to meet for coffee the minute you get back because I will be dying to hear your stories. Bon voyage!
The summer is here! We have no work to do, and we can sit around like vegetables watching television all day if we want. Will you be my fellow couch potato this summer? Please say yes to a month of absolute relaxation with me!
Your vacation was rightfully earned. I hope you have a fabulous time taking the time to get your groove back this summer.
The kids are going off to camp tomorrow, and the real party begins the day after. You should come over and toast to a summer of no soccer games or cheer practice! Let's drink to the best summer ever!
Why should we wait to the beach to get tan? We can break out the baby pool in the backyard. Will you join me for the opening of our summer "resort"?
It is 5 o'clock somewhere, and a big frothy drink is calling our name. Are you ready for an endless summer of partying all night?
I cannot wait for the beach. It will be the best time thanks to the company: you!