1000+ Unique Birthday Wishes To Inspire You
Birthdays serve as reminders of all the good times and the blessings and opportunities received in the years gone by. Sending heartfelt and sincere birthday wishes to celebrants will cheer them up while reaffirming your relationship as a friend, lover or loved one. Many people post messages without the right intentions or emotions. Some people forget to post any wishes. In this era of hectic lifestyles and long distance relationships, birthday wishes have become all the more critical. You may not meet a family member, your parents, friends or distant relatives for years. Sending a card with heartfelt birthday message is the least that one can do. It doesn't take much effort to send a card. With e-cards being available, reminder systems on various modern tools and the prompt delivery of birthday greetings in good time, you can quickly bring a smile to someone. More important than anything else are the wishes or sayings that you send. Are you looking for inspiration or a unique idea for something to write on a good friend or family member's card? On our website, we guarantee you will find the perfect wish for that special someone. Whether the birthday is for a serious person, religious person, or for that crazy Uncle Jack, the perfect greeting is here for your convenience.
Professional Happy Birthday Messages to Inspire You
One of the most critical aspects of our everyday lives is our career. It is something we deal with daily, for a massive part of the day. So it is only natural that you may have bonded with some of your co-workers, or you want to be smart and try to show your boss, or even a client, that you respect them, trying to get on their right side. You don't have to feel sorry about it, these people still are a part of your life, and to be on good terms with them, makes everything easier.
I want you to know that it has been an enormous pleasure to have been working with you all this time. You truly make my working experience a lot less tedious. Happy birthday!
Dear Sir/Madam, I want you to know that I am forever grateful for this opportunity you have given me to work with you for the past few years. You are one of the most exceptional people someone could have wished to work with. Happy Birthday!
Birthday Wishes for Colleagues
Birthday Wishes for Clients and Customers
Birthday Wishes for Boss
I would like you to know, that the day you decided to join us, you have made this company a better place. Your enormous creativity and intelligence have tremendously helped this company out. Keep up the good work, and happy birthday!
The day we started this cooperation, has been a turning point in my life. Working with you indeed is a fantastic experience. Let's keep up the good work! Happy birthday!
Some people put a smile on your face every time you wake up in the morning and realize you have to go to work. You, my faithful friend, definitely are one of them. Happy Birthday!
Short Birthday Messages
I wish you all the happiness in the world! Happy Birthday
I hope that today, at your party, you dance and others sing as you celebrate with joy your best birthday.
Just wanted to say Happy Birthday, and I hope you have the best day ever. Party like it's your 21st birthday.
Support wildlife: have a wild party!
I just wanted to say Happy Birthday, and that I hope you have the best party ever.
I hope that your birthday is great because it is an excellent reason to celebrate.
Wish you all the best from the bottom of my heart.
Best wishes for a joyous day filled with love and laughter.
Here's to another year of success, health, and happiness. Happy Bday!
A birthday is a most special day in one's life. Enjoy yours to its fullest.
Take care always and keep on rocking. Happy Bday!
May a happy, bright star always light your path.
Just live it out to the fullest and have fun!
Age hasn't spoiled you a bit! I wish you a wonderful birthday.
I hope all your birthday wishes and dreams come true.
Inspirational Messages to Help You Send Belated Birthday Wishes
What a better reason to be looking for a special wish, than guilt. Now don't get me wrong, even the fact that you are feeling sorry for sending the wish in time, and actually want to send one even if it is not in time, shows that you care about the person. However, who knows what they might be thinking. Moreover, that is why this is a tricky situation because usually, birthday wishes have a happy and playful tone, which you cannot precisely use if you want to portray that you are feeling sorry for sending a belated wish.
I know that it no longer is your birthday and that I'm late, but that doesn't mean that I do not care about you. I'd like to hope that you had the happiest birthdays of them all!
I am sorry that I was not able to send you this message on time, but I've been super busy these past few days. I want you to know that I sincerely wish your birthday was fabulous, even though I was not able to attend. Although the second part of my wish still applies. May all of your dreams come true!
Belated Happy Birthday Wishes
Learning to forget is an essential quality to have, but not when it comes to someone's birthday. I'm genuinely sorry that I forgot your birthday, and I hope you can forgive me, and remember all of this ever happened. Nevertheless, I'd still like to hope that your birthday was amazing and to wish you happy birthday now if it still counts.
I want to send my sincerest apologies for missing your birthday, but it was next to impossible for me to attend that day. Even if the day has passed, the happiness and memories you gained from that day, should always remain beside you. Happy birthday! Even if it's already gone!
It is human nature to make mistakes, and that what forgetting your birthday was a mistake. I genuinely hope that you were able to have a fantastic birthday, and my very message, even if late, at least reminds you of beautiful memories. I know it's late, but happy birthday!
Even the most expensive card can prove to be insignificant; whereas the most sincere wishes with the right intent and feelings can work wonders. Check out this fantastic collection of specially-designed birthday cards.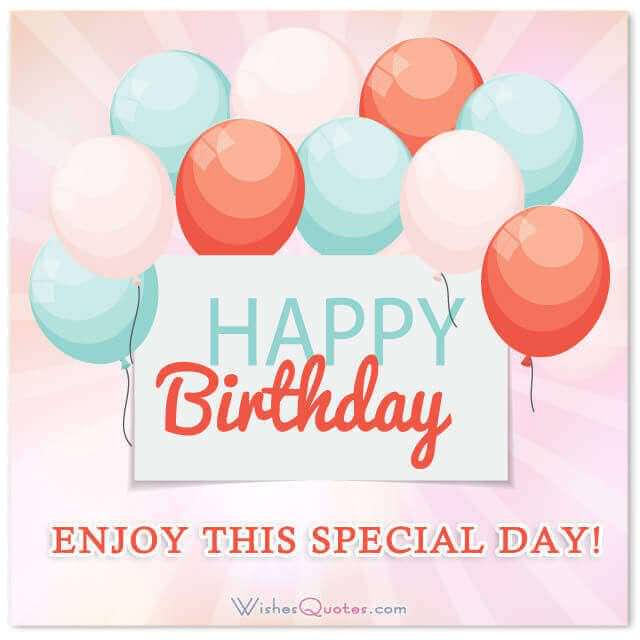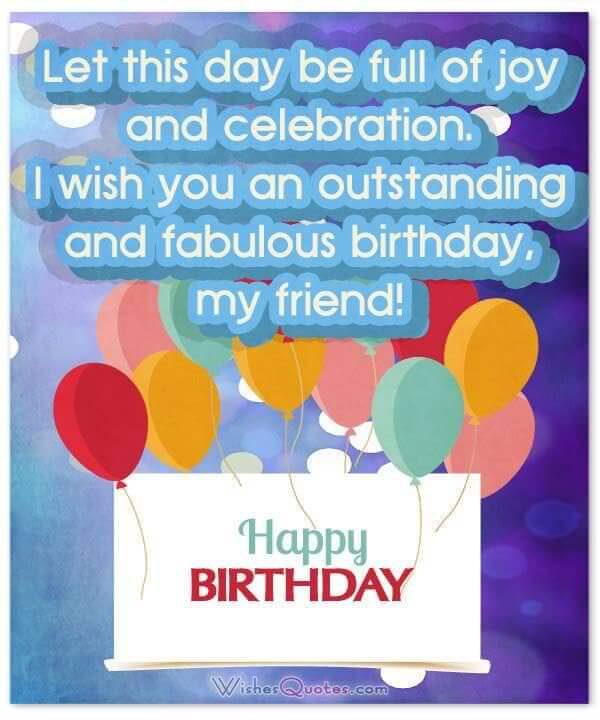 The Ultimate List of Unique and Amazing Happy Birthday Wishes
There's no one else who makes me feel so accepted. Thanks for being my kindred spirit!
The advantage of being ____ years old is that you now know better than to overeat of the cake. Cheers.
Age is a state of being. If you behave like a 16-year old, people will probably treat you like one. (Thank goodness, you are only 10).
Watching you grow and develop has been an exciting journey. Let's keep it going.
May you find the inspiration to move onward and upward as you celebrate another birthday.
Forever young and good-looking. That's all I wish for you on your birthday!
Forget how long you've lived. Look at how much you've accomplished and how much life lies before you.
Good things happen when you go for it.
Happiness is not a reward; it is your gift.
I hope and pray this is the best birthday yet:) May you have many,many,  many more successful years to come. Add a massive dose of happiness to., it rocks…lol!
I hope that this year will be full of all that makes you happy.
Hope the sun shines on you, the wind is at your back, your food tastes good, you see smiles and hear laughter every day and not just on your birthday.
Hope you are having the best birthday yet. I hope that you get everything you wish for and that you choose the perfect wish. Don't forget you only get one chance a year!
Hope you dance the night away or at least watch people dancing late into the night, or stay awake or whatever.
Hope you have a lovely birthday filled with fun, excitement, and joy.
Hope this special day to make some stories that you can't tell. I am looking forward to hearing about them :).
Hope this day includes singing and cake and people and happiness.
I decided not to celebrate your birthday again until I see you. You have not gotten any older in my mind despite the number of birthdays that you have had, and that seems odd. You, of course, may make your own decision.
I hope this next year of life brings lovely people and memories for you! Wishing you many many more healthy and happy years to come!
I hope you get whatever you wish for when you blow out the candles! I can only want for you what I wish every year- may you enjoy the good things in life.
If it takes more than one match to light your candles, it takes more than one breath to blow them out.
If you can stay young while all those around you are getting older, you have become a pretty good liar.
I'm so glad you were born. If not how could I wish you HAPPY BIRTHDAY?
In the brightest day and the darkest night may you never change no matter what.
It doesn't matter where you are or what you are doing, what matters is who you are. I like who you are. Happy Birthday.
It has been fun so far, but the best is still to come.
It takes a long time to become as young as you are.
It was a great day when you were born, but it is a great day to be alive. So live.
It's not my fault for forgetting your Birthday; it's just my memory that weakens year after year. I think you know what I'm talking about.
It's ok you can light up all your candles now? We all have a glass of water in our hands.
Just wanted to say that I do wish you a very Happy Birthday from the bottom of my heart.
Just wanted to wish you a happy birthday. Hope your day is filled with lots of love, joy, and happiness. Remember to have tons of fun. Love you forever.
Just when the caterpillar thinks that it is all grown up, it becomes a butterfly. Happy Birthday, Butterfly.
Keep being awesome, and always take care. Happy Birthday!
Remember that time when we had a beer for the first time for your birthday? Well, it was very many years ago, but you haven't aged a day! Just be the way you are because you are gorgeous, my friend. Happy Birthday!
Keep working hard, but not TOO hard or you'll make yourself sick!
Let happiness reach your eyes, enthusiasm reach your smile, and resilience reach the temples of your face every time you look at someone. May you pass on your love and joy to everyone around you. Wishing you the best birthday ever.
Let this new year of your life be unique, full of precious moments, bright emotions, full of happiness and joy! Let Love follow your footsteps everywhere you go!
Let yourself free and enjoy your Birthday, because it's something that comes once in a year.
Let's celebrate the age you act not the age that you are.
Life is great at any age. Enjoy yours. Happy Birthday.
Life is just an act. The ingredients of success needed are a killing cast, a remarkable plot and an unflinching director. I think you have all it needs.
Like the song says: 'Live your life with arms wide open, Today is where your book begins, The rest is still unwritten.'
Live it up and don't worry about being right. You get to do whatever you want; it's your day!
Live today like it is a unique gift because it is the best birthday gift.
Live your life intensely, but not in a dull manner and don't worry about being right. Just be yourself for yourself.
May all of your wishes come true – today and always.
May all your wishes come true but one, so you always have something to strive for.
May the best of your past be the worst of your future.
May the wind blow much happiness into your life on your birthday and also help you blow out all those candles.
May this new year bring you joy, peace, and much more blessings!
May you always have enough happiness at your life to keep you sweet, enough trials and errors to keep you strong, enough success to keep you trying, enough faith to give you courage and enough determination to make each day a good day to remember.
May you be blessed with total freedom, peace, success, and security this year!
May you find good times and friends on whichever path you follow.
May you have a great birthday, but may next year's be twice as good.
May you have the wisdom to act your age and the age to ignore wisdom.
May you never stray from the right path as you continue your fantastic journey.
May your birthday be filled with many happy hours and your life with many happy birthdays.
Set the world on fire with your dreams and use the flame to light a birthday candle.
Some people say 'My how time flies when you are having fun.' I prefer 'My how flies have fun when you have time.' Hope your birthday is fun.
Some say that a birthday is a great time to look back at the past year. Others tell a birthday is a good time to think about what lies ahead. I say 'cut the cake' and let's eat.
Some things are good immediately, and others improve with time. You started tremendously and soared even higher. Happy Birthday.
Stop counting the candles and contemplate your wishes, cause life is too short to be cracked in pieces.
You must take advantage of being young now and knowing everything before you get older and realize that you don't?
Take advantage of how things are so that one day you will take pride in telling how things were.
Thank you for being a beautiful person and an inspiration.
Thanks for being someone that I can talk to and share life with.
The candles on your cake won't start a fire if you don't light them, but that isn't what candles are for. Keep lighting up the world on your birthday.
The gifts you receive today don't compare to what you give to others every day.
The whole world might want to send you a special birthday greeting, but for the time being, you can make do with mine.
There is a word for people like us. Fun, cool, sexy, talented, attractive, you choose, They all apply!
They say you lose your memory as you grow older. I say "forget about the past" and live life to the fullest today. Start with ice cream.
Things I like about you: humor, looks, everything.
Thinking about you on your birthday and wishing you much happiness.
Though I want to be there for your birthday, I hope that it is full of fun and doing stuff that you like.
Time to celebrate. You made the trip around the sun one more time. It's a birthday revolution.
I wish only one thing for you today. May you find all the strength and courage needed to blow all the candles out!
I hope you have a fantastic day and lots of fun! Enjoy this day; you deserve it!
I wish you a wonderful day and may all your wishes come true. I hope you enjoy this day very much. Stay yourself.
Enjoy your wonderful day and celebrate it. Please stay healthy and get all that you want.
I wish you more blessings in the year ahead.. and may you continue to grow each new day.
Have an amazing birthday. It only comes one day a year so do something to make it memorable!
Have fun but go easy on your birthday and tomorrow you will remember how you got that tattoo and where that confetti came from.
Ideas to Help You Become an Expert in Birthday Wishes
People say, that there indeed is no day better to feel happy that you are alive than your birthday. You have successfully managed to go through yet another year, through all the hardships and sadness, and moved on, towards the light. Moreover, correct me if I'm wrong, but most likely, someone you know is experiencing that feeling right now. One year older, one year wiser, and is ready to celebrate that occasion, with, hopefully, everyone else. It is customary that, for someone's birthday, you send him a wish, expressing your happiness for the occasion. Moreover, for some people, that isn't easy, they sit down and write entire essays expressing themselves, wholeheartedly. However, unlike those selected few, most people have a tough time coming up with something creative and inspirational, and stick with the old-fashioned "Happy Birthday!". Don't take me wrong, I've used this is many occasions in the past, but it was for people that I was not very familiar with. Let us be honest though, for you to be looking so hard to find the perfect birthday wish, or even some inspiration to sit down and write your own, that person must be of importance to you, otherwise, why go out of your way to find a wish, am I right? You want this wish to be perfect in every sense of the way, so that the other person feels unique, and knows that you care about him/her. However, it's hard, I know, and that is why we are here for! We have done all the dirty work for you, and we at this moment present to you, the best birthday wishes on the internet! Our fantastic collection of birthday wishes apply to pretty much every person you can think of. However, precisely because these wishes are so generic, you have to be very careful with your selection, or generally, with the words, you decide to use if you choose to use these as inspiration. Just because they are generic, people might understand that they did not exactly come from your heard, but from the internet.