33 Heartfelt Birthday Wishes for Colleagues
Some of our closest relationships in life can be with our colleagues. We often spend more time with our friends from work than almost any other people in our lives. Though encountering difficult people at work can be challenging, having the privilege of working with colleagues that encourage you can lift your spirits and help you to enjoy a better overall quality of life. For those special friends at your workplace, one way to show them how much you appreciate them is by remembering their birthday. Rather than go with a generic card from the store, making your very own personalized greeting can be so much more meaningful. Here are some heart-warming messages to include in birthday greetings for your coworkers to show them just how much you care.
33 Heartfelt Birthday Greetings for Special Coworkers
Working with you is a real treat. I hope your birthday is super sweet…just like you! Have a terrific day!
When we're scheduled together at work the day flies by because you actually make working fun! Have an awesome birthday!
The warmest birthday greetings to my inspiring colleague! It's a great luck to have such an amazing person in our team.
We are glad that you're a part of our team! Working with you is a great honor and joy! Wishing you the best of blessings and good luck on your birthday!
Happy Birthday to the most extraordinary colleague!
Thank you for being a ray of sunshine at work! I hope you have a Happy Birthday and a great year!
A coworker like you turns workdays into an adventure! Thanks for livening up our workplace! Hope you have a Happy Birthday!
You're one of the main reasons why I'm motivated to come to work each day. Best birthday wishes to you!
I just wanted you to know how much I appreciate having you for a coworker. Have a terrific birthday!
A colleague like you is a rare gem. I want you to know how much I appreciate the sparkle and shine you bring to our office. Have a super birthday!
Whether it's dealing with difficult customers, taking on challenging projects, or spreading enthusiasm, you never cease to amaze me. Happy Birthday!
I'm so thankful to work with such a dedicated coworker and friend as you. Have a fun, fabulous Birthday!
Thank you for all the times you've helped me through the work day and encouraged me along life's way. Wishing you the best on your Birthday!
When it comes to getting promoted, I can't think of another coworker more deserving than you. Best wishes on your birthday!
You go the extra mile for your coworkers and clients, so I'm going out of my way to make sure you're feeling appreciated on your birthday!
I'm so proud to see how far you've come since you joined us at our workplace. Here's hoping you soar to new heights this year! Have a terrific birthday!
When I see your name alongside mine on the work schedule I break into my happy dance! Have a memorable Birthday and a terrific year!
Spending the day working with you is one of my favorite parts about being at this workplace. Have a Happy Birthday!
There's something about your personality that just puts a smile on everyone's face. Thank you for being you! Hope you have a great Birthday!
Your wacky sense of humor, positive spirit, and compassion for others make you stand out from the crowd. Have a great birthday, coworker. You deserve it!
How did I ever survive at this job before you came? You transform our workplace from ho-hum to hilarious! Happy Birthday!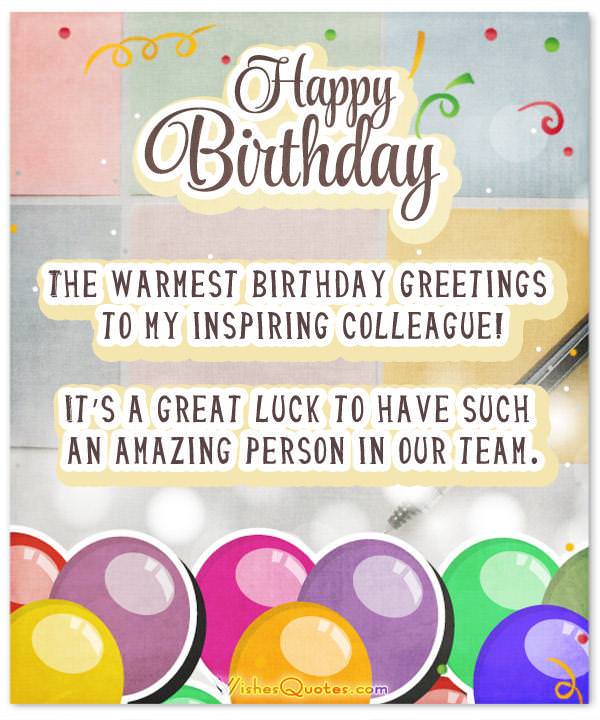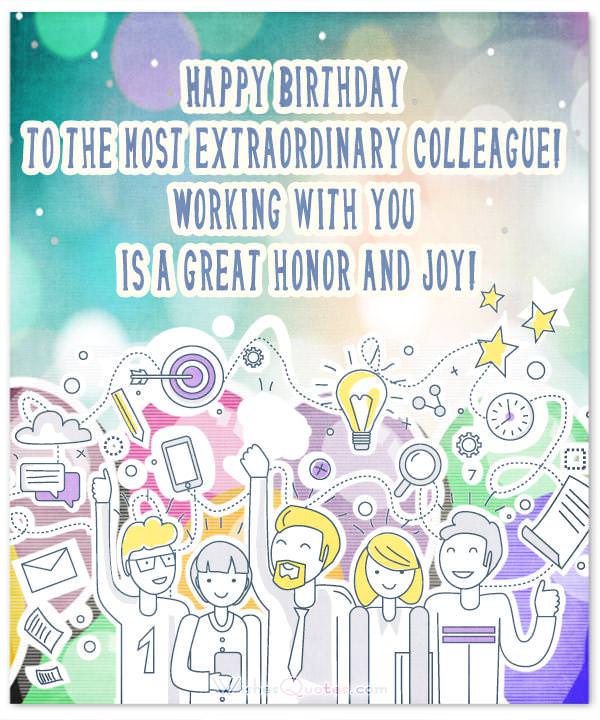 Your encouragement and upbeat spirit make a huge impact on our workplace. Don't ever forget how much you mean to me and your fellow coworkers! Best birthday wishes!
Don't worry about the number of candles on your birthday cake. Instead, think of the smiles you put on the faces of your coworkers! Happy Birthday!
Work doesn't have to be a drag when there's an awesome coworker like you to pull you through those tough days. Hope your birthday is as great as you deserve for it to be!
Sometimes I have to pinch myself when I stop to think that I actually get paid to come to work and hang out with you! Happy Birthday!
You truly have a gift for encouraging those around you. Have a wonderful Birthday and a year of making happy memories!
The office just isn't the same when you're not here, so I'm asking the boss not to give you any days off this year. Just kidding! Have a great Birthday!
I realize that this Birthday may get you thinking about retirement. Don't you dare to retire before me! Happy Birthday!
When it comes to coworkers, you take the cake! I hope your birthday is as sweet as you are, friend!
Since your first day on the job I knew you were going to be an asset to our workplace. Enjoy your birthday!
Roses are red, violets are blue, when work's got me stressed, I can count on you! Happy Birthday!
Working with you puts a spring in my step and a smile on my face. I hope you have a great birthday!
From talks over the water cooler to laughs over lunch, I've enjoyed the friendship we've developed at work! Hope your birthday's enjoyable!