The Best 100th Birthday Wishes of the Century to Make any 100 Year Old Feel Special!
Browse through our fantastic 100th birthday wishes, which are guaranteed to make any 100-year-old adore you! This is a big moment for the lives of that little century-old person you know. As far as milestones are concerned, this one is the biggest! Not too many people get to live literally up to a century, so for them to be able to have held on for so long, it means that they probably are exceptional! So, if you would like to show them how special they are, there isn't a better way than heartfelt birthday wishes alongside a handwritten birthday card! This is why we have provided you with the best birthday wishes for 100-year-olds on the internet!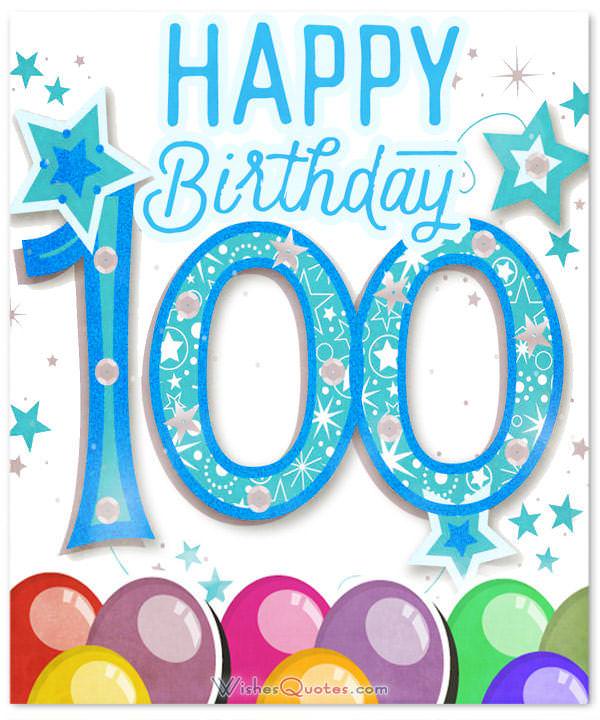 Spread the Love Around with these Amazing 100th Birthday Wishes Because Every Century-Old Needs It!
Congratulations on now officially being the most amazing person of the century! I mean, how more amazing can you get than having lived through the entire thing! Happy Birthday!
You've seen leaders come and go, changes turn the world on its feet, but most importantly, you've been here in all of my times of need, to help me become the person I am today. Happy Birthday!
For the past 100 years, you've been the pillar that supports this family, not only as its founder and elder but as its friend and helper in times of need. All I can say is thank you, and happy birthday!
With a heart made of gold and a century's worth of wisdom and experiences, you are by far, the most extraordinary person I've ever met. Happy Birthday!
For the past century, you've made this family rise to heights that nobody could have ever possibly imagined, only by using your smile and endless pool of wisdom. Happy Birthday!
It isn't irrational to say, that you are still that same old grumpy person we've always loved, but now, you're the century-old grump of our hearts! Happy Birthday!
If I can say one thing for sure, is that today, you become Number 1….just with two 0's after it! Happy Birthday!
With a body like a 30-year-old and a mind worthy of a 1000-year-old, you indeed are the most extraordinary person to have ever lived this century! Happy Birthday!
It's not an ordinary feat for someone to turn 100 years old! So, this only proves me that you are, indeed, an extraordinary person, worth all the praise that is given to you. Happy Birthday!
You've been here through the good and the bad, happiness and sorrow, frankly, you've lived so long that you've been here to witness everything! My only wish for you is to keep on being here, with us, so we can show you how much more we can evolve as a family. Happy Birthday!
A Century's Worth of Love, for a Century's Worth of Lifetime!
For this exceptional day of yours, my only sincere wish is that you attain the body of a 20-year-old so that you can live up to 180! Happy Birthday!
Welcome to the century-old club! This is the big boys(or girls) club, where only the best among the best get to enter! Hope you enjoy your time here. Happy Birthday!
Hey! I thought you still were a teenager, when did you turn 100? Wow, time flies by so fast. Hope you reach 200! Happy Birthday!
If this day was an object, it would be a door, leading you to new adventures, that you now face, one year older, one year wiser, and a century's worth of awesomeness! Happy Birthday!
Down to my core, I feel like this is a very special day for humanity because it's not a common sight to see someone get past the 100 mark and ascend to even greater feats! Happy Birthday!
Life may have its ups and downs, but having lived so much and accomplished so many things, it must only mean that you didn't let the downs drown you and focused on your dreams! So, my wish for you is to keep on living, keep on focusing on your goals, and make this century go double! Happy Birthday!
Even though I am pleased about your birthday, my only concern is how are we going to find 100 candles for your birthday cake! And someone better call the fire department, because that is going to be a LOT of fire! Well, in any case, Happy Birthday!
Like a modern-day superhero, you've gone past all of the difficulties of life, and attained a century's worth of memories and experiences, which probably make the best stories ever for the kids! Happy Birthday!
If this was a game, then you would have been on the final boss! You've gone through every difficulty, every sorrow, and grief, every obstacle, and you have come on top, victorious! Now, just lay back and enjoy life! Happy Birthday!
This day calls for a celebration! Like a good bottle of wine or whiskey, you've gone past "old" and became "vintage"! Happy Birthday!
Free 100th Birthday Cards