200+ Famous Birthday Quotes
Say happy birthday in an incredible way that makes your kids, friends, and family members smile. Pick one birthday quote for this lovely and wise list with the best birthday quotes and send it to your friends' emails, scribble it on the birthday card or show it on Facebook. Birthday quotes can help make a card more meaningful or funnier. You probably want that quote to draw smiles, inspire and stand out like no other; just read the best collection of quotes and take your pick: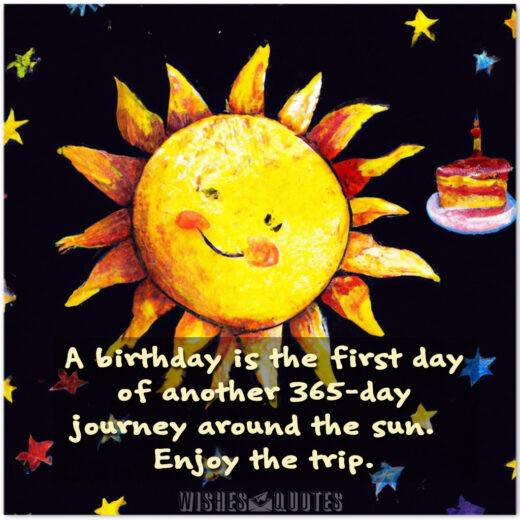 Inspirational Birthday Quotes
Do not count the candles but notice the light they give. Do not count the years; look at the life you live.
The only way you can live your life to the fullest is by understanding that you do not have all the time in the world.
Forget all the pain and regrets of the past, and look forward to a better future.
Life may be full of challenges, but there will always be people around you to support you in your time of need.
People are similar to wine; some will turn to vinegar, but only the best will improve as they age.
The sagacity of old age increases with the number of candles found on your cake.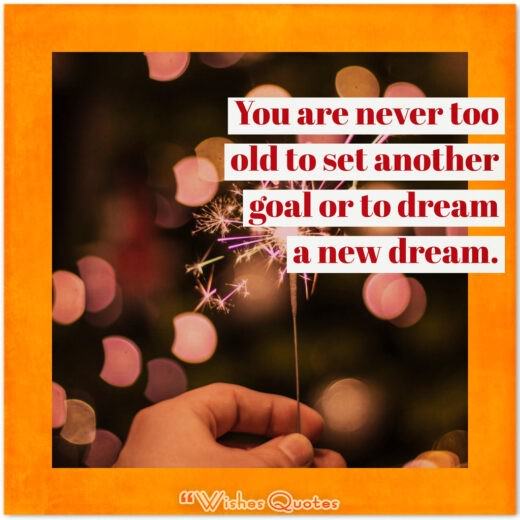 There is nothing better than someone who ages gracefully. So take the time to enjoy your old age with elegance and vitality.
One should never forget to hold on to their inner child as he grows older. Happy Birthday!
As you age, you must remember to cherish your laugh lines and wrinkles. The memories that made those lines are the most crucial part of you today.
One of the best things about growing older is the more respect you get from those eons younger than you. I hope you have a lovely birthday, madame.
Grow old along with me! The best is yet to be, the last of life, for which the first was made. – by Robert Browning
As one grows old, the realization that time is limited sets in. So, instead of being sad, use the little time you have left to do good things for other people.
You are never too old to set another goal or dream a new one. – By Les Brown
Lost possessions can be replaced, but time once lost is gone forever.
Forget the cake, but look at the sweetness it gives you. Do not dwell on the years you have lived but on your existence's importance.
Always see every day as a chance to start fresh and make it count by living it as if it is your last.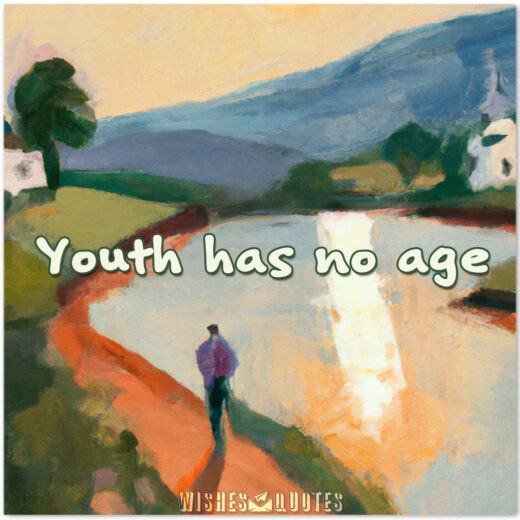 Funny Birthday Quotes
When the candles cost more than the cake, it is time to realize you are getting old.
I cannot wait to help you celebrate for the fifth time your 39th birthday tonight! Nothing is wrong with the remaining 39 forever if you are willing to embrace them!
The fact that you are getting older should not be a burden. I can never remember how old I am, anyway. Relish ignorance or at least pretend stupidity when someone asks your age!
Bdays are nature's way of telling us to eat more cake. – By Edward Morykwas
Once upon a time, a woman decided she wanted to stay 29 forever. Unfortunately, her driver's license did not let her get away with it. Happy 3_th birthday, (name)! You do not look a day over 29!
Inflation is when you pay fifteen dollars for the ten-dollar haircut you used to get for five dollars when you had hair.  – By Sam Ewing
A friend never defends a husband who gets his wife, an electric skillet for her Bday. – By Erma Bombeck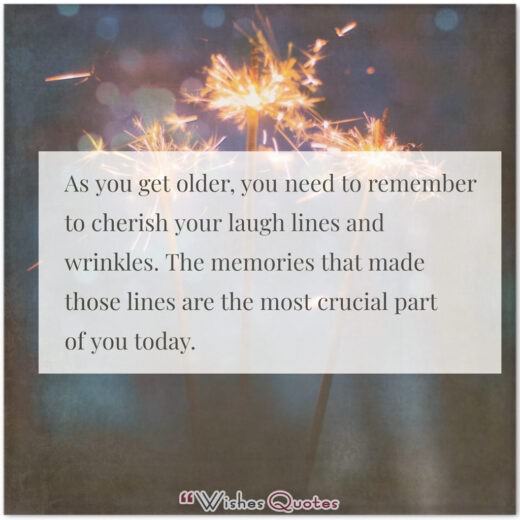 Birthday Quotes for Friends, Family, and Colleagues
If you could go back in time to your favorite birthday, why do it? The chance to have an even better birthday is today with the ones you love most surrounding you.
I love that you have embraced getting older with grace. I know exactly who I want to be like when I get older. Thanks for being such a great role model.
You have such a young spirit, and it is easy to see why. However, you never let negativity overtake you, and I hope to be like that.
Dressing like teenagers and lying about age – are some things people do to stay young – but the only secret that works is keeping your heart young.
Young people are happy because they can see the beauty of life. Keeping this ability to see the beauty makes you always young.
A person can never be too old to dream again, set new goals in life, and start fresh.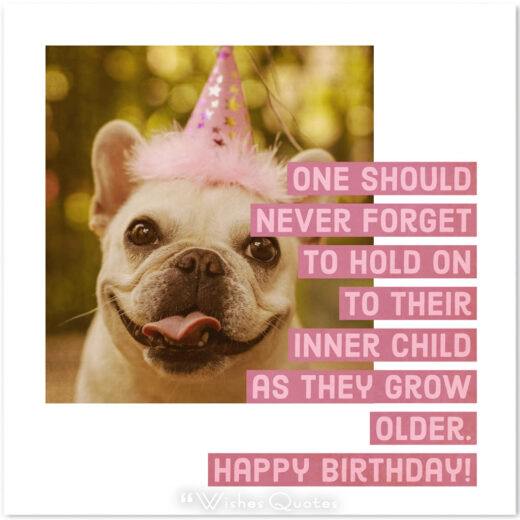 Opportunities can present themselves at any time, so be alert all the time.
There is nothing wrong with aging. The important thing is that you do it gracefully and with kindness and integrity.
It might seem like just like your childhood was hundreds of years ago. However, you should never lose sight of growing up and your innocence at that time.
Always let every extra day you live be another reason to count your blessings and smile.
The time you spend with people is not in vain, as happiness can never be possible unless shared with others.
It is not the years in your life that define you but the life you have lived in your years.
Do not just count the number of years you have lived but make those years count as well.
Famous Birthday Quotes from Notable Personalities
A birthday is the first day of another 365-day journey around the sun.  Enjoy the trip.
You are not getting old. You are getting better.
Youth is the gift of nature, but age is the work of art. – By Garson
A diplomat is a man who always remembers a woman's birthday but never her age.  – By Robert Frost
After all, tomorrow is another day. – By Margaret Mitchell
Age is an issue of mind over matter. If you don't mind, it doesn't matter. – By Mark Twain
And in the end, it's not the years in your life that count. It's the life in your years. – By Abraham Lincoln
I just want to celebrate another day of living. I just want to celebrate another day of life. – By Rare Earth
I remember when the candle shop burned down. Everyone stood around singing 'Happy Bday.' – By Steven Wright
And in the end, the love you take is equal to the love you make. – By The Beatles
At 19, everything is possible, and tomorrow looks friendly. – By Jim Bishop
Every year on your bday, you get a chance to start new. – By Sammy Hagar
All my possessions for one moment of time. – By Queen Elizabeth!
At twenty years of age, the will reign; at thirty, the wit; and at forty, the judgment. – By Benjamin Franklin
Because time itself is like a spiral, something special happens on your bday each year:  The same energy that God invested in you at birth is present once again.  – By Menachem Mendel Schneerson
Birth and death are the two noblest expressions of bravery. – By Kahlil Gibran
Every ten years of a man's life has its own fortunes, hopes, and desires. – By Goethe
All the world's a stage, And all the men and women merely players. They have their exits and entrances, And one man in his time plays many parts. – By William Shakespeare
Everything I know I learned after I was thirty. – By Georges Clemenceau
First, you forget names; then you forget faces; then you forget to zip up your fly, and then you forget to unzip your fly.  – By Branch Rickey
From our bday, until we die, Is but the winking of an eye. – By William Butler Yeats
All the world is a bday cake, so take a piece, but not too much. – By George Harrison
God gave us the gift of life; it is up to us to give ourselves the gift of living well. – By Voltaire
Growing old is mandatory; growing up is optional.  – By Chili Davis
How far that little candle throws his beams! – By William Shakespeare
I intend to live forever — so far, so good! – By Stephen Wright
How old would you be if you didn't know how old you were? – By Satchel Paige
I still have a full deck; I just shuffle slower now.  – Author Unknown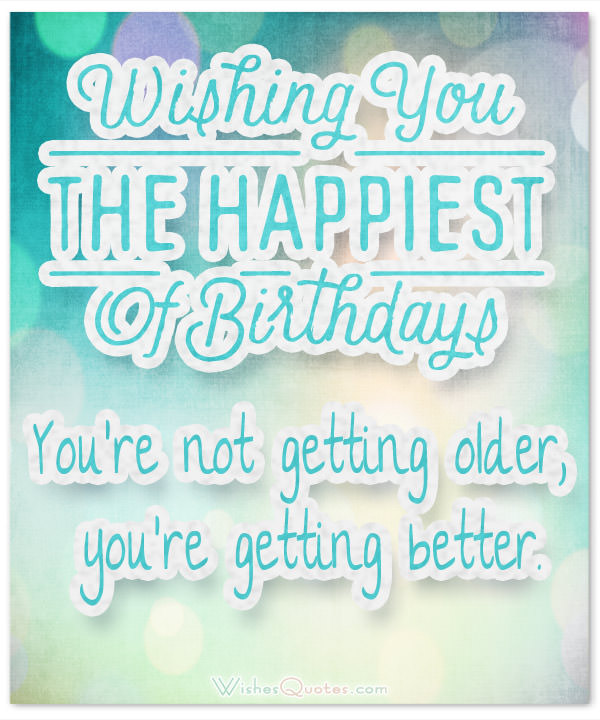 Discover the Ultimate Baby Names Guide - Famous, Unusual, Cool, and Beyond!
Embark on a journey of exploration through famous names, uncommon gems, trendy picks, and diverse ethnic groups.
Baby Names
Famous Quotes about Birthdays to Help Write the Perfect Birthday Card
If I could save time in a bottle, The first thing that I'd like to do Is to save every day – By Jim Croce
Inside every older person is a younger person wondering what happened.  – By Jennifer Yane
It takes a long time to grow young. – By Pablo Picasso
It's something unpredictable, but in the end, it's right. I hope you had the time of your life. – By Green Day
Just remember, once you're over the hill, you begin to pick up speed.  – By Charles Schulz
Keep right to the dream of thy youth. – By Friedrich Von Schiller
Large streams from little fountains flow, Tall oaks from little acorns grow. – By David Everett
Life is a moderately good play with a poorly written third act. – By Truman Capote
May you live to be a hundred years. With one extra year to repent. – By Author Unknown
Life is concise, and there's no time for fussing and fighting, my friend – By The Beatles
Live long and prosper – By Mr. Spock
May you live all the days of your life. – By Jonathan Swift
Middle age is choosing between two temptations and choosing the one that'll get you home earlier.  – By Dan Bennett
May you live to be 100, and may the last voice you hear be mine. – By Frank Sinatra
Middle age is when a man is always thinking that in a week or two, he will feel as good as ever.  – By Don Marquis
Nice to be here? At my age, it's nice to be anywhere. – By George Burns
Old age is like everything else. To make a success of it, you've got to start young. – By Fred Astaire
On your special day, I just want you to know that you are always remembered by me in an extraordinary way. You are still in my prayers, and I wish the best for you this Bday. Happy Bday to you, dear one
Our bdays are feathers in the broad wing of time.  – By Jean-Paul Richter
Please don't retouch my wrinkles. It took me so long to earn them. – By Anna Magnani
Robert Frost said A diplomat is a man who always remembers a woman's bday but never remembers her age. Happy Bday!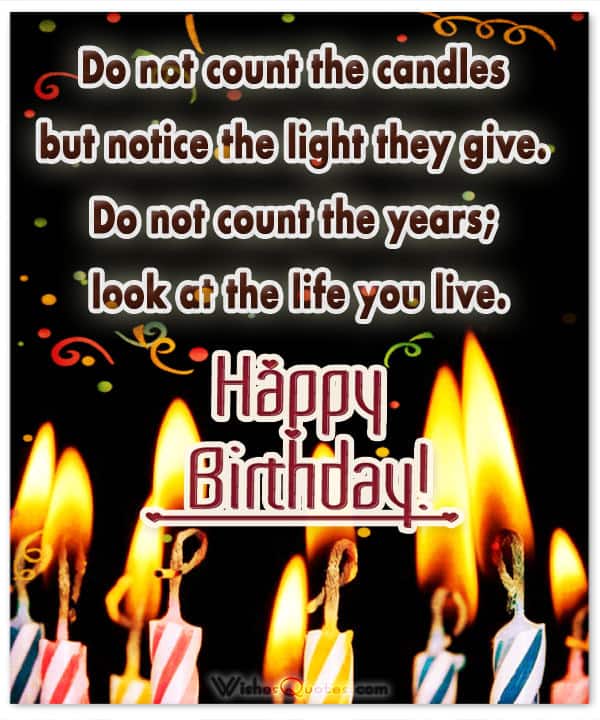 Sixteen candles make a lovely light, but not as bright as your eyes tonight. – By Luther Dixon
Sometimes it may not be possible to remind someone every day about how special they are. On your Bday, I am taking a chance to tell you that you are unique, whether I tell you every day or not. Happy Bday
The day which we fear as our last is but the Bday of eternity. – By Seneca
Time flies like an arrow. Fruit flies like a banana. – By Groucho Marx
The first hundred years are the hardest. – By Wilson Mizner
Youth is happy because it can see beauty. Anyone who keeps the ability to see beauty never grows old. – By Franz Kafka
The first sign of maturity is the discovery that the volume knob also turns to the left.  – By Jerry M. Wright
To me, fair friend, you never can be old, For as you were when first your eye I eyed, Such seems your beauty still. – By William Shakespeare
The greatest gift that you can give to others is the gift of unconditional love and acceptance. – By Brian Tracy
There is still no cure for the common Bday. – By John Glenn
The high cost of living hasn't affected its popularity.
We advance in years somewhat in the manner of an invading army in a barren land; the age that we have reached, as the saying goes, we but hold with an outpost, and still keep open.
The more you praise and celebrate your life, the more there is in life to celebrate. – By Oprah Winfrey
There is no cure for birth and death save to enjoy the interval. – By George Santayana
Those whom God's love grow young. – By Oscar Wilde
Time grabs you by the wrist, directs you where to go. So make the best of this test, and don't ask why, It's not a question, but a lesson learned in time. – By Green Day
May you stay Forever Young – By Bob Dylan
Time may be a great healer, but it's a lousy beautician.  – By Author Unknown
To me, old age is always 15 years older than I am. – By Bernard Baruch
Very early, I knew that the only object in life was to grow. – By Margaret Fuller
We are always the same age inside. – By Gertrude Stein
We have to be able to grow up. Our wrinkles are our medals of the passage of life. They are what we have been through and who we want to be. – By Lauren Hutton
What does every Bday end with? Y! All the world's a stage, And all the men and women merely players. They have their exits and entrances, And one man in his time plays many parts. – By William Shakespeare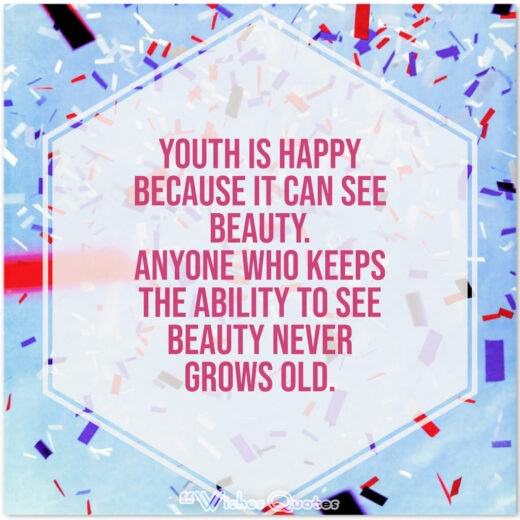 When I was younger, I could remember anything, whether it had happened or not; but my faculties are decaying now, and soon I shall be so I cannot remember any but the things that never happened.  It is sad to go to pieces like this, but we all have to do it.  – By Mark Twain
You are young, and life is long, and there is time to kill today. – By Pink Floyd
Youth would be an ideal state if it came a little later in life.  – By Herbert Asquith
You grow up the day you have your first real laugh yourself. – By Ethel Barrymore
The old believe everything; the middle-aged suspect everything; the young know everything. – By Oscar Wilde
You know you're getting old when you get that one candle on the cake. It's like, 'See if you can blow this out.' – By Jerry Seinfeld
You were born an original. Don't die a copy. – By John Mason
You'd scarce expect one of my age, To speak in public on the stage, And if I chance to fall below, Demosthenes or Cicero, Don't view me with a critic's eye But pass my imperfections by. Large streams from little fountains flow, Tall oaks from little acorns grow. – By David Everett
You're not forty, you're eighteen with twenty-two years of experience.  – By Author Unknown
Youth comes but once in a lifetime. – By Henry Wadsworth Longfellow
Youth has no age. – By Pablo Picasso
You know you are getting old when the candles cost more than the cake. – By Bob Hope
Youth is a disease from which we all recover. – By Dorothy Fulheim
Time is on my side, yes it is. Time is on my side – By Rolling Stones
Youth is a beautiful thing. What a crime to waste it on children. – By George Bernard Shaw
You've heard of the three ages of man – By youth, age, and you are looking fantastic. – By Francis Cardinal Spellman
Make Your Loved Ones Feel Special with Birthday Cards and Messages