Birthday Wishes for your Best Friend
Our Best friends enrich our lives in so many ways. They can be as close, or even closer, than siblings. They offer unique companionship you won't find in other kinds of relationships. Your best friend's birthday is, therefore, indeed a cause for celebration. Written messages are part of making the occasion as unique as possible. Words can become cherished memories in their own right. It is not always easy to express birthday wishes in words, however. Our heartfelt sentiments are hard to pin down into sentences. The following messages can help. Whether you want to express your wishes whimsically or sweetly, the following birthday messages provide examples that you can use in cards, text messages, or other formats. Also, don't forget to check the 10 creative ideas for wishing your best friend a happy birthday.
Meaningful Birthday Wishes for your Best Friends
Some people are blessed with a soul-deep friendship. Thank you for being my soul friend! I wish you a beautiful special day!
You are charming, compassionate, intelligent, and strong. The best thing is that you are also my best friend. Happy special day!
Best friends are hard to come by. That's why I wanted to let you know just how much your friendship means to me on this particular day. Thank you for being my closest friend.
You are the best friend anyone could ever want. I hope your birthday brings much joy and that your wishes come true.
I can always count on my best friend for a shoulder to lean on, so for your birthday, let's get some drinks and celebrate. In return, I will be your shoulder to lean on at the end of the night.
It's that day of the year again, where you turn into the most annoying person in the world and start eating and drinking everything on your path. We still love you the way you are, though. So happy birthday, big disaster!
Whenever someone asks me who my best friend is, I immediately think of you. Hope your birthday is as extraordinary as you are!
I've had many friends who have come and gone throughout my life. Of the few friends that have stood by me through thick and thin, there's none that I'm as close to as you. Happy Birthday To My Best Friend!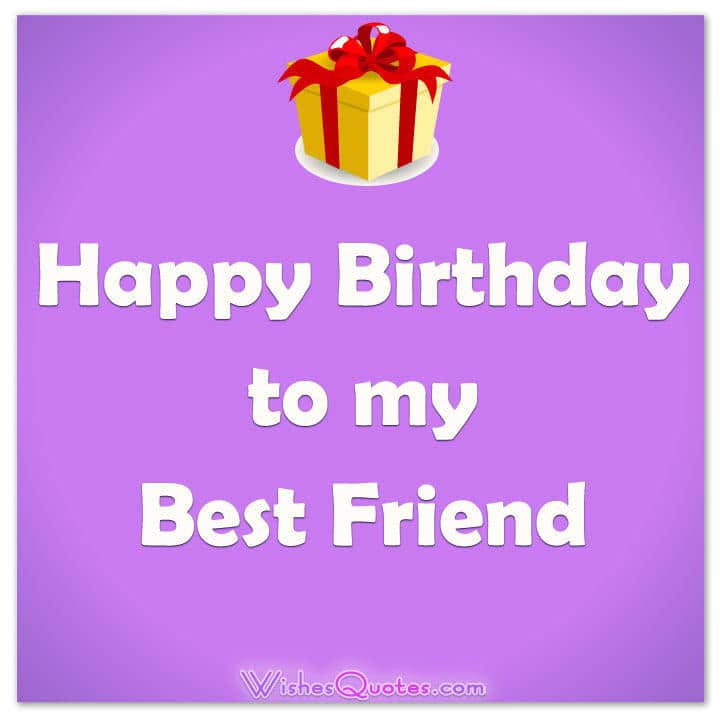 Cake, candles, greeting cards, gifts, and all the trappings of the birthday tradition, don't come close to what I wish for you on your special day.
Happy Birthday to the friend who has been there through it all. I don't know where I would be without you. This is your special day, so let's make it memorable!
Like peanut butter and jelly,
Like a hand in a glove,
You and I fit together
And that's why I love
The rare, true friendship
The two of us share,
Thank you, best friend,
For showing you care.
Friends like you don't come along every day. That's why I want to make sure on your Birthday you know how much you're loved and appreciated.
Happy birthday to my best friend: the one who laughs at my jokes and cries with me during my heartaches. I love you, and will always be here for you.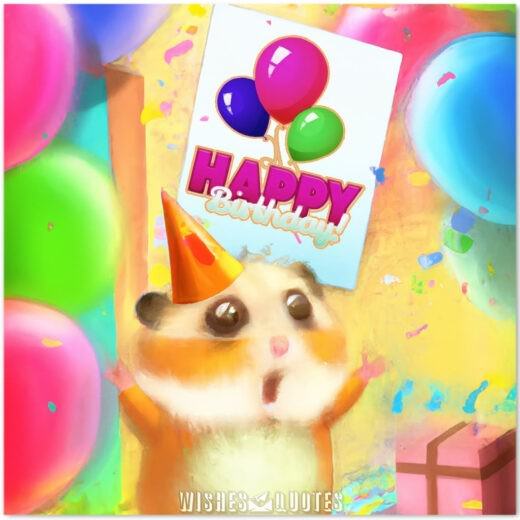 Trouble is coming to the city, because it's your birthday and we are going to celebrate a night on the town like there's no tomorrow! Have a happy and fun-filled birthday, buddy!
Very few people have the chance to have such dedicated and trustworthy friend like you. I am happy that I found you, so I just want to wish you today a sincere and loving "Happy Birthday"! Best regards!
You and I are like two peas in a pod,
As down this road of life I trod,
I'm so glad I have you by my side,
Thanks for making life such as fun ride!
Happy Birthday, BFF!
I didn't know it at the time, but the day you were born would be one of the best days of my life! Happy Birthday to my best friend!
Hey! It's your Birthday! So what better time to celebrate all the many reasons I consider you to be my Best Friend? Hope you have a terrific day!
From the moment we met, I knew we would be best friends. It is as if you are a part of my soul family, and I recognized you right away. Happy Birthday!

Today I am taking my day off! You know why? Because I intend to celebrate the most beautiful and generous person in my life! You, my friend! Happy Birthday!
Happy birthday to the one person who knows me better than anyone in the world. Let's make your day a special one that we will talk about for years to come.
Roses are red, and violets are blue; I'm so honored to have a best friend like you. Sending you plenty of love and luck on your birthday.
You came into my life and never left. I value our friendship more than you could ever imagine. Happy Birthday! This is your special day!
10 Creative Ideas for Wishing your Best Friend a Happy Birthday
Wish a happy birthday to your best friend by putting a personalized happy birthday note inside of a fortune cookie. This is perfect for friends who love to dine on Chinese cuisine. Order some of your bestie's favorite General Tso's Chicken or egg rolls. Type out a personalized birthday wish in tiny print on a small strip of paper, just the right size to fit into the fortune cookie. Take one of the fortune cookies that come with the meal and wrap it inside of a slightly damp paper towel. Pop it into the microwave for thirty seconds, and voila! It will open right up. Then replace the generic fortune cookie message with a heartfelt birthday message of your own. Fold the fortune cookie back up and let it harden. Your BFF will be impressed by your creative and tasty effort!
Pop-out of your friend's birthday cake! You'll have your friend cracking up and completely blown away when you pop out of a giant birthday cake on their birthday. You can order a huge birthday cake explicitly made for popping out to give your best friend an unforgettable birthday surprise!
Sky, write a birthday message to your best friend! Let your best friend and everyone in your whole area know how special they are to you by delivering them an aerial birthday message. This is a perfect idea if you're going to be having your friend's birthday party at an outdoor venue.
Deliver a singing telegram birthday message to your best friend! You can hire a singer to deliver your telegram or show up at your friend's home or workplace to deliver it yourself. If you have a bestie who can take a joke, this is an especially fun way to draw attention to one of their over-the-hill birthdays!
Throw an over-the-hill-themed birthday party for your best friend's fortieth or fiftieth birthday! You can stock up on supplies like prunes, depends, denture cream, and funny over-the-hill gag gifts. Let your best friend know that at any age, you still consider them number one!
Give your friend a best friend locket! If your best friend likes jewelry, you could commemorate your friendship by purchasing a pair of best friend lockets; one for yourself and the other for your BFF. These lockets come in various styles, with many having one of the pair of lockets engraved with the word "best" and the other engraved with the word "friend."
Give your best friend a portrait of the two of you together! Many mall kiosks offer portrait painting. You could take your best friend out for a shopping trip at your local mall for their birthday. While there, surprise them by paying a portrait artist to capture your special friendship on canvas.
Give your best friend a "best friends" T-shirt! Similar to the lockets, these shirts come in pairs that say "best" and "friends" on them. You may be able to find a screen printer to personalize your shirts.
Give your best friend a BFF scrapbook for their birthday! This thoughtful gift is one your friend can cherish for a lifetime. Collect pictures you've taken with your bestie over the years. Print them out and write down captions giving the details of all these special memories you've made together. Present them on their birthday as a touching tribute.
Make a video Happy Birthday message to your best friend! This can be loaded on a disc or right onto social media. Your friend will be able to watch your video over and over again. It will be sure to put a smile on their face.
Touching Birthday Message to a Best Friend
Good friends are hard to find, but now that I have found you, I'm not letting go of the beautiful friendship we have. So, today on your birthday, I want to prove how happy I am to have you in my life.
I hope you never forget that I am your best friend and am always here for you. Real friends are hard to find, but here we are. Happy Birthday! Enjoy your special day!
A birthday is only once a year, but our friendship is extraordinary and meaningful to me every day. So today, on your birthday, I want you to be happy so you can count on me to make your day a happy and memorable one.
On your birthday, I want you to know how grateful I am for all the ways you've proven your loyalty to me throughout the years. Thanks for being my very best friend!
Your age is just a beautiful reminder of all the fantastic years we spent together. I hope to have many more to come, in the company of my best friend! Best wishes and regards for this special day!
When we were kids, I never dreamed we'd grow up together and that I'd get to experience so much with you. I hope I get to help you celebrate many more birthdays!
Only a true friend can stand by me through thick and thin. Thank you for always being someone I can trust. I wish you the happiest of birthdays!
I've had plenty of fair-weather friends pass through my life, but you stuck with me even when I was at my lowest time. So, I wanted you to know how much I appreciate your loyal friendship on your birthday.
I didn't know what a true friend was until I met you. You truly have saved me in every way a person can be saved…..Happy birthday!
We've shared so much with each other, and I hope you know how much I appreciate you. I am grateful for this day and for all you do.
Happy birthday to the most amazing person of my life. May my friend get all that he/she ever desired, and may you have all the best moments waiting ahead this year for you.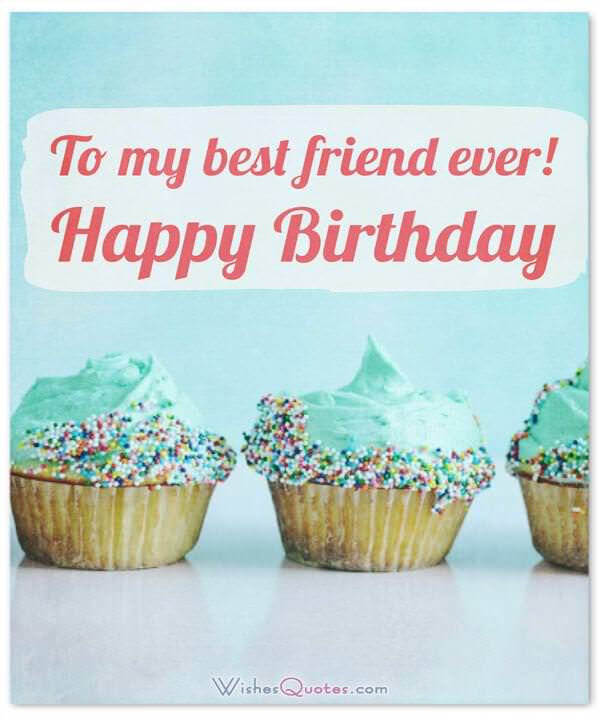 Check baby name meanings or explore the best baby names, including famous names,
unusual names, cool names, names by ethnic groups, and many more!
Baby Names
Sending bunches of birthday wishes to my best friend on one of the most important days of the year. May you be blessed today and throughout the year with nothing but joy and happiness.
My best friend's birthday, may the stars align just right for the perfect night of celebration. I love you and hope your day is everything you hoped for.
Happy birthday dear friend; I pray that may you float through all the year with the brightest smile on your face, and I hope that this year will be the most significant year of your life.
My life is so much more vibrant with you in it. I am happy to have a best friend like you. I hope your day is blessed and beautiful.
On this fleeting day of bliss that came to remind us how limited our time on this earth is, I want to tell you how amazing you are and that you can achieve whatever you set your mind to do. Because you are truly unique. Happy birthday!
Best friends are supposed to share everything with each other, so I celebrate and share your birthday with you like it's my own. I celebrate the beautiful friendship we share! Happy birthday, buddy!
Because today is your birthday, I want to thank you for being there for me when I needed it the most, for being my shoulder to cry on, having the best laughter together, and just for being such a good friend! So thank you once more, and Happy Birthday!
You make me smile when I am sad; you tell me jokes when I've had a stressful day. So I just want to take today to thank you for all that you do for me and return the favor of making you happy on your birthday.
Birthdays are a special occasion celebrating your entry into this beautiful world. Enjoy your special day and rejoice in the gift of life, family, and friends.
Birthdays will come and go, but I'm your best friend, and I'll always remain by your side, cheering you on and supporting you in all the decisions life brings your way.
Everything in life happens for a reason; I believe we were put into each other's lives to be best friends. I love you, and I hope your birthday brings you all the beautiful things you deserve.
When all the dust settles, and all the smoke clears, I know you'll be here for many more years. Happy birthday to you, and may all your dreams come true!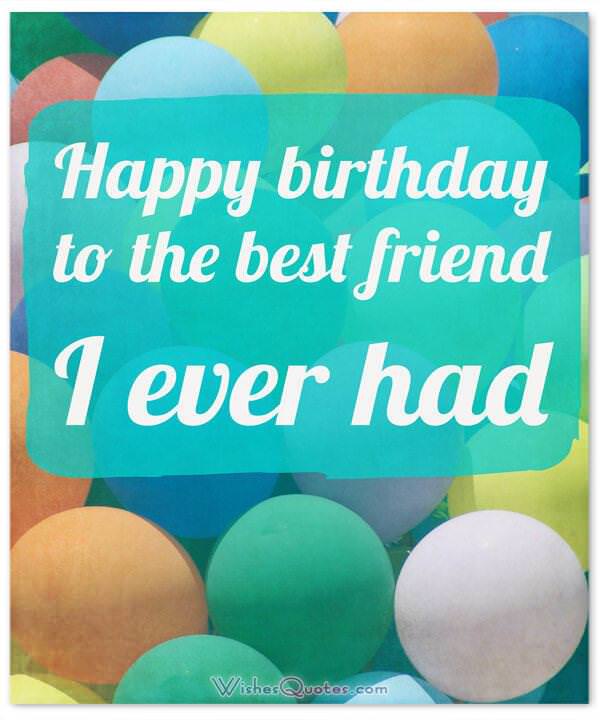 How Can I Wish my Best Friend a Happy Birthday?
Having a best friend is a blessing one can only hope for. A best friend is one to share all your ups and downs as you go through this roller coaster we call life. Being able to lean and rely on someone is one of the best feelings out there, so when your best friend has a birthday approaching, it's only natural to want to do something special to show how much you appreciate and love him or her. A birthday is a special day for an individual, and on this day, the birthday girl or boy deserves to be showered with love and attention. Giving the birthday person a lovely thoughtful gift or a thoughtful card can make the person appreciate you more than you may know and make their day very special.
Amazing Birthday Cards for your Best Friend 
Short Happy Birthday Wishes for your Best Friend
Thanks for always being so loyal and trustworthy. I hope you have the kind of terrific birthday that you deserve!
Today is your birthday, so today is all about you. Let's celebrate you and your special day!
You're my best friend because when I'm with you, I know I can be myself. Thank you for always bringing out the best in me!
Today is a day to celebrate your birthday, but I want you to know how much I appreciate our friendship on this fantastic day.
To the most fantastic person in the world, a very happy birthday with the brightest smiles and love of the entire world.
Out of all my friends, you are the best, and you deserve the very best on this unforgettable day. Happy birthday dear friend!
To my best friend, I hope your birthday grants you all the wishes you hoped for and all the world's happiness.
Happy birthday to the only guy I know who is almost as impressive as I am. I know how hard it is to be humble.
From you, I have learned so much, including what friendship really means. I am so grateful for the day you were born.
I wish a very Happy birthday to my closest friend. May you be filled with joy and surrounded by people who love and appreciate you.
People come and go in life, but best friends always stay. I am grateful to celebrate this day with you.
My best friend is my partner in crime; today is a day of celebration and trouble-making for this best friend duo. Happy Birthday.
Discover the Magic of Birthday Wishes and Quotes