Belated Happy Birthday Wishes. It's Not Too Late!
How do you send belated happy birthday wishes and greetings without making your congratulations sound like afterthoughts?  Children and teenagers look forward to their birthdays, anticipating the freedoms that come with each new year. Older folks may not see their birthdays with such anticipation, but the event still is a milestone in their lives. Forgetting your friend's birthday makes most of us feel terrible. Even worse, your friends might think you don't care about them. Here are some greetings that might be included on your card to ease the situation and always make sure you're apologetic.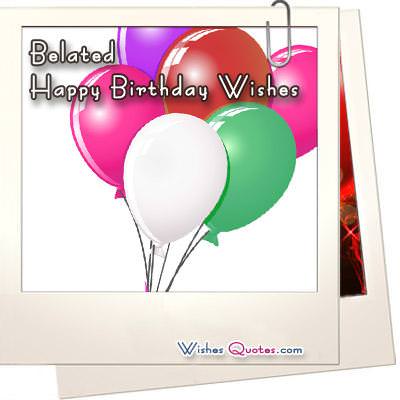 Belated Birthday Wishes That Can Get You Out of Trouble
Lately, I've been thinking a lot about you. Very lately. Happy belated birthday.
My pen ran out of ink; my mind was out of "think." Happy late birthday.
I didn't miss your birthday. I am just fashionably late, as always.
Could you have read my birthday message if I had sent it right on time? Of course, but now I'm pretty sure you have.
I spent the whole time thinking about what I should text you for your birthday wish… until I ran out of time.
If you had delayed a day or two before you were born, this could have been your first birthday message. Happy Birthday!
I intentionally sent my birthday wish this late to prove that you are always unique to people like me… but not on selected days of the year, as some people think.
The greeting may be stale, but the sentiments are fresh. Happy belated birthday.
Birthday messages never go out of style. The stamps, however…sorry, this is so late.
I only realized your birthday had passed when the male dancers I hired showed up in Depends. Happy day, girlfriend.
Good news! I escaped the mudslide, but your poor card…
The gang wanted me to send their birthday wishes. The gang should have sent the card.
I have been a bit snowed under lately. So I dug out to find this card with your name. Happy late birthday.
Friends are friends forever, which is how long it took this card to get to you.
The message never changes, but the words do. H-BDAY! HF! That's a happy birthday, have fun in textese.
Old friends are sweeter with age. Unfortunately, old fish, like old birthday wishes, stink. I hope it was great.
I can't tell you all the times I thought about your birthday. That's because I can't remember squat. Happy late birthday.
Sorry, these birthday greetings are time-challenged. They're from me.
I'd have mailed this sooner, but…I didn't. I hope your birthday was beautiful.
Your face floated before me the other day. I wish you'd said something about your birthday. I hope it was fun.
This greeting is either very late or extremely early. Either way, Happy birthday.
Unique Belated Birthday Wishes
Tardy to school, tardy to work… some things never change. Happy late birthday.
My life has been a little crazy lately, but thinking of you clears things up. I hope you had a wonderful birthday.
I'm late. The last time I used those words, I ended up with a baby. This time, I "got nothing.": ) Happy late birthday.
Here's the message I should have sent. I hope your birthday was wonderful. Wonderful is exactly what you deserve.
Of all the gin joints in the world, I can't remember where I left your card. Happy late birthday.
I was thinking about sending this card and…I fell asleep. Happy belated.
If wishes were horses, mine would have come in dead last.
Sometimes my forgetter works better than my rememberer.
I bought you a card, but my mouth was too dry to lick the stamp. So I wetted it. A lot. Did you know no post offices are open at 2 am?
I don't know how your birthday escaped me. I hope it was everything you wished.
What did you get for your birthday? I mean, besides this card. Happy late birthday.
The bad thing is I forgot your birthday, the good thing is I found my car. Unfortunately, it was in the Wal-Mart parking lot behind an RV.
My hair is falling out. I'm starting to forget things. I'm old. So shoot me.
This card is full of birthday greetings from your friends. See? It's not just me; they're all late.
I hope you made a lot of memories on your birthday. Can I have some?
The friend is great, the greeting is late. I hope your day was beautiful.
These late wishes are time-sensitive, so don't say anything mean.
I'll never trust that stupid rabbit to mail anything again.
I'm late for your birthday wishes, but love doesn't get stale.
If I had mailed it on time, this card would have arrived earlier. Happy late birthday.
Happy belated birthday to someone who deserved "on-time."
I wish you were a little younger—this card would be on time.
I didn't forget your birthday. I forgot to tell you.
Time got away from me. The card, however, stayed right here. So, sorry, this is late.
More Birthday Wishes and Cards