Birthday Wishes for a Special Girl
Birthdays are an exciting time and everyone, no matter her age, gets excited when her day rolls around. Girls make our world so much more beautiful. So we ought to make sure that we keep the special girls around us happy. One way to keep them happy is to send heart touching birthday wishes. To make her birthday special we have to take some time to plan some happy birthday wishes. Birthdays are such memorable events for girls, so it is essential that we send them birthday wishes that will make their day not only fun but precious. Most girls love it when someone remembers their special day. Choose among these lovely words and beautiful happy birthday messages and let the special lady in your life know she is valued.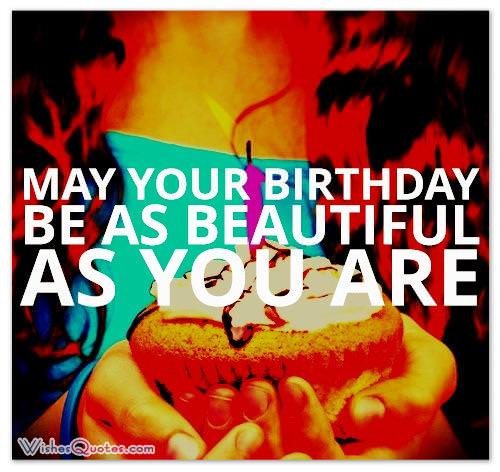 Happy Birthday Wishes for the Beautiful Girl in your Life
The bond we share transcends time and space. You are my best friend for life, birthday girl!
Remember when we used to think we could reach the stars if we stretched our arms high enough? You've certainly reached the stars through hard work and dedication. So proud to be on your team, girlfriend. Happy Birthday!
There is nothing brighter in the world than the smile of a cute girl, but yours transcends all others. You truly are a marvel of nature. Happy birthday!
When God created women, it was probably leading up to your birth, as the pinnacle of His creation. Happy birthday!
Your presence alone makes everything around you beautiful. You have the potential to be so much more than what you are today, you just have to believe it. Happy birthday!
You give voice to the silence, beauty to ugliness, love to hatred, creation to destruction. You are the incarnation of everything good this world has to offer. Happy birthday!
On this special day, your properties have changed. From simply the most special lady in the world, you became the most special lady in the world on her birthday!
Happy Birthday to the girl who brings out the best in me.
Shine bright as you always have. You are destined for great and wonderful things. May this birthday be a special milestone leading to bigger things.
We made a blood oath as 10-year old kids that we would be friends for life no matter what would come between us. Looks like we are pretty good at keeping our promises. Happy Birthday, girl!
Charming, compassionate, caring and crazy in a good way – what more can I ask for in a friend? You've got the whole package, and I hope that the universe rewards you with the love, happiness and success that you deserve.
Cute Happy Birthday Wishes for Girls
You make the world more beautiful just by being in it. I am proud to call you my best friend. May your birthday be filled with sequins and lace and all the pretty things that your heart desires.
Some people in this world are a special kind of special. And you, are the best example someone can give when referring to these people! Happy birthday!
I am sending you all the love in the world on your birthday.
You are living your dream, and I am here to cheer you on. Happy Birthday to a champion.
Happy Birthday to my golden girl. It's your world, and I'm here to support you always.
You know what to do to make everyone smile. You know the perfect thing to say to calm a crowd down. You are a force of nature, and you're another year smarter today. I wish you the best in life.
I hope you have a great birthday and I can't wait to share some cake with you.
I cherish every birthday of yours that we get to spend together as each reminds me that I was lucky enough to spend another year of your life with you.
You are a wonderful person, and I hope you have a beautiful day.
Your future is as bright as the candles on your cake, birthday greetings to you, dear friend.
Happy Birthday to the sweetest girl ever! You deserve all the love and happiness in the world. Let's celebrate this day of your life together.
Happy Birthday to my sweet girlfriend, now let this party started and eat some cake.
You are so special to me and I hope you enjoy this card, I hope you have a special day.
Adorable Birthday Cards for a Special Girl
Deepest Birthday Wishes for this Amazing Girl in your Life
Today is your day to do whatever you want, and I hope all your dreams come true! Have a
great day!
I hope your day is filled with treats and surprises because you deserve them.
May all your wishes come true on this day!
Today is your day so party all night and let loose!
I am sending you all the hugs and kisses in the world on this special day.
I am so happy I get to spend this day with you because I wouldn't want to spend it with anyone else!
Best wishes to you my beloved friend! Wishing you a crazy, happy and fun birthday filled with beautiful surprises and lots of love!
Happy Birthday to a girl that rocks my world!
To my wonderful girlfriend, I love you so much, and I hope you have a great day.
I want to party with you all night to celebrate your day!
May your birthday be as beautiful as you are.
I wish I could be there on your special day to celebrate with you. I hope you have a great one!
I am just one of many people thinking about you on this day, and I hope you truly have a wonderful day!
To the best girl in the world, I hope you have a great day and all your dreams come true!
I hope your day is incredibly exciting and filled with friends and fun!
May you get everything you wish for today! I know my wish is fulfilled just having you in my life!
You might get a lot of messages today, wishing you a wonderful birthday! I hope this one is your favorite!
I wish for all the candies, cakes, cookies, and sweets for you to enjoy on your special day!
May your day be full of friends, family, and fun!
I hope you have the sweetest day because you are the most loving person! Enjoy your day!
I'd paint a rainbow in the sky just to be able to wish you a beautiful birthday!
I want to give you the moon, the stars, and the sun in the sky. Have a wonderful birthday!
I hope your birthday is full of love and happiness since you give me love and joy!
My wish for your birthday is that you get everything you wish.
Check baby name meanings or explore the best baby names, including famous names,
unusual names, cool names, names by ethnic groups, and many more!
Baby Names
How do you Wish a Cute Girl Happy Birthday?
When wishing the girl you like a Happy Birthday, it's always important to be sincere. Tell her how you genuinely feel and let her know how excited you are for her day. Remember, birthdays are exciting and they are a great opportunity to let people know how you care for them. All girls want to get birthday messages from people in their lives. Share you joy and good wishes with her. It will mean a lot and it will put a smile on her face.
More Birthday Wishes