Trust Quotes – Quotes About Trusting Yourself & Others
Trust quotes will teach you some of the most valuable life lessons. Check our exclusive list of quotes about trust and learn more about the critical importance of trusting the right people. Of course, you have been hurt, as everyone has. But that doesn't mean you can't trust them again. Instead, it probably means you gave your trust to somebody you shouldn't. Or you were eager to trust too quickly. Our inspirational trust quotes will help you find the right balance and get more confident.
Best Trust Quotes
Trust is fragile, don't break it; once broken, it will never come backto its original shape.
Trustis like paper. Once crumpled, it can't be perfect again.
A man who trustsnobody is more likely to end up like the kind of man no one trusts.
Trustin whatever you love doing most, keep doing it, and it will take you to places you never imagined.
To love means to give someone the power to destroy you and to trustthat they will not.
Trustyour friends because they will force you to examine yourself and encourage you to grow.
Don't trustyour ears less than your eyes.
Be careful who you trust. The devil was once an angel.
Do you want to trusta person who is 99% honest?
Trusttakes years to build and only a moment to destroy.
I've been lied to, but I'll trust
I'm no therapist, but I promise you I will listen. I will care. You can trust
I don't trust I trust actions.
We always see our worst selves. So we really need someone to get close enough, someone we trust, to tell us we're wrong.
I wish I could find a special someone I can trust with all my secrets.
Trustis like an eraser; it gets smaller and smaller after every mistake.
Trust quotes will empower you with more strength and show you how to trust your inner self and your instincts. They will inspire you to trust your abilities and skills to achieve anything. If this particular moment you fill weak, read the finest biblical trust quotes and find out how God is the only refugee you can trust at any time. He will never let you down. Please bear in mind that trust is very sensitive, and the following trust quotes will verify this universal truth. This doesn't mean you have to trust no one. But rather, it will teach you how to value trust above anything else.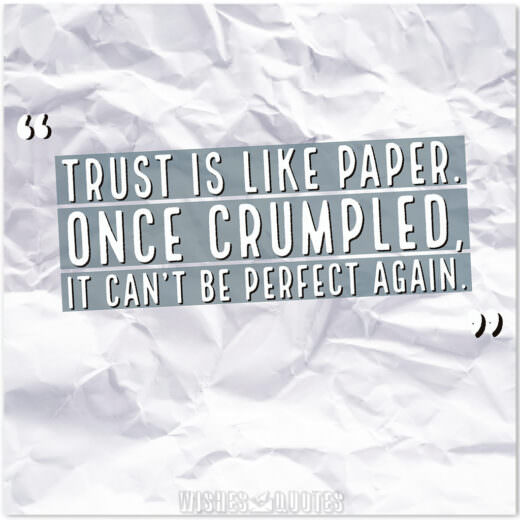 Top Trust Quotes
Trustyourself, and you will know how to live your life to the fullest.
They ask me why it's so hard to trust I ask them why it is so hard to keep a promise?
Trustyour instincts. You might be wrong, but at least it will be your own mistake instead of someone else's.
Once you break up my trust, good luck trying to get it back.
You don't always need a plan. Sometimes you need to breathe. Trust.
I don't trustpeople anymore.
You have to trustwhat you do and then actually do it.
I tried to hide my thoughts from everyone. But I need someone I can trustand share what I have inside me.
I don't trust easily. So when I tell you I trustyou, please don't make me regret it.
Trustwill open new doors.
Don't be sorry. I trusted My mistake, not yours.
More Trust Quotes
What is the definition of trust? Two cannibals kissing each other.
Trust, but don't be naive.
Life is full of fake people. Trustno one.
Trustis the foundation of our moral training.
Bad things happen when you trustthe wrong people.
Trustgets you killed. Love gets you hurt. Being real gets, you hated.
Keep calm and trustthe universe.
Trust, but verify.
To believe someone is to trustyourself to the water. Because when you swim, you don't really grab anything. You relax and float.
You better trusta woman's instinct rather than a man's reason.
Can't blame me for my trust
Please give me one good reason to trustyou again. Exactly, that's what I thought.
Trustis like a dandelion. With each mistake, it gets smaller.
Don't trustpeople with too much power or too much money.
Trust Quotes for Couples
The following trust quotes will give you an idea of how fragile trust can be in relationships. You need to ensure you keep trust safe at all costs because once lost, you will have a hard time winning it back. Or maybe worse, you will never get it back.
I …don't trustyou, that's all.
Don't trusttoo much because that "too much" can hurt you.
The best proof of love is trust.
Please teach me how to trust
When you love someone, you have to trust
The moment you lie to me, every word you say dies to me. Goodbye trust.
Falling in love is like giving someone a gun, letting them point it at your heart, and trustingthey will not pull the trigger.
Biblical Trust Quotes
The Old Testament is one of the best resources for biblical trust quotes, where God is described as a steady rock that you can trust with your life. Check the following biblical trust quotes and empower your faith in Him.
The only safe place you can go when you want to trustsomeone is prayer. God will listen.
Lord, lead me where my trustis without borders.
With God, all things are possible. Matthew 19:26
Don't worry. God is always on time. Trust
Dear God. Sometimes it's hard for me to understand what you want to happen. But I trust I know you will give me what's best.
God knows who belongs in your life and who doesn't. Trustand let go. Whoever is meant to be there will still be there.
You can decide to trustGod, or you can choose to be miserable.
Funny Trust Quotes
Trust quotes don't need to be so serious all the time. So it's time to have some fun with some jokes about trust!
Did you ever hear the word trust? I did once, but I forgot it.
It would help if you never trusted I'm drunk.
When I woke up today, I had no plans to be this sexy. But trustme, miracles happen every day!
I refuse to open TikTokvideos publicly because I don't trust my friends.
Don't trusta woman who doesn't drink.
Trusteverybody, but just in case, cut the cards.
Discover the Ultimate Baby Names Guide - Famous, Unusual, Cool, and Beyond!
Embark on a journey of exploration through famous names, uncommon gems, trendy picks, and diverse ethnic groups.
Baby Names
Famous Trust Quotes
Some of the most famous people wrote the best inspirational trust quotes ever. Check them out:
"Love all, trusta few, do wrong to none."  – William Shakespeare.
"Learning to trustis one of life's most difficult tasks." – Isaac Watts
"I'm not upset you lied to me. I'm angry that from now on I can't even trust" – Nietzsche
"I get in trouble when I get logical and don't trust my instincts." – Angelina Jolie
"You just have to trustyour own madness." Clive Barker.
"The trustof the innocent is the liar's most useful tool." Stephen King
"All you need is a little faith, trust, and pixie dust." – Peter Pan
"To be trustedis a greater compliment than being loved." George MacDonald
Read Also