50 Motivational Quotes and 7 Tips to get you Motivated
No matter what your goals in life are, you are not going to accomplish them if you are not motivated to. In every task you set out to do, you need to keep that passion and drive throughout the entire process if you want to produce results. You see, everyone has equal opportunities to become a winner in life. It's not a matter of skill or luck, but hard work and motivation. Yes, you might have it harder than others, you might not have had the easy road they had, but it does not mean you can't do what they do, or even better, you just have to work harder than them! So, we have provided you with the 7 simplest tips for you to overflow with motivation!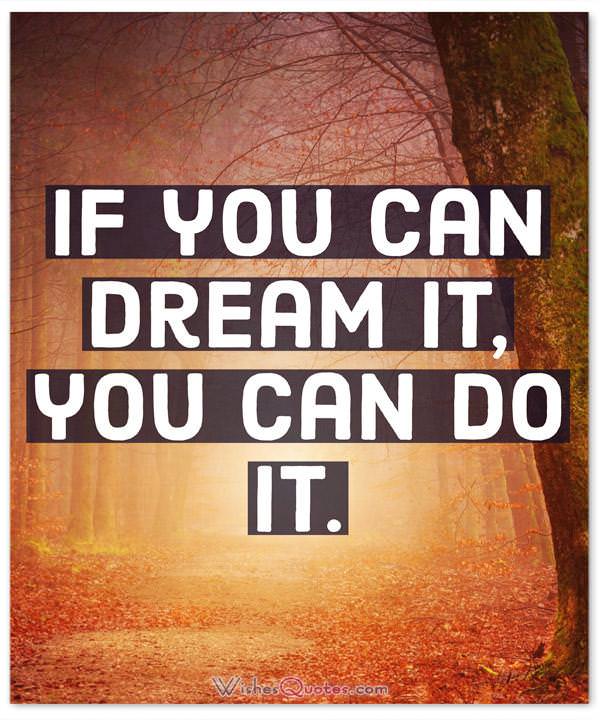 Tip no1: You can't soar like an eagle when you surround yourself with turkeys
One significant source of motivation is the people that surround us. By hanging around the "winners," then you start wondering "Hey, if he can do it, then I can/want to do it too." But when you hang around the "losers," then you get comfortable, seeing that there are people worse than you, and this is wrong. My point is, choose the people you surround yourself with very closely because they are what will become your source of motivation to either be better, or worse.  So, if you're surrounded with turkeys, then limit that interaction and get around the other eagles, the one that chases their dreams, the ones that have succeeded them and are ready to teach you how to do it yourself.
Tip no2: Build a healthy body, and your mind will follow
Health is the most crucial aspect of your life. Especially if you want that life to be great. I don't see any obese eagles soaring through the sky. So, build a healthy and strong body, and your mind is sure to follow. Having the willpower and energy to get anything done, starts from your own body. It's much easier to get your mind to work when your body works.
Tip no3: You can't soar like an eagle with the mindset of a turkey
Greatness can only be achieved when you believe that you can do it. If you don't think you can fly, then you will never fly. It is as simple as that. You have to believe that you are destined for greatness, that you are amazing, that you can do it, that the peak of that mountain is within your grasp no matter what anyone says. You see, there is only one you, one today, one now, one life. If you're not ready, try again, if your abilities are not good enough, hone them. But never lose faith in yourself and always keep trying. If you view yourself as someone helpless, then this is what you will become. So, visualize yourself as that eagle, ripping through the skies without any form of limitation and eventually, you will become that eagle. Until then, don't stop.
Tip no4: Make your goals your number one priority
No matter how big or small your goals are, you need to make them your top priority and focus on doing them no matter what. You see, the eagle can lock the pray from miles and miles away and lunges straight to it for the kill. That is what you must do. No distractions, no limitations, no negativity and most importantly, not having failure as an option. If you want to do something, do it now, or just never do it.
Tip no5: Success doesn't come by chance, you have to work for it
You cannot expect to sit around doing nothing all day, and then suddenly you wake up one day having fulfilled all of your desires. If you want to get something done, then you have to work for it. Every single day, every single hour, your entire body and soul should be focusing on things that will be helping you succeed in your goals. You have to make a schedule on how to work as effective as possible. Determine what you need to get where you want to be and go straight at it until you get it. People spend so much time dreaming of success that they end up never working for it. The difference between winners and losers is the endless nights the winners spent honing on their craft while the losers slept.
Discover the Ultimate Baby Names Guide - Famous, Unusual, Cool, and Beyond!
Embark on a journey of exploration through famous names, uncommon gems, trendy picks, and diverse ethnic groups.
Baby Names
Tip no6: In a year from now, you will be regretting not having started today
If you keep postponing things, then eventually you will never do them. Think about all of the things you said you will be doing by the time you were 20, 25, 30, maybe even 50, and never got to them and now you wish you had. What ensures you that this won't be the case for you in 10 years from now. View yourself as a human "becoming," not a human "being." Because everything you are, you have first to work for it to become "it" and it's not something you can do overnight. So don't procrastinate, don't postpone your goals, just get out there and achieve them!
Tip no7: There is always light on the other side of the tunnel
I'm not going to lie to you, bad days will come, rainy days will occur, you will meet difficulties, but you have to embrace them because it is that pain that will make you stronger. Success is not an easy road, it's an uphill and difficult struggle, and it's not about how hard you can hit, it's about how hard you can get hit and keep moving forward! Embrace your mistakes, learn from them and become a better version of you. Your life will only become better if you become better. Don't fear the pain, embrace it and let it make you stronger. Don't fear failure, accept it and learn from it, otherwise, you will never meet success. Most importantly, don't fear success. You can do it, you can reach it, no matter the cost. If you see an opportunity, grab it, don't be afraid. If that opportunity doesn't come, then don't worry, no matter how dark the night, the daylight will come stronger than ever.
50 Motivational Quotes to Help You Achieve Your Goals
A creative man is motivated by the desire to achieve, not by the desire to beat others. By Ayn Rand.
Act as if what you do makes a difference. It does. By William James.
Always continue the climb. It is possible for you to do whatever you choose if you first get to know who you are and are willing to work with a power that is greater than ourselves to do it. By Ella Wheeler Wilcox.
Always desire to learn something useful. By Sophocles.
Always do your best. What you plant now, you will harvest later. By Og Mandino.
Be gentle to all and stern with yourself. By Saint Teresa of Avila.
Be miserable. Or motivate yourself. Whatever has to be done, it's always your choice. By Wayne Dyer.
Be thine own palace, or the world's thy jail. By John Donne.
Begin to be now what you will be hereafter. By William James.
Believe in yourself! Have faith in your abilities! Without humble but reasonable confidence in your own powers, you cannot be successful or happy. By Norman Vincent Peale.
Crave for a thing, you will get it. Renounce the craving, the object will follow you by itself. By Swami Sivananda.
Determine never to be idle. No person will have occasion to complain of the want of time who never loses any. It is incredible how much may be done if we are always doing. By Thomas Jefferson.
Do not weep; do not wax indignant. Understand. By Baruch Spinoza.
Do you want to know who you are? Don't ask. Act! Action will delineate and define you. By Thomas Jefferson.
Even if you fall on your face, you're still moving forward. By Victor Kiam.
Expect problems and eat them for breakfast. By Alfred A. Montapert.
Fear cannot be without hope nor hope without fear. By Baruch Spinoza.
Go big or go home. Because it's true. What do you have to lose?" Eliza Dushku.
I can, therefore I am. By Simone Weil.
I don't believe you have to be better than everybody else. I think you have to be better than you ever thought you could be. By Ken Venturi.
I was motivated to be different in part because I was different. By Donna Brazile.
If you ask me what I came into this life to do, I will tell you: I came to live out loud. By Emile Zola.
If you can dream it, you can do it. By Walt Disney.
If you want to conquer fear, don't sit home and think about it. Go out and get busy. By Dale Carnegie.
If you want to succeed you should strike out on new paths, rather than travel the worn paths of accepted success. By John D.R Rockefeller.
In motivating people, you've got to engage their minds and their hearts. I motivate people, I hope, by example – and perhaps by excitement, by having productive ideas to make others feel involved. By Rupert Murdoch.
It's always too early to quit. By Norman Vincent Peale.
I've worked too hard and too long to let anything stand in the way of my goals. I will not let my teammates down, and I will not let myself down. By Mia Hamm.
Know or listen to those who know. By Baltasar Gracian.
Leap and the net will appear. By John Burroughs.
Learn from the past, set vivid, detailed goals for the future, and live in the only moment over which you have any control: now. By Denis Waitley.
No matter how many goals you have achieved, you must set your sights on a higher one. By Jessica Savitch.
One may miss the mark by aiming too high as too low. By Thomas Fuller.
One person with a belief is equal to a force of ninety-nine who have only interests. By Peter Marshall.
One way to keep momentum going is to have constantly greater By Michael Korda.
Only the educated are free. By Epictetus.
Problems are not stopped signs, they are guidelines. By Robert H. Schuller.
Quality is not an act, it is a habit. By Aristotle.
Set your goals high, and don't stop till you get there. By Bo Jackson.
Set your sights high, the higher, the Expect the most beautiful things to happen, not in the future but right now. Realize that nothing is too good. Allow absolutely nothing to hamper you or hold you up in any way. By Eileen Caddy.
Setting goals are the first step in turning the invisible into the visible. By Tony Robbins.
Small deeds done are better than great acts By Peter Marshall.
The dog that trots about finds a bone. By Golda Meir.
The harder the conflict, the more glorious the triumph. By Thomas Paine.
The key is to keep company only with people who uplift you, whose presence calls forth your best. By Epictetus.
The more man meditates upon good thoughts, the better will be his world and the world at large. By Confucius.
The ultimate aim of the ego is not to see something, but to be something. By Muhammed Iqbal.
The weeds keep multiplying in our garden, which is our mind ruled by fear. Rip them out and call them by name. By Sylvia Browne.
The will to win, the desire to succeed, the urge to reach your full potential… these are the keys that will unlock the door to personal excellence. By Confucius.
The wise does at once what the fool does at last. By Baltasar Gracian.
There is nothing deep down inside us except what we have put there ourselves. By Richard Rorty.
Read Also