Achieve Greatness with these Ten Simple Tips! 50 Quotes to Inspire Greatness!
Greatness is a feature that can be found in every one of us. The humankind as a species is such a complicated construct, which by the time of its creation, it was meant to be great. The problem in our society is that most of us do not believe we achieve greatness for various reason. Some because they are afraid, other because they have been judged, others have tried and failed and are not willing to try again. The thing is, we should not be focusing on the reasons behind the problem, we should be trying to fix it. So, today, we have provided you with ten things you need to change about yourself if you want to become the best version of yourself!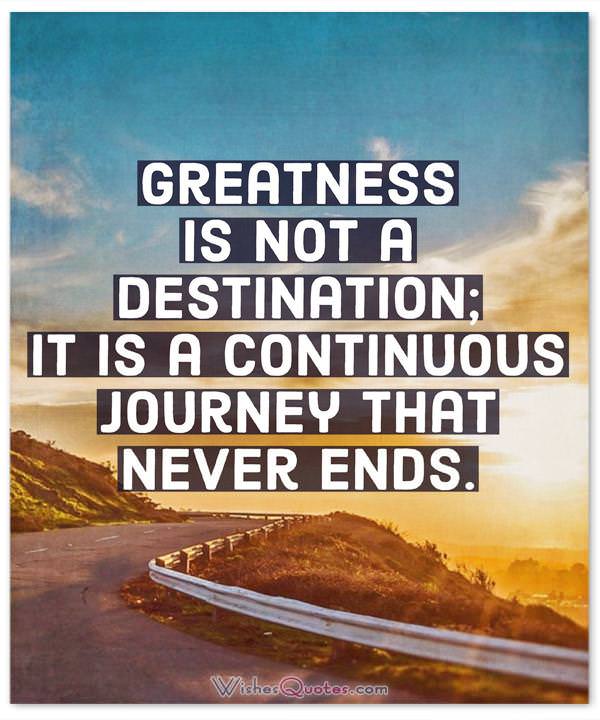 Be Determined
One common issue amongst today's society is that we are not determined enough. Everyone can run around shouting about how much they want to be great, but in the end, they don't want it as much as they want to party, or to have fun, or sleep, or whatever it is they enjoy. I don't blame them, it is easy to get sidetracked, but this is the point. A considerable part of being the best version of yourself requires hours and hours of work. You have to be willing to die for it; you have to want it
Believe in Yourself
The way our society is formed has brought us to believe that we are destined to be wherever we started from. This could not be further away from the truth. Just because you were born in sub-optimal conditions does not mean that you do not have what it takes to be great. If you have the courage and the willpower to look around, opportunities will come, and you have to be prepared to grab them by the hair. It is essential that you believe in your strength and rise to the challenge.
Practice Companionship and Empathy
Let me begin with a little history lesson on this one. The way the humankind has survived and evolved for millions of years is because of the pack. We were not brought to this world to be alone. So, having people around you that can be trusted is essential for you to be great. They will be the ones that will catch you when you fall and lift you back emotionally so that you can get back out on the fray.
Always be at 150%
You see, if you want to become the best version of yourself, then being mediocre will not be enough. Evolution is a tough thing, and it requires every inch of willpower and effort you can provide. Everything less than that will result in ultimate failure. So, if you want to succeed, you have to bring your A-game in everything you do. That means not being lazy, not getting complacent and not accepting anything less than the result you want.
Learn from your Failures
A lot of people will tell you that successful people never fail. This statement cannot be further away from the truth. You see, it is nearly impossible to achieve greatness on the first try. Otherwise, everyone would do it. What separates those who are great and those who are not are their mindset. You have to be prepared that some things will not go as you want them to and that's ok. What's important though is that you take these failures and learn from them so that you do not repeat the same mistakes.
Surround Yourself with Greatness.
You have probably realized this yourself, but as we grow up, we are greatly influenced by our surroundings. This applies to us from our childhood all the way to the very last moments of our lives. So, you can understand why it is imperative that you surround yourself with people that you consider significant, or that have the same aspirations as you. They will become the motivation you need to get there and provide you with the tools and ideas that helped them face the problems you have not yet encountered on your journey.
Break Everything Down into Smaller Pieces
I know that being great is an abstract term and everyone has a different explanation for it in their minds. So, for you to have the results you want, you need to break down greatness into smaller, more reasonable goals. This way you have a more unobstructed view of what you should be doing and the resources you will require to get there.
Step Out of your Comfort Zone.
Following the daily routine, you've had for the past 12 trillion years is pretty much the last thing you should be doing if you want to be great. To succeed you need to start taking risks and getting out of your comfort zone. This life is too small to be doing the same things over and over again. If you fail, it's ok, take a look at the fifth tip and try again.
Your Body is a Temple and your Mind your Greatest Weapon.
Our mental and physical health is essential, not only when it comes to greatness, but to everything else in this life. It is easy to forget about yourself and get lost in the process of evolution. So, you should always try to maintain a healthy lifestyle. This means exercising as often as you can, eating healthy and taking some time for your body and mind to rest.
Don't let Society Judge You
All the historical figures that can be characterized as "great" have one thing in common. They are all weird. You see, being weird is not a bad thing, on the contrary, it is crucial if you want to be great. Being weird means that you are not operating by society's standards, meaning that you are not mediocre. So, if you have a creative and fresh way of doing something, just do it, don't let society hold you back by calling it weird because next thing you know it might be groundbreaking enough to propel this society forward.
50 Quotes to Inspire Greatness
Creativity means believing you have greatness.
Greatness is not a destination; it is a continuous journey that never ends.
Don't wait until you're a man to be great. Be a great boy.
Great minds discuss ideas, average minds discuss events, small minds discuss people.
Greatness does not approach him who is forever looking down.
I can't believe that God put us on this earth to be ordinary.
A great man will not trample upon a worm, nor sneak to an emperor.
A great man's greatest good luck is to die at the right time.
A man who has once perceived, however temporarily and however briefly, what makes the greatness of soul, can no longer be happy if he allows himself to be petty, self-seeking, troubled by trivial misfortunes, dreading what fate may have in store for him. The man capable of greatness of soul will open wide the windows of his mind, letting the winds blow freely upon it from every portion of the universe.
Be not afraid of greatness; some are born great, some achieve greatness, and others have greatness thrust upon them.
Before you can inspire with emotion, you must be swamped with it yourself. Before you can move their tears, your own must flow. To convince them, you must believe.
Do not confuse notoriety and fame with greatness. . . . For you see, greatness is a measure of one's spirit, not a result of one's rank in human affairs.
Every great man is always being helped by everybody, for his gift is to get right out of all things and all persons.
Great crisis produces great men and great deeds of courage.
Great men are like eagles, and build their nest on some lofty solitude.
Great men are true men, the men in whom nature has succeeded. They are not extraordinary – they are in the right It is the other species of men who are not what they ought to be.
The greatness of name in the father oft-times overwhelms the son; they stand too near one another. The shadow kills the growth: so much that we see the grandchild come more and oftener to be the heir of the first.
He should sweep streets so well that all the host of heaven and earth will pause to say, 'Here lives a great street-sweeper who did his job '
He who has a why to live for can bear almost any how.
He who reigns within himself and rules his passions, desires, and fears is more than a king.
I think this is the most extraordinary collection of talent, of human knowledge, that has ever been gathered at the White House, with the possible exception of when Thomas Jefferson dined alone.
I'd rather be a great bad poet than a good, bad poet.
If any man seeks for greatness, let him forget greatness and ask for truth, and he will find both.
If we are to be really great people, we must strive in good faith to play a great part in the world. We cannot avoid meeting great issues. All that we can determine for ourselves is whether we shall meet them well or ill.
In our society, those who are in reality superior in intelligence can be accepted by their fellows only if they pretend they are not.
Is it so bad, then, to be misunderstood. Pythagoras was misunderstood, and Socrates, and Jesus, and Luther, and Copernicus, and Galileo, and Newton, and every pure and wise spirit that ever took flesh. To be great is to be misunderstood.
It is the privilege of posterity to set matters right between those antagonists who, by their rivalry for greatness, divided a whole age.
Let us consider the nature of true greatness in men. The people, who can catch hold of men's minds and feelings and inspire them to do things bigger than themselves, are the people who are remembered in history. Those who stir feelings and imagination and make men struggle toward perfection.
Man is only truly great when he acts from his passions.
No great man ever complains of want of opportunity.
No great man lives in vain. The history of the world is but the biography of great men.
Only in growth, reform, and change, paradoxically enough, is true security to be found.
Put all your eggs in one basket and watch that basket.
Show me a man who cannot bother to do little things, and I'll show you a man who cannot be trusted to do big things.
Since most of us spend our lives doing ordinary tasks, the most important thing is to carry them out extraordinarily well.
Some things have not changed since the dawn of history, and bid fair to last out time itself. One of these things is the capacity for greatness in man his capacity for being often the master of the event and sometimes, even more, the changer of the course of history itself. This capacity for greatness is a very precious gift, and we are under danger in our day of stifling it.
The great man is he who does not lose his child's heart.
The man who is anybody and who does anything is surely going to be criticized, vilified, and misunderstood. This is a part of the penalty for greatness, and every great man understands it; and understands, too, that it is no proof of greatness. The final proof of greatness lies in being able to endure contumely without resentment.
The price of greatness is responsibility.
The ultimate is not to win, but to reach within the depths of your capabilities and to compete against yourself.
There are no great men, only great challenges that ordinary men are forced by circumstances to meet.
There would be no great ones if there were no little ones.
To achieve great things we must live as if we were never going to die.
To be great is to be misunderstood.
True greatness is the readiest to recognize and most willing to obey those simple outward laws which have been sanctioned by the experience of mankind.
We make a living by what we get, but we make a life by what we give.
What lies behind us and what lies before us are small matters compared to what lies within us.
You are not here merely to make a living. You are here to enable the world to live more amply, with greater vision, with a finer spirit of hope and achievement. You are here to enrich the world, and you impoverish yourself if you forget the errand.
You can do anything you wish to do, have anything you wish to have, be anything you wish to be.
I want it said of me by those who knew me best; that I always plucked a thistle and planted a flower where I thought a flower would grow.
He will see himself and life and the world as truly as our human limitations will permit; realizing the brevity and minuteness of human life, he will realize also that in individual minds is concentrated whatever of value the known universe contains. And he will see that the man whose mind mirrors the world becomes in a sense as great as the world. In emancipation from the fears that beset the slave of circumstance he will experience a profound joy, and through all the vicissitudes of his outward life, he will remain in the depths of his being a happy man.
Read Also