Birthday Wishes for School Friends and Classmates
Birthdays are special at any age. But for the younger ones who have not had as many under their belt, each birthday is a special celebration with family and friends. Birthdays can be the perfect occasion to cultivate friendships and strengthen existing ones. Whether there is a party or not, remember casual acquaintances and special friends on their birthday with heartfelt and straightforward messages. You can send the message via text or social media or get creative with pen and paper to create custom-made cards. The message can be simple and straightforward, adding the personal touch with a mention of something known to both sender and receiver. Lighthearted messages with a touch of humor will always be well-received. Here is a sample of messages that can be personalized to suit the occasion when a schoolmate is celebrating a birthday.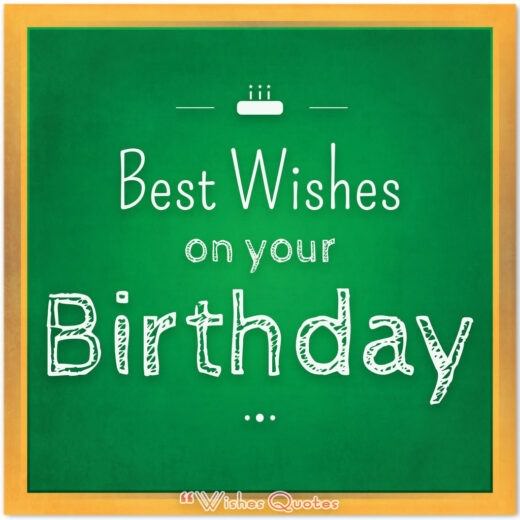 How to Wish Your Classmate a Happy Birthday
You've always had my back, even when I was acting like a brat. Happy Birthday to a friend who is worth keeping for life.
We think alike. We dress alike, and we sort of look alike. It's too bad we don't share the same birthday but have loads of fun anyway. Hope your birthday will be as unique as you are.
You are special. Your birthday is exceptional, and being your friend feels special, too. Here's wishing you the most memorable birthday ever.
Joyous birthday wishes to a fantastic person who lights up the room and charms all the unsuspecting adults without trying too hard.
You are the best at everything, and I am so glad to be in your circle. Best birthday wishes to you. May this be your biggest year yet!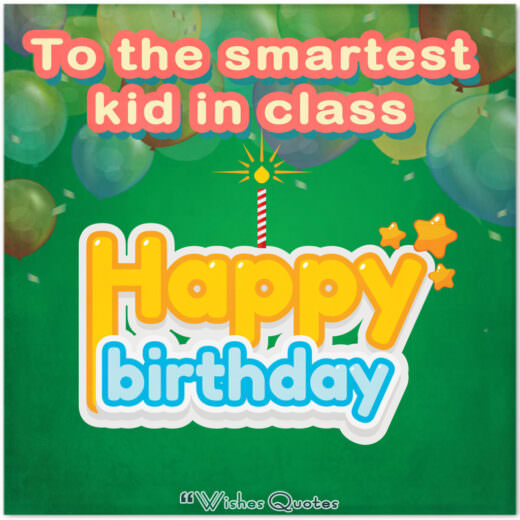 Why did the sun come blazing across the sky today? It's for your birthday, genius. Have fun!
Even the greatest minds take a break on their birthday. Leave the books, and have an adventure on this special day.
I wish you happiness on your birthday, lots of ice cream, and all the video games your little heart desires.
Another year, another birthday. Before you know it, we'll be grownups with a mortgage. Make sure to enjoy all your birthdays before that happens.
Happy birthday to the smartest kid in class. I am honored to be your bestie for life.
Happy Birthday Wishes for Classmate Girl
You are every mother's dream daughter: sweet, neat, and always upbeat—happy Birthday from my mom and me.
You are fantastic as a student and inspiring as a young woman bent on winning the world. Wish you the best on this birthday and all other birthdays to come.
I will never forget how you saved me that first day in school when everyone was a stranger. You are kindness personified, and I am so glad to be your friend. Happy Birthday!
Happy Birthday to a lovely lady who is sugar and spice and everything nice.
To the lovely girl who never fails to cheer up the squad even when we lose three games in a row – Happy Birthday!
May your birthday bring all the good stuff that you've been wishing for all year. I hope you have lots of fun, loads of cake, and tons of Instagram moments.
Here's wishing you a big adventure for your special birthday this year. May it be a celebration filled with laughter, music, and dancing – just the way you like it.
The school would be so dull if not for you sitting beside me all the time. Hope you have a blessed birthday.
According to our history books, so many important people were born on this day. Still, no one is as important to me as the one reading this message—happy Birthday to a very special friend.
Q: What do you call a pretty angle? A: Acute angle. Happy Birthday to the cutie who helps me survive math.
Happy Birthday Wishes for Classmate Boy
Birthday greetings to the boy who hates decimals unless a dollar sign and a number precedes it. May you find many reasons to write out dollar signs and decimals today.
We are like parallel lines that are so alike and yet destined to never meet. Happy Birthday to you from the girl in blue whom you've been avoiding all year.
It's your birthday. Stop looking like you have more problems than our math workbook. Enjoy your day!
To the statistics genius who's always calculating – Happy Birthday, dude. I was going to get you a calculator, but that is probably the last thing you need.
To my Alge-bro – thanks for always being there to explain the strange world of numbers to me. Happy Birthday!
Happiest of birthdays to my lab partner. I know you will make a great chemist someday because you know all the solutions.
To our class clown – Happy Birthday, bro. It's fun to be around you. Don't ever lose your spark and your love for life.
On your birthday, my wish for you is to be able to catch up with anything you chase and that you will be able to get away from anything that's chasing you. Enjoy!
Behind the brashness of a jock lies a heart as soft as a marshmallow. Don't worry: The secret of your good deeds is safe with me, but it will cost an extra slice of your birthday cake. Happy Birthday, dude!
The school would be a giant bore-fest if you weren't here to make it seem like everything is fun and games. May good things come to you on your birthday and always.
More Birthday Wishes