Rare Baby Boy Names You Have Never Heard
Rare baby names can be bold but beautiful at the same time. They can give your baby a unique edge that will make him stand out from the crowd. The following list of rare baby names for boys has been carefully selected to reflect this special sense of being exceptional. Get fresh ideas for naming your beloved son and choose an unusual name that won't be found on any other top baby names list! Our extensive research has uncovered the most beautiful baby names you have ever heard. People miss the hidden gems when looking for a name for their baby boy. You don't have the time to look so deep, so in most cases, you go for the most obvious choices. And that's normal, nothing wrong with that. You are in a safe place; we have come up with the most up-to-date list of baby names for boys you have never heard. Be open-minded and let the following ideas work their magic. You will appreciate the delicate sound and deep meaning. You will love how different they can be, marking a new level of elegance and style.
Adonis: a combination of Greek mythology with contemporary experimentation. Adonis was the God of beauty and desire. He was worshiped in many forms in several ancient mystery religions. Second, Adonis represents eternal youth, a dream that most women chase in their lives. Finally, Adonis was the deity that dies and resurrects yearly, always strikingly fresh and seductively charming. These rare baby names can apply a haunting aura of prettiness to your baby boy. Adonis derives from adon, a Semitic word that means lord and is associated with the Hebrew term Adonai, meaning God.
Amis: is a Literary baby name derived from the surname of British writers Kingsley and Martin Amis. The fact that it's short and straightforward makes it a no-nonsense choice for parents who want a soft and attractive name for their baby boy.
Aris: the ancient God of war, is a rare choice. Aris is one of the strongest baby names you never hear and can be given to very confident and tough boys. However, the macho feeling of Aris is balanced by the easy-going aura that this name carries.
Arrington: a modern name invented by curious parents who constantly construct alternative names by combining existing ones. Arrington is especially interesting because it has a cute short version, Arri, which can be given to baby girls and boys. We love unisex baby names because they can be chosen when parents keep the gender of the baby a surprise until the big day!
Arvid: a simple yet sophisticated choice. The meaning of Arvid is eagle tree, and it has Norwegian origin. In fact, Arvid derives from two Old Norse words, arn, which means eagle, and viðr, which means tree. It's one of the rare baby names in the US that are extremely popular in other countries. Arvid can be found on #22 in Sweden. Suitable for eco-friendly parents that want to teach their sons how to be closer to nature. The eagle part of Arvid also makes it a prime candidate for parents who served the army or are looking for patriotic names.
Barnabas: the son of consolation, a rare baby name of Greek origin
Bartholomew: Hebrew name who was the son of Tolmai according to the Christian bible
Bellamy: The meaning of Bellamy is fine friend, thus teaching your baby boy the quality of friendship early in his life. The admirable meaning is complemented by an upbeat rhythm, thanks to the popular Belle names that parents currently love. If you can't get your mind off Isabella or Mirabella, then Bellamy can be the rare boy name you were looking for, as it works for both genders.
Bello: beauty is not only for ladies, so Bella would not only stick to girls. The male version of this beautiful baby name is not so common in the US. However, it is not unheard of in Italy. The trendy -o ending gives Bello a first-class ticket to parents that wish to find a passionate name for their baby boys.
Berwin: the meaning of this rare name is a bright friend. Something between Bertrum and Bronwyn, it belongs to the baby names you never hear because it is pretty nerdy while being chic at the same time. Highly recommended choice for stylish parents looking for something different and extraordinary.
Blade: are you a sci-fi fan? Then you will link this rare baby name to the classic dystopian film Blade Runner starring Harrison Ford and directed by legendary Ridley Scott. If not, you opt for a strong baby name that reminds a weapon, sword, or knife.
Blaise: a rare French name that means limping.
Booker: The meaning of Booker is a scribe, and as you can imagine, it's perfect for future authors and writers. If you love literature, poems, or good old tales, Booker is a name that you might find interesting. It has been linked with libraries and knowledge, science, and research. Who knows, your son might be the next Einstein, a top scientist who invents the cure for cancer or something life-changing formula that saves the world from global warming. There is one more reference to literature about Booker, the annual UK award for the best novel, called the Man Booker Prize.
Cadman: you know Catwoman, the lethal enemy of Batman. Time to meet Cadman, her male version. Well, not quite, but it definitely sounds like it! All jokes aside, Cadman is another strong choice for your baby boy, as the real meaning of this name is a warrior. Choose it if you want to see your baby boy grow up to be a real fighter, a person who doesn't take no for an answer and is willing to stand up for the truth no matter the cost. An altruistic name that you don't hear every day, just like the attributes that go with it.
Clement: a baby name of English origin that represents the person who is gentle and merciful.
Cordero: Spanish names are always attractive because they are associated with the Mediterranean carefree lifestyle. Cordero belongs to the rare boy names that have a meaning of an animal, more specifically the lamb. The hipster -o ending makes it fashionable. In addition, it brings an air of European flavor which is always cool for baby names.
Dante: latin word that means everlasting, best known from the top poet Dante Alighieri who wrote the masterpiece Inferno, which describes the path through the nine circles of hell.
Dax: fueled by the all-consuming power of the letter -x at the end of this short and sexy name, Dax is an ideal combination of looks and strength. If he was a chess pawn, it would definitely be the Black King, the most valuable piece on the chessboard. Dax also has a sci-fi vibe as it can be associated with a StarTrek character that appeared on Deep Space Nine. Fun fact: if you can't get enough spa, then you might want to know that Dax is a popular French spa retreat that celebrities visit very often as it's internationally known for its luxury facilities.
Drachen: a German name that means Dragon or just a kite.
Drakkar: a rare Scandinavian baby name derived from the Viking longship Drekar.
Edmund: the rich protector. Celebrity baby name for actor Edmund Gwenn. See? Some celebrities have rare baby names!
Egil: is a very masculine name from the times of the mighty Vikings. Egil Skallagrimsson, the semi-legendary Icelandic warrior, was also a celebrated poet. And that, my friends, is a very rare combination, don't you think? He wrote the famous Egil's Saga, which narrates epic stories from 850-1000 CE and is considered among the finest lyric poetry of that time. The meaning of Egil is the edge of the sword, which derives from the Norse element agi, which means awe. How awesome is that?
Elmo: a variation of Elmor, which means the protector of people. Elmo is best known as the red muppet character from the famous kids' TV show Sesame Street. Elmo was a real red dynamo with a positive personality; why don't you give these nice attributes to your baby boy?
Elowyn: a different version of Elwyn. It's fascinating how different a name can sound by adding a single letter. In this case, an -o between the letters l and w is what it takes to give this name a new spin. Attractive and mysterious, Elowyn has something exotic that can set your mind traveling to another universe, in a world of elves and beautiful creatures that live in an ideal world of love and peace.
Euan: a rare Gaelic name that recently came onto the US radar, primarily thanks to Harry Potter's Euan Abercrombie. The meaning of Euan is born of the yew tree, and its unique spelling helps it to make it easily on the rare boy names, and it's, in fact, the anglicized form of Eoghann. In addition, it has the same pronunciation as Ewan. This name became super popular thanks to the celebrity actor Ewan MacGregor. This time, however, it returns with a twist to make it unique!
Florian: a rare Latin baby name that means the flowering person or the gardener.
Forrest: you watched the epic romantic half-comedy half-drama film Forrest Gump, and you cried when Tom Hanks asked his son if he is going to be like him…well, this rare baby name is not anything like him in brains but all about Forrest in the hurt and values.
Frey: here's a mythology-related name that comes straight from the cold countries of Scandinavia. According to the stories, Frey was the Nordic God of fertility who was able to give life and love to his believers. He was a mighty God, capable of bringing happiness to people's lives. That's why Frey also means the holy and is usually called lord.
Grendel: a fearsome creature from the story of Beowolf and was one of his arch-enemies along with a dragon and Grendel's mother.
Hadassah: You don't hear this baby name often because Hadassah does not have the easiest spelling. But if you consider Hadassah a bit difficult to pronounce, it is a compelling choice that people will love. The real meaning of Hadassah is the Myrtle tree
Hagan: the pagan God of fire is behind this old Irish name. Hagan is rare and rarely used, making it unique and special. If you have Irish roots, which you would like to honor, then Hagan is an exclusive choice that will fit your baby boy like a glove.
Hakon: a simplified version of Haakon, which means chosen son. It derives from há, which means high or selected, and konr, which means son. If you wish to inject some royal blood into the family, then Hakon might be perfect for you as it was the name of the seven kings of Norway. No wonder Hakon is so popular in Norway, currently ranking at #44.
Harding is an uncommon name from Heard, an English surname containing the hardy element, used to describe brave people. It's another strong and tough name for your baby boy. However, if you have dreams of seeing your son being the President of the United States one day, this name might be perfect for him as it was the name of Warren G. Harding (1865-1923).
Hartigan: a typical example of rare boy names 2016 inspired by artists. Thanks to 20th-century abstract painter Grace Hartigan, this über cool name of Irish origin is perfect for art enthusiasts. In addition, the upbeat nature of Hartigan makes it an interesting choice for parents who either have Irish roots or have an exquisite taste for fine painting. The meaning Hartigan is descendant of the legendary King of England Arthur.
Herbert: a name is long forgotten; it's time to bring it back from the 1900s. Herbert is one of the rare baby boy names 2015 of German origin. The meaning of Herbert is the famous army, and it can be used by parents who have served in the military or veterans. Also, it would be perfect if your baby boy was born on the 4th of July.
Igance: French variations can also be a great place to find inspiration for rare baby boy names. France is a country with deep culture and years of history. Still, Ignace is actually a tribute to a religious name, Ignatius. This cool variation of an old Latin name that means fiery makes it more sweet and cute. Some parents prefer tough and strong baby names, but most of you want sweet and cute suggestions. Ignace has the best of both worlds, combining the bold image of a fiery person with the softer and more elegant French pronunciation. We are experts in finding the perfect name, don't you agree?
Ignatius: the fiery one, a rare baby name of Latin origin.
Januarius: dedicated to our lovely Capricorns, born in January! See more Baby Names by Month.
Jett: a rare baby name of English origin that means jet black. Remember The teenage TV series "The Famous Jett Jackson"?
Kay: derives from the Welsh name Cai. Sir Kay was one of the Knights of the Round Table, Arthur's brave companion. Rare baby names that keep it short and straightforward have a certain advantage. They are cool and somehow mysteriously sexy. Kay, in particular, sounds exotic and has a striking appeal to women. Some baby name experts suggest that Kay might also refer to the Latin name Caius which means rejoice.
Keefe: rare baby names of Irish origin often have a noble origin. Indeed, Keefe is a unique composition of high-born and handsome meaning. This qualifies it among the rare baby names that are not only attractive but also righteous and honorable. Keefe was used as a surname in Ireland. Still, some Irish immigrants in the US started naming their sons Keefe in the early 20th century. This trend never really got heated; we wonder why not, but that's not a problem for parents looking for rare baby names!
Kemuel: your little angel is so precious to you; why don't you give him the gift of carrying Angel's name? Kemuel is one of the holy rare baby boy names that come from the heavens and provide a mystic aura to this earthy world. The meaning of Kemuel is the helper of God. It represents one of the finest examples of a cool name of Hebrew origin that has a special meaning. Kemuel might sound like Samuel, but it's more distinctive and unique. Your son will thank you when he grows up!
Latham: the English version of an original Scandinavian surname. The meaning of Latham is the barn. It is perfect for parents who love animals, especially birds, thanks to the Latham Foundation, which is known for its services in animal-assisted therapy. Latham is not only associated with animal cruelty prevention but also with other human issues. Latham is also a hamlet in Albany County, New York.
Leif: a name that is on the brink of discovery from the wide public, which just broke the milestone of being placed within the 1,000 most popular baby names. Currently ranked at 998, Leif is a Scandinavian name for boys that reminds you of prosperity and wealth. The meaning of Leif is descendant. As your son will inevitably be your heir, you might consider this a rare name for boys, especially if you have a significant wealth to pass on to him. Besides the rich and famous association, Leif is also linked with adventure and exploring new frontiers. Thanks to Leif Erikson, the brave traveler who first set foot on Iceland's cold and remote island, Leif has forever been associated with the fearless men who don't back down, pushing forward and setting new records. Your son Leif will recognize no limits and will be a free spirit, willing to travel the world and constantly open new doors of opportunities.
Leofric: If you love Leonardo but can't stand it anymore because you see it everywhere, it's time for a change. Keep the Leo- prefix and dumb the rest. Replace it with Leofric, one of the rare boy names that are blissfully for the child. Why? Well, they have a great meaning! Leof means beloved, and ric derives from reign, representing the kingdom. Leofric is extremely rare, but you can always fall back on the tried and tested Leo, a universal name that is accepted everywhere.
Lore: an American baby name that means history or story. It is an alternative form of the name Laura.
Lynk: a rare form of the name Link, which means…you guessed it! Link!
Morrow: a diminutive of tomorrow which means the next day.
Oberon: another form of Auberon. Oberon was the King of the Fairies. He was introduced by Shakespeare in the masterpiece A Midsummer Night's Dream. The meaning of Obern is noble, but it is also known as bearlike. The second definition is more masculine; you can choose it if you are looking for strong and confident rare baby names for your son. Other sources suggest that Oberon has German origin and means royal bear. Last, Oberon is known as the planet Uranus's outermost major moon in astronomy.
Parrish: originally a surname, this rare baby name of English origin means the noble. In 1961 Parrish, the drama film was released in theaters telling the story of a young man in conflict with his stepfather, a cruel and brutal millionaire.
Payne: an alternate form of the word pain, given to the fictional dark character Max Payne in the 2001 video game by Rockstar Games that later became a film-noir movie in 2008. Max was an anti-hero that was trying to revenge for the murder of his wife.
Peregrine: a unique baby name that comes from the Peregrine falcon. As all birds represent freedom because they can fly, Peregrine also means the wanderer, the adventurer.
Ragnor is an uncommon baby name from Ragnar Lodbrok. He became a living menace for England and France and ruled the Nordic people in the Viking Age. He is also known as the father of Björn Ironside, the legendary king of Sweden.
Rhett: a Dutch baby name later transferred to English, with philosophical meaning. Rhett means advice, and it's one of the rare baby boy names that rationalizes the naming process. You want your son to be a good boy, take your advice, and listen to what you say. You want the best for him and are prepared to give the best advice to help him in this tough and sometimes difficult life. Rhett is an unusual and rare name that is a bit difficult to pronounce, but it has all the qualities of a great name. It's highly recommended by our team of baby name experts!
Roan: spelling variations can make lovely names. A fantastic example is Roan, Sharon Stone's name for her son. It derives from Rowan and makes it much simpler as it gets rid of the weird "w" in the middle of the name. Roan is a truly warm-hued spelling spin that is not very common yet wins all the points from the competition. The meaning of Roan is little redhead, so it's also perfect in case you or your hubby is a redhead!
Roch: this is a rare variant of the Italian name Rocco which means "rest."
Sabre: a distinctive form of saber which means the sword.
Severus: cool, unique, and rare; this name has it all! Severus is a Latin name that means stern, and it has been a hidden gem for years until it appeared in Harry Potter's books. Certainly, there are not so many boys called Severus, so your son will carry a unique name in school, and it's more than certain that it will help him make more friends along the way. Something that he will appreciate when he grows up.
Shayde: another form of Shade, best known from the fictional character of Doctor Who, a sci-fi TV series that became very popular in Britain during the 80s. Shayde was something like a robot that the complex computer network called Matrix built from scratch. Shayde could travel through time and space without the help of any kind of machinery and could fire psychic bullets at his enemies, an interesting ability for your baby boy when he gets bullied in school!
Sterling: rare boy names 2016 can suddenly become popular; the question is: do you want to be the first who invested in this name before anyone else did? If that's the case, then Sterling is an English name of the highest quality (yep, that's actually the name meaning), and it can be linked to the British currency, the sterling pound. Together with the Euro and the US dollar, they are the world's most trusted currency reserves for international investors. Furthermore, the power of the Sterling is much higher than the rest. It signifies stability and reassurance based on a long culture of royalty and inheritance that cannot be easily broken. Therefore, we believe that if any of our rare boy name suggestions ever make it to the top 500 baby names, then Sterling must be the one!
Talon: a rare English name that means the claw of a bird.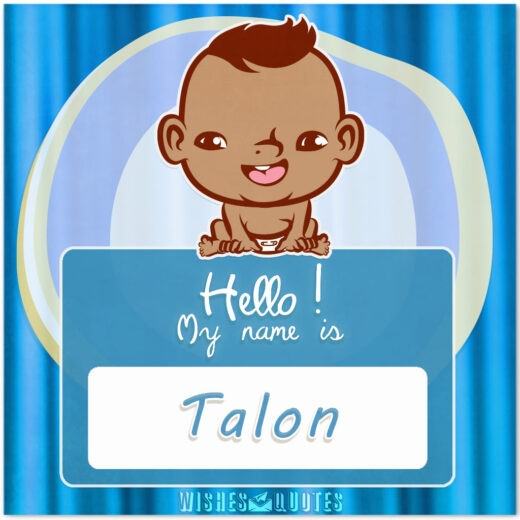 Thelonious: are you a Netflix fan? If you are, you probably have already watched the post-apocalyptic sci-fi TV series "100". It's an epic story of humans trying to return to earth after living for 100 years on an international space station called the Ark, after a devastating war that filled our planet with radiation. The chancellor of the Ark is named Thelonious Jaha, the charismatic leader who takes all the tough decisions to preserve the human species and save the lives of everyone on board. 100 of their people are sent to the earth to explore, and strange things start to happen. You will see that Thelonious is strong, sacrificing his own son for his people, but he also has some weak moments where he questions his beliefs. No one says that being a leader is easy, but choosing this name for your son will give him a head start and teach him that he has to be strong to survive.
Thorne: from the Thorn bush. Also, a modern system of plant taxonomy and a TV series debuted in 2010 in the UK, starring David Morrissey as a police inspector.
Tor: we love short baby names because they are straightforward to remember. It can't get shorter than Tor, the three-letter Norse name derived from Thor. The powerful God of thunder (think of it as a Scandinavian version of the Greek super-God, Zeus) is widely known in Marvel's comics. Suppose you think that naming your son after a mythical God. In that case, a spelling variation might make it more attractive and differentiate it from the other weird comic book heroes.
Uhtred: a Saxon name inspired by The Last Kingdom, a successful TV series with a wealth of fictional characters from the old English era. Now, let's break Uhtred down to understand more about the name's origin. Uht means "the time just before dawn," and read derives from the word "ræd," which stands for wisdom or advice. The authentic nature of this noble name brings it to our list of rare boy names. We consider it a punchy historical name well-suited for any modern baby boy.
Vail: apart from being a skiing town in Colorado, this rare baby name of English origin means the dweller in the valley.
Vitus, one of the rare baby names inspired by Christianity, was a saint from Sicily who died as a martyr. The name Vitus was also given to the 2006 drama film that tells the story of a young boy with great piano and musical talent. Still, his parents are pushing him too much to achieve the most difficult goals they could ever think of. Please, please, please…never do that to your son; he deserves love and support from you!
Waller: there is always something interesting when you look up surnames that turned into first names. Waller is one of these baby names that have an aristocratic Anglosaxon origin. But instead, its roots can be traced to the high society of noble English people.
Zed: sounds like Zelda, the beloved Nintendo game that so many boys in the 90's growing up with. But Zed has nothing to do with video games. It's a short form of Zedekiah, the Hebrew name that means the lord is just. Zed is one of the most energetic rare baby boy names due to the Z- letter at the start. It provides the fuel for extraordinary power and strength. Zed is a cool short name that just graduated from nickname lane and became a stand-alone name on its own. It's fresher than Zac and fancier than Ted or Ned. So be different and bet on the power of Z!
Zephyr: the west wind derived from the ancient Greek word Zephyros.
More Names for Boys