Heartfelt Parents' Day Wishes
Though you have different days to celebrate for your father and mother did you know there's a day to celebrate both? Parent's day comes on the fourth Sunday of July. This is a special day to thank your parents who have done their best to fulfill all your desires, give you a beautiful life and shape your future. Parents are the most important people of our lives and parents day gives us an opportunity to celebrate this day. One should feel blessed and lucky to have great parents who always think about their children before anything in the world. So this day gives you a chance to thank the people who brought you in this world. Everyone loves their parents so why not plan something different and make this a beautiful day to remember. Definitely celebration is a must but before that you can prepare a few lovely wishes for them and write them on a beautiful card. This can be a wonderful way to start their day so all the kids can get together and prepare something unusual which they will love and cherish. So here are some of the best samples for the parents day wishes that you can write on the card:
Dear Mom and Dad, though I don't often express in words as how much I love you but today I want to thank you for the wonderful gifts, your blessings and above all showing me the right way to make my life more beautiful. Thank you very much and a Happy parent's day to you.
Your unconditional love has always been my greatest support and that is why I stand before you with a beautiful life that you have given me. Your care, affection and sacrifices have always been in my mind and treasure them as only parents can do something special for their children. A thank you would not be enough so just want to say that I'm blessed to have parents like you. Happy parent's day.
Happy parent's day Mom and Dad. Thank you for bringing me in your life and always neglecting my mistakes and still supporting me in whatever I do. Love you always.
I am grateful for everything you both have offered me. You both deserve many hugs and kises every day. You always know when I need you and irrespective of my needs and wants you both are always right beside me. Thanks a lot for all that you did to me. Please keep smiling forever, especially on this Parents' day.
You bring a smile on my face when I'm sad, you set my spirits high when I feel low, but you just make my day brighter with your love and care.
As a parent, the most important thing that you can ever teach your child is how to get along with you. As my parents, the both of you have done just this and so much more. Thank you for the love. A very happy and blissful Parents' Day to you.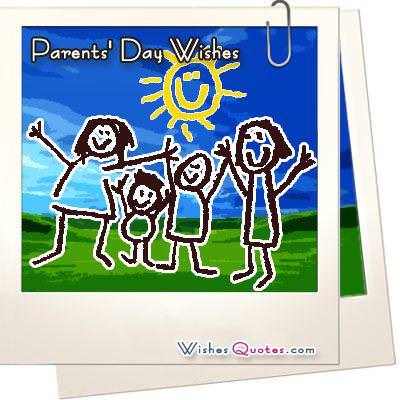 Parents' Day Cards
Related Links