Heartfelt Happy Father's Day Messages and Cards
Take ideas from these Happy Father's Day messages and cards to wish your Dad in the best way.Father's day is just on the horizon. This special day is the best day to show your Dad your appreciation for what he is; the best Dad in the world. We can't be in this world without our fathers, and they have provided us many things from the clothes on our backs to useful tips about life. They have always been the reliable man in our lives, and they have always treated us with a stern yet loving hand. There are so many things to celebrate fathers, and the best day to throw a celebration for them is during the day dedicated solely to them; Father's Day. Nothing says happy father's day better than a personal greeting made just for him. Although fathers may seem unemotional, they are quite suckers for messages telling how much you appreciate what he has done for you. Greetings and messages can be written in a card or in a letter. No matter what you choose, be sure to give him your best wishes and thanks for his hard work. A message may be the best gift you can give him. If you don't have an idea what kind of message to write, below are some messages to inspire you.
Sample Warm Father's Day Greetings and Messages
Dear Dad, Happy Father's Day! Although I may not say this often but I'm so thankful to have you. You have been such an inspiration to me, and I take all your life lessons to heart. I have always looked up to you as the ideal man for all the things you have taught me have guided through my years. I will always look up to you as a man of principle and values. I will never cease to follow your footsteps and make the right decisions as what you have taught me. Thank you so much.
Papa, This card might look simple, but I think this is the best thing that represents what you've been to me. You've always been a simple guy to me, and you have never been demanding. You remained simple and humble although I knew you were more valuable than what you seem to be. This card reminded me of you so much. It is simple, humble, yet valuable. It contained the best wishes and true-to-heart words just like you. You always wished the best for me and our family, and you've never failed to stay true to yourself and speak from your heart. I love you! Happy Father's Day!
To my Dearest Daddy, Happy Father's Day! This unique day is a celebration of you! Stay sweet, kind, and loving as you have always been. You taught me how to stay strong and stand up for myself. You taught me to never back down and pick myself up again each time I fall. You've always made sure I am a person of my words and kept true to myself. Thank you for all the things you taught me. You will always be the number one man in my life. I love you so much daddy!
Cute Father's Day Cards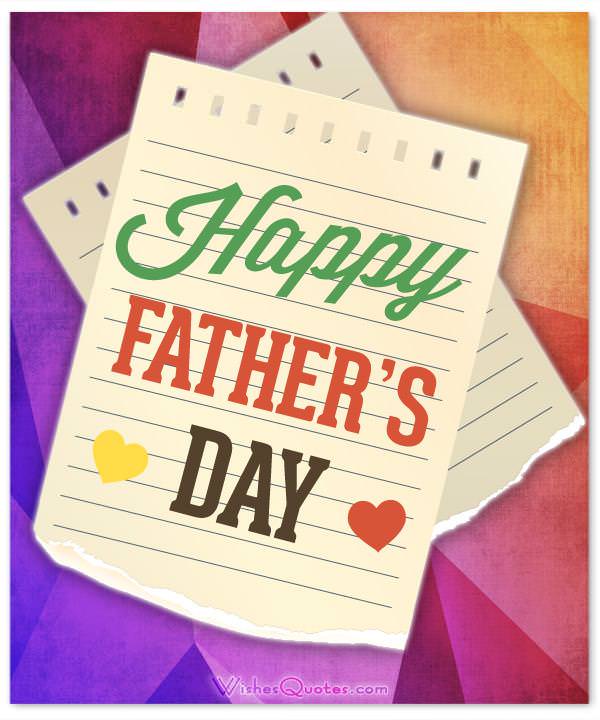 Short Father's Day Messages
Here are some unique ideas of short Father's day greetings and messages:
Happy father's Day! You are the best Daddy in this huge world.
On Father's Day, I can't help reflecting on all the things you've given me and lessons you've taught me over the years. Although time and distance may separate us, the man you are and the person you've made me never diminish. I hope you have a wonderful day, Dad.
I'm writing this to you on Father's Day. I can't give it to you because you're in God's loving care in Heaven, but I'll put it under my pillow hoping I dream of you and remember what a wonderful forever blessing you are in my life.
When I left my bicycle in the yard, you forgave me. When I sassed back, you forgave me. When I was late with Father's Day wishes, you forgave me (right?). I love you and Happy Belated Father's Day!
Hey Dad, remember when I was little, whenever I called you "Daddy" it meant that I wanted something? Would you please have a great Father's Day, Daddy?
To my Dad on Father's Day: You are my keeper of secrets, slayer of closet-dwelling monsters, tear dabber, boo-boo kisser and all around hero. I love you.
On Father's Day, I was wishing I could come up with just the right things to tell you how much I appreciate you for all you've meant in my life. Here's what I came up with: I love you with all my heart, Dad.
"Like a Father to me" doesn't seem powerful enough on Father's Day. If giving, loving, protecting, teaching and accepting are what Fathers do, then you are truly my Dad. Love you.
I'm the luckiest kid on the planet. I have a Dad whose support is a rock-solid foundation. Thanks for the unwavering love. Have a great Father's Day.
We all feel boastful when we stand back and see our good works in action. With a kid like me, you must be absolutely bursting with pride! Happy Father's Day from your humble kid.
It's SUPER DAD! Faster than a speeding lawn mower, more powerful than a pickle jar lid, able to leap long "honey do" lists in a single bound! So get out of that phone booth and have a great Father's Day.
It's difficult NOT to put you on a pedestal, Dad. You're honest, caring, strong, compassionate and wise. Happy Father's Day to the best Dad ever.
Remember when I was a little girl and I asked if I could marry you when I grow up? You just smiled and said "Sure." I now realize why I did that. If a girl is supposed to marry the best guy she can find, well, that's YOU. Happy Father's Day.
The Almighty has gifted me the best thing ever possible on earth and that is my father.
I wait for this day year long to generate a sweet smile on the face of mu father, Happy Father's Day papa.
My father is just like a candle to me who bring light in the darkness.
My father is someone who always provides a helping hand to me even if I don't need any help.
You are the sweetest and loveliest Dad and fortunately you are my Dad.
Dear beloved father, I don't have any words to explain my love for you, just want to say, you made my life.
I am so proud to be the child of you my Dad, happy Father's Day to you.
Sending oceans of Father's day wishes to you my Dad. I love you with all my heart!
Dad, you are the greatest hero of my life.
I can't tell you what you mean to me, you're my world Dad.
You are the pillar of strength and fountain of wisdom to me, my Dad.
Life is more beautiful when you are with me, my Dad.
Sending endless hugs on Father's Day to my Daddy.
I am so very lucky to have you as my father, love you so much Dad.
Related Posts