Heartfelt Birthday Wishes for Someone Special
Welcome to a heartwarming collection of birthday wishes for someone truly special. Birthdays are the perfect occasion to express our love, appreciation, and admiration for the remarkable people in our lives. Whether it's your spouse, partner, close friend, or a family member, the bond you share is unique and cherished. In the pages ahead, you'll find a diverse range of birthday messages that capture the essence of your special relationship. From heartfelt and romantic expressions to playful and fun greetings, we've curated a selection that aims to make their day as extraordinary as they are. Join us in celebrating the extraordinary person who brings joy and meaning to your life.
Special Birthday Wishes for a Special Someone on their Special Day
Today is special because you are special. Have a wonderful birthday with family, friends, and everyone whose company you enjoy. Cheers!
Thanks for being someone that I can talk to and share life with. I wish you a wonderful day, and may all your wishes come true. I hope you enjoy this day very much. Stay yourself.
Not every day do we have the privilege of sharing wonderful moments with someone special. You have made our lives so much richer by being part of it. May you have the most wonderful birthday today.
May your journey through life be as rewarding as you hope. You deserve all the good things that life has to offer. Happy Birthday!
Remember when we had a beer for the first time on your birthday? It was many years ago, but you haven't aged a day! Just be the way you are because you are gorgeous, my friend. Happy Birthday!
Happy birthday to someone who makes the world brighter for so many folks. You are a gift of sunshine.
May your special day be fantastic, marvelous, and unforgettable… just like you!
The greatest reward in life is knowing that we have been an inspiration to others. So, on your birthday, we would like to thank you for being such a good example of a great human being. Have a wonderful birthday today.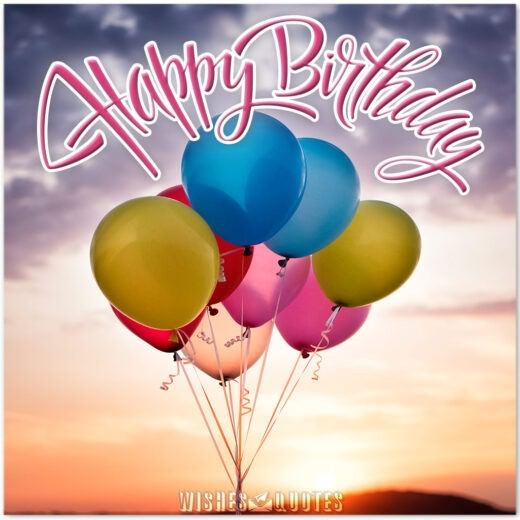 Fun-Filled Moments: Playful Birthday Wishes
Happy birthday to the master/mistress of fun! May your day be filled with endless laughter, just like you fill our lives with joy.
Cheers to another year of adventures, smiles, and epic goofiness! Your ability to find the fun in every moment is truly remarkable.
Hey there, birthday superstar! Get ready to party, laugh, and create unforgettable memories today. It's your special day, after all!
Wishing you a day packed with delightful surprises, hilarious moments, and endless giggles. You make every day brighter with your infectious humor.
Birthdays are for making mischief, right? So, here's to a day of harmless pranks and unforgettable laughs. Enjoy every playful moment!
You've got the incredible gift of turning any situation into a fun-filled adventure. Today, may your birthday be the grandest adventure of all!
Life is a rollercoaster, and you're the one who makes the twists and turns feel like a blast. Here's to another year of wild and wonderful rides!
On your special day, may you find yourself surrounded by friends, family, and heaps of joy. Your playful spirit brings out the kid in all of us. Happy birthday!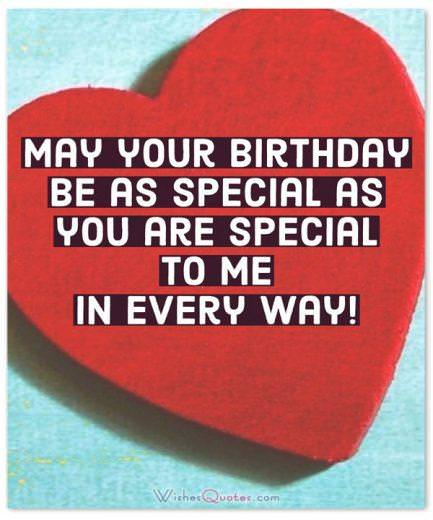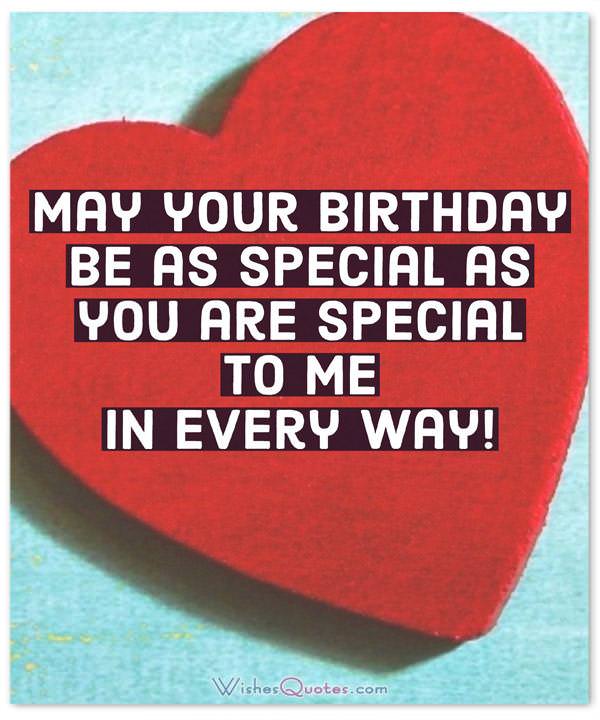 Cheers to Milestones: Special Birthday Messages
Congratulations on reaching this incredible milestone! Your journey has been remarkable, and I'm excited to see all the adventures that await you. Happy birthday!
Here's to a special day filled with reflection, celebration, and anticipation for all the great things still to come. Wishing you an amazing milestone birthday!
As you hit this significant milestone, may your heart be full of gratitude for the years behind you and excitement for the ones ahead. Happy birthday, my dear friend!
Milestones aren't just about the past; they're about the incredible journey that brought you here and the bright future ahead. Enjoy every moment of this special day!
Every milestone is a stepping stone to greater heights. Your journey has just begun, and I can't wait to see where life takes you next. Happy, happy birthday!
Celebrating this milestone with you is an honor. Your life's journey is an inspiration, and I'm grateful to be a part of your story. Cheers to your special day!
Here's to the wisdom, experiences, and adventures that have shaped you into the remarkable person you are today. Happy milestone birthday, my friend!
May this milestone birthday be the start of an extraordinary new chapter in your life. Embrace it with open arms and an open heart. Cheers to you!
Artistry in Words: Poetic Birthday Wishes
In the canvas of life, your birthday is a stroke of vibrant color. May your days be a masterpiece of joy, love, and endless creativity. Happy birthday to someone truly special!
On your special day, let the words of the heart dance like poetry and the feelings flow like a beautiful melody. Wishing you a birthday filled with artistic expressions of happiness!
Birthdays are like blank pages of a book waiting to be filled with moments of love and laughter. May your life's story be a masterpiece, written with joy and shared with the world. Happy birthday!
As you turn a new leaf in the book of life, may your journey be illuminated by the poetic beauty of each day. Let your heart's verses inspire others. Happy birthday, dear friend!
Your birthday is a canvas, and each moment is a brushstroke. Here's to a day filled with vibrant hues of joy, laughter, and love. May your life's artwork be as beautiful as your heart!
In the garden of life, your birthday is a blooming rose, radiant and filled with elegance. May your days be filled with the sweet fragrance of love and happiness. Happy birthday!
Let the colors of joy, laughter, and love paint the canvas of your life as you celebrate another year of amazing adventures. Wishing you a birthday filled with artistic expressions!
On your special day, may the poetry of happiness fill your heart, and the artistry of love surround you. Here's to a birthday as beautiful as your soul!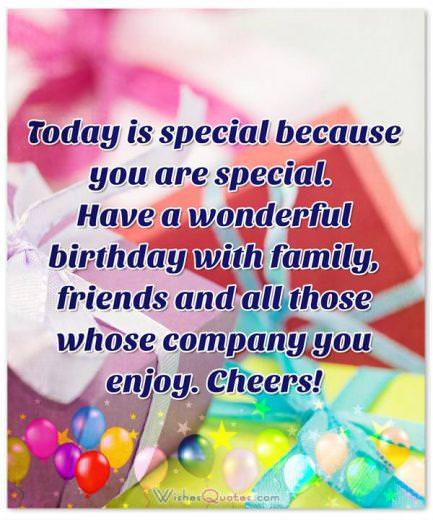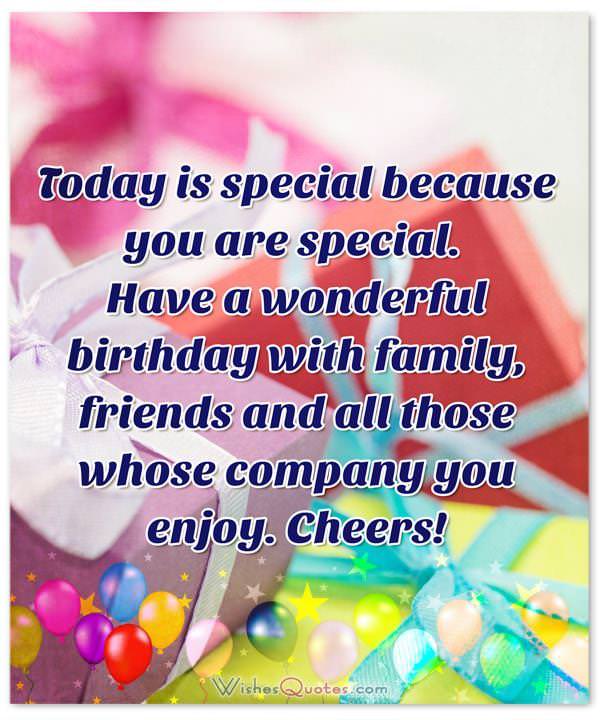 Thank You, Special One: Birthday Messages of Gratitude
On your birthday, I want to express my deepest gratitude for the incredible impact you've had on my life. Your presence fills my days with joy and my heart with warmth. Happy birthday to the special one I'm truly thankful for!
Today, as you celebrate another year of life, I want to take a moment to thank you for the countless memories, laughter, and love you've shared with me. Your friendship is a gift I cherish every day. Happy birthday, my dear friend!
Birthdays are a perfect time to reflect on the blessings in our lives, and having you as a part of mine is a blessing beyond measure. Thank you for being such a special person. Happy birthday!
Your friendship has been a source of strength and happiness in my life, and I'm profoundly grateful for it. May your birthday be filled with the same warmth and kindness you bring to others.
As you celebrate your special day, I want to express my gratitude for the countless times you've been there for me. Your support and friendship mean the world to me. Happy birthday to someone I'm truly thankful for!
Today, I want to say thank you for being the incredible person that you are. Your kindness, generosity, and love have touched my heart in ways words can't describe. Wishing you a birthday filled with joy and love!
Birthdays are a time to celebrate not just another year but also the people who make life beautiful. You're one of those people, and I'm so thankful to have you in my life. Happy birthday!
As you blow out the candles on your birthday cake, know that my heart is filled with gratitude for the wonderful person you are. May your day be as bright and beautiful as your spirit! Happy birthday!
Sincere Birthday Wishes for a Special Male Friend
Everybody's searching for a hero. You are a shining example of strength under adverse conditions and graciousness in uplifting situations. You are a true hero, and I hope that you will have a birthday celebration fit for a hero on this special day. Happy Birthday!
Hope this special day makes some stories that you can't tell. I am looking forward to hearing about them :).
Forever young and good-looking. That's all I wish for you on your birthday!
To a wonderful human being and one of the best examples of the male species – Happy Birthday!
I cannot find the perfect words to express how much I appreciate being in your life. You are wonderful and special and worthy of a huge celebration on your birthday. I hope you love all the birthday surprises that are coming your way.
You inspire me to give my best even when the going gets tough. You are my rock, my refuge, and the love of my life. Happy birthday, and may you have many more to come!
Today should be a national holiday because it's your birthday. You could hang out in your man cave or share this day with everyone who cares about you. Whichever you choose, Happy Birthday, and here's to bigger successes in the coming years!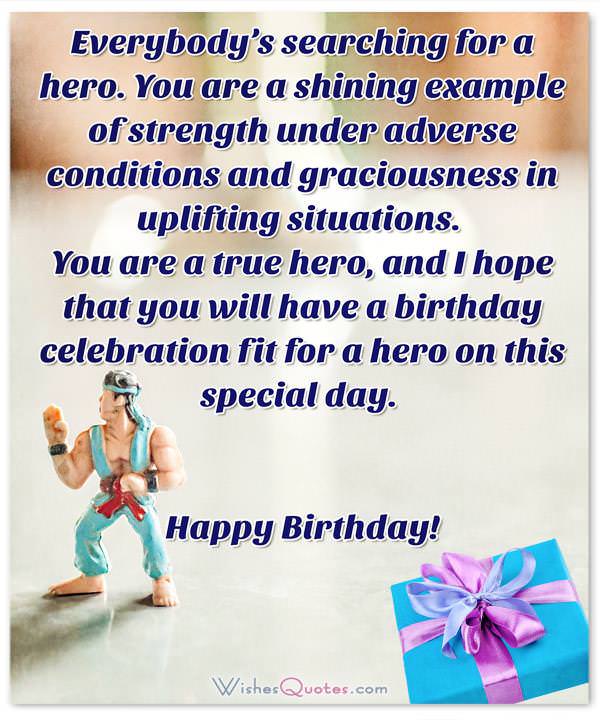 Sweet Birthday Wishes for a Special Female Friend
Today, you are a queen. Tomorrow and forever, you will be a queen because you have earned it with all you do to make this a better place for everyone. Happy Birthday, wonderful person!
May you always have enough happiness in your life to keep you sweet, enough trials and errors to keep you strong, enough success to keep you trying, enough faith to give you courage, and enough determination to make each day a good day to remember.
Let happiness reach your eyes, enthusiasm reach your smile, and resilience reach the temples of your face every time you look at someone. May you pass on your love and joy to everyone around you. Wishing you the best Birthday ever.
You are my best friend, soulmate, and criminal partner. You deserve a brilliant birthday celebration for being such a wonderful person. Enjoy your Birthday today.
If the dictionary used a picture to illustrate the word awesome, they would use yours because you own that word. Your zest for life, your bubbly spirit, and the pure joy you show when sharing with others have raised the bar for awesomeness. Happy Birthday to you!
I have been blessed by your presence in my life. You spread joy wherever you go. You show kindness and compassion even under strange circumstances. Birthday toasts for a fabulous lady!
Happy Birthday! You are a true friend to everyone. Expect a big crowd and a lot of love for your birthday celebration.
Passionate Birthday Wishes for Someone Special you Love
I was drifting without purpose until you came into my life. I am blessed to have you by my side for the rest of our lives. Happy Birthday, my love.
I wasn't sure what happiness was until you walked through that door and flashed your megawatt smile. I have been mesmerized by you since Day One. I hope you love your birthday surprise. Happy, happy birthday to my dearest one.
Thank you for the love you have shown me and shared with me. On your birthday, I wish you greater success and the fulfillment of all your dreams. Cheers to my sweetest one.
Simple birthday greetings just won't do for the most amazing person that is you. You deserve the biggest and the best birthday event because you are the most important part of me. To my love, Happy Birthday!
In you, I have found the secret to eternal happiness. In your presence, I have been endowed with the wisdom of the world. On your birthday, I wish you a long life and all your dreams fulfilled. Have a wonderful birthday today.
There's no one else who makes me feel so accepted. Thanks for being my kindred spirit!
If they were handing out awards for phenomenal people who make the world a better place just by being in it, you would be at the top of the list. You are awe-inspiring, and I am lucky to have front-row seats in your journey. Let's celebrate your birthday in a way that is fitting for such a terrific person.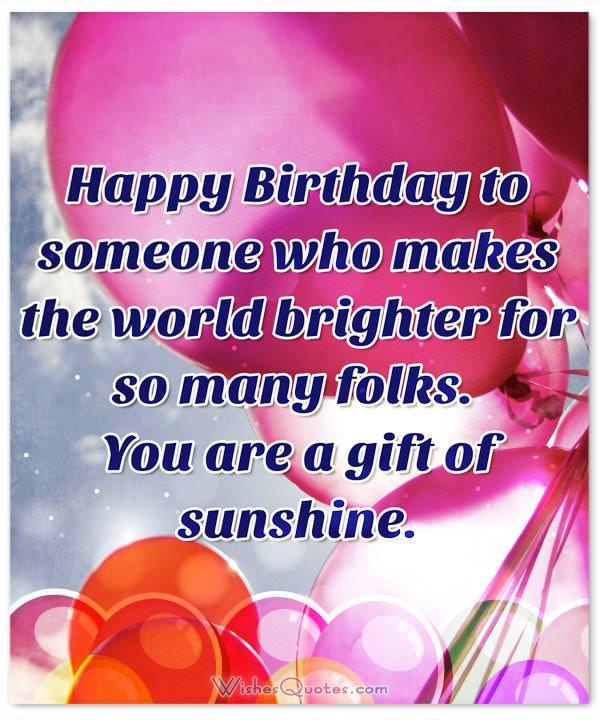 Make Your Loved Ones Feel Special with Birthday Cards and Messages