Happy Birthday Wishes for Niece
On the day nieces are born, you become newly minted aunts or uncles. This means being connected to a little girl who will someday grow up to become someone accomplished and famous. Before that happens, however, you will be building a special relationship with your niece, and what better way to do that than to remember your niece's birthday every year? Store-bought cards won't cut it if you want to impress to your niece that you are a cool and evolved person available for late-night chats and some girl talk when the time comes. Browse our recommendations of beautiful and unique birthday wishes for niece and build your rep as the fun uncle or aunt.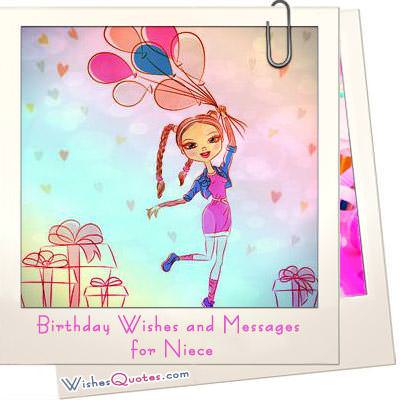 Delight your Niece with these Birthday Greetings!
I remember that special day when I first laid eyes on you. You were everything I imagined an angel to be. Happy birthday, sweet angel!
Happy birthday to the loveliest little girl on planet Earth. If I could grant wishes, I would give you all that your heart desires. You own me.
If eyes were made for seeing, then nieces are their own excuse for being. You have brought so much joy and laughter to this family. Happy Birthday!
Good thing I'm not your mom/dad because I like playing the cool aunt/uncle. I'm here for you no matter how late the hour. Happy Birthday!
Happy birthday to the bundle of joy who never fails to amaze everyone with her wit, courage and generosity. You are indeed one of a kind, and I am honored to be your aunt/uncle.
Happy birthday to my dear niece: Me and you, we make an awesome twosome. You make me proud.
How many ways can I praise your awesomeness without sounding like a tired old aunt/uncle? I don't know, but Happy Birthday, awesome niece!
Today is a special day. Today is the day I earned bragging rights to the title of aunt/uncle. It's all because of you. Happy Birthday!
In your eyes, I see the promise of a brighter tomorrow, a better world for all and the chance for peace. Tall order, I know, but you are brave and strong and smart. You can do it. Happy Birthday!
Lifehack 101: How to be a best friend/play pal/mother figure and have all the fun?
Answer: Have a niece! Happy birthday, sweet one!
I will never forget the day you grabbed my finger with your little hands. You held on so tight it felt like you were transferring your life force to me. It still feels that way whenever I spend time with you. Thank you for letting me be part of your life. Happy Birthday!
Happy Birthday Wishes for a Special Niece
I look into your eyes, and I see an old soul. I listen to your dreams, and I sense a heart full of hope and longing. I stand in awe at the young lady you are becoming. So proud of you, niece. Happy Birthday!
You have the unique gift of good cheer: You spread happiness wherever you go. Today, I wish you the same joy you have generously given. Happy Birthday!
You are sunshine and light. You are happiness and free spirit. You are all the good things we wish for this world. Happy birthday, dear niece!
Generation gap? No, not with you around. You bring the world together, and you bring out the best in all of us. We are proud to be part of your family. Happy birthday to my lovely niece!
I have been so blessed to have known you since the day you were born. This is your birthday, but it is mine, too– as an aunt/uncle. Happy birthday to us!
I do not have your mom's patience. I do not have your dad's genius, but I have a heart full of love for you and a guest room available 24/7. Happy Birthday!
I am convinced that you got the best parts out of the gene pool. If anyone wants to challenge me on that, I have photos, trophies and medals with your name on it to prove them wrong. Proud to be your aunt/uncle. Happy Birthday!