Birthday Wishes for Roommate – Even Roommates Need Birthday Hugs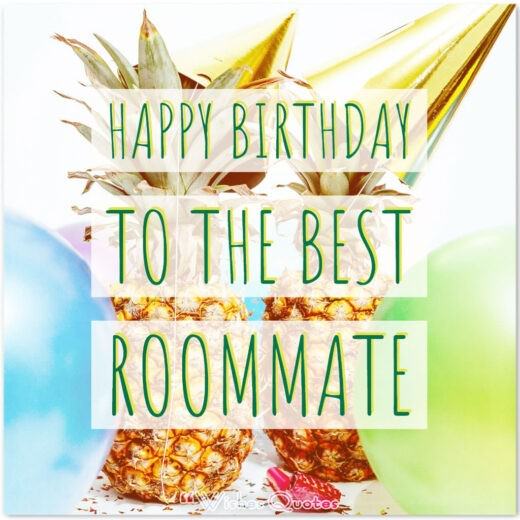 How Do You Say Happy Birthday to Your Roommate?
Some roommate relationships can turn into solid lifetime friendships. Developing long-term, productive relationships means both parties have to make an effort to get along. Establish ground rules, and respect personal boundaries. Be considerate, and show appreciation for the other person by remembering special events such as birthdays. Your roommate's birthday is one occasion that should not be missed. Birthdays provide unique opportunities to show your appreciation for the other person and to make them feel special. A grand gesture such as a surprise party is appreciated, but so will a simple gift like a hand-designed card bearing a heartfelt message. Choose an appropriate message, which will depend on the state of your roommate relationship. If you are close, a witty and straightforward message may be a good choice. If you and your roommate are still getting used to each other, a more formal but sincere birthday message may be best.
The Best Birthday Wishes for your Roommate
We've shared good times, bad times, and 800 square feet of space. You have taught me how to have fun, which I am guessing today will be about. Happy Birthday!
I am so happy to be celebrating another birthday with a good friend. Happy Birthday to my best buddy and roommate!
Happy Birthday to the only person who puts up with my ranting, raving, and the smell of burnt toast every morning! You are the best roommate ever.
Good roommates know not to take the last yogurt cup or the last banana. The best roommates bring home more yogurt and banana. You are definitely in Group B, and I am so lucky. Cheers on your birthday!
Over time, roommates become the best of friends or the worst of enemies. Happy Birthday to my bestie for life!
Birthday cheers to a fabulous friend and awesome roommate who deserves the best. May all your dreams come true.
Roommates are the family we choose—happy Birthday to someone who has my back all the time.
We started by sharing living space. We ended by sharing our lives, and I am all the richer for it. Happy Birthday to an extraordinary all-around person!
Special birthday wishes to a special person who has become my friend, mentor, and family.
It's nice to have you around. You are sweet, cheerful, and neat. You actually pick up after yourself. Happy Birthday!
Awesome Happy Birthday Wishes for Roommate Female Friend
We couldn't be further apart in taste and fashion choices, yet here we are -– living as roommates for so many years. Happy Birthday to my amazing gal friend!
Wishing you all the best on your special birthday, dear roommate. May your birthday be as exciting as you are.
Birthday cheers to the kindest funny lady in the house. You light up the room whenever you show up.
You are more than a roommate to me. You have become the sister I have always wanted. Happy Birthday!
To my sister from a different mother and father –- Happy Birthday! I am so glad we found each other.
Every day is an adventure with you as my roommate. May this year's birthday celebration be one of our greatest adventures yet.
Toasting you on your birthday: Here's to dreams fulfilled, new worlds conquered, and the best lipstick kit discoveries.
Whenever I need a shoulder to cry on, you make yours available—happy Birthday to the roommate every girl would like to have.
We live together (mostly). We eat together (sometimes). We get along perfectly (always). Thus, we celebrate your birthday (heartily).
Let there be music and dancing and food and wine. Let the queen of this house lord over it all. Cheers to the birthday girl!
Cool Happy Birthday Wishes for Roommate Male Friend
You are the perfect roommate for antisocial people like me. You are full of life, and your joy is catching. Have a rip-roaring birthday celebration!
You bring the party wherever you go, and I'm glad I live with you. It's always fun when you're around. Happy Birthday, bro!
Happy Birthday to a good dude and a great roommate! Keep on rocking.
I yodel country music, and you're a headbanger. Who knew we would get along so well? But all the credit goes to you for your patience, fair-mindedness, and good heart. Happy Birthday!
You're not a tech wiz, but you can find the power switch on a vacuum. You're a dude who can do dishes while dancing around the place. Your mother raised you well. Happy Birthday to a really cool dude!
Thank you for always respecting my space. Thank you for being considerate to all my friends. Thank you for entertaining my mom when she drops by. You are a wonderful friend and housemate. Best birthday wishes are coming your way today.
Happy Birthday to the king of barbecue parties! I guess we're having another great one tonight.
Another birthday celebration means we are approaching the point of no return. Instead of worrying about half the rent, restocking the canned drinks, and student loans, you'll be fretting about a mortgage, organic baby food, and student loans. You might actually miss our roommate arrangement. Happy Birthday, bro!
Blessed are the picky ones because they end up with the best roommates, according to my mom. Boy, was she right about you. Enjoy your special birthday!
Happy Birthday to my roomie, my partner in crime, and my ride or die. You are a champion in every way possible.
More Special Birthday Wishes