Friends are one of the best gifts that anyone can have. They not only multiply our happiness but also divide the sorrows. On 27 April 2011 the General Assembly of the United Nations declared 30 July as official International Friendship Day. However, some countries, including India, celebrate this day on the first Sunday of August. So get ready to celebrate the day with your best friends and show them how important they are in your lives. Friendship is a special bond that exists between two people who are connected with love, care and affection for one another. It is a day that is dedicated to all the friends who share a special relationship with each other. It can be your school friend, college mate, brothers, sisters or anyone.
Happy Friendship Day Wishes
Want to make your friends feel special and loved, greeting cards with warm friendship day messages would be a great idea. So let's explore the below samples which contain lovely wishes for friends.
You are a special gift of God as you have always been at my side, no matter in good or bad times. Your friendship is special to me and so are you. So wishing you a wonderful life and a happy friendship day.
You are the sweetest friend that anyone can have. Thank you for coming into my life and making it brighter with your friendship. Hope we always stay together. Happy friendship day to you.
May God bless you with a long life full of happiness and joy? Hope your each day is lovelier and most special like me so that our bond of friendship has been always strong and we continue to be the best friends. Thank you and love you a lot.
Wishing a very happy friendship day to my dearest friend. Though I'm not there today with you but my best wishes and love will always be with you. Hope you touch many new heights in the future and make me feel proud.
It is very difficult to express my feeling for you in just a few words. You are special and the most beautiful thing that happened to me. Though I may not show my feeling but still love you all very much. So here's wishing all my friends a happy friendship day. Miss you all.
Blessed to have a true friend like you because it is difficult to find a real friend who understands and cares for you. I'm the lucky one and it feels really good to have you in my life.
Friendship Day History
The history of commemoration of the occasion is interesting. The merrymaking of Friendship Day started in the US in 1919. The objective of the celebration was to dedicate a day for the bond of friendship. It was based on an idea by Joyce C. Hall, founder of Hallmark cards. In 1920, celebration of Friendship Day received intense criticism as it was believed more to be a commercial publicity stunt by the greeting cards industry rather than celebreating the bond of friendship. The criticism, however, effected the celebration severely, and in 1940, the demand for Friendship Day greetings cards declined significantly. However, the essence of the celebration drew much attention from people. As a result, the popularity soon increased as more and more people are showing interest to the occasion. Although the idea of Friendship Day started in 1919, the first World Friendship Day was proposed in 1958. But it is only on April 27, 2011 the General Assembly of the United Nations officially declared July 30 as the International Friendship Day. In 1998, to celebrate the significance of Friendship Day, Nane Annan, wife of Secretary-General of the United Nations Kofi Annan named Winnie, the Pooh as the world's Ambassador of Friendship. [source]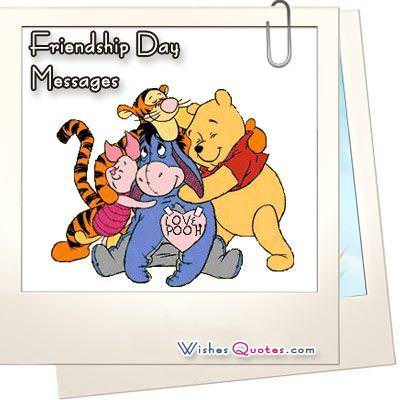 Didn't find what you were looking for?
Custom Search
If you liked what you read, please share it. It all helps to keep this site going!.