Father's day is just on the horizon. This special day is the best day to show your Dad your appreciation for what he is; the best Dad in the world. We can't be in this world without our fathers, and they have provided us many things from the clothes on our backs to useful tips about life. They have always been the reliable man in our lives, and they have always treated us with a stern yet loving hand.
There are so many things to celebrate fathers, and the best day to throw a celebration for them is during the day dedicated solely to them; Father's Day. Nothing says happy father's day better than a personal greeting made just for him. Although fathers may seem unemotional, they are quite suckers for messages telling how much you appreciate what he has done for you. Greetings and messages can be written in a card or in a letter. No matter what you choose, be sure to give him your best wishes and thanks for his hard work. A message may be the best gift you can give him. If you don't have an idea what kind of message to write, below are some messages to inspire you.
Sample Greetings and Messages

Dear Dad,

Happy Father's Day! Although I may not say this often but I'm so thankful to have you. You have been such an inspiration to me, and I take all your life lessons to heart. I have always looked up to you as the ideal man for all the things you have taught me have guided through my years. I will always look up to you as a man of principle and values. I will never cease to follow your footsteps and make the right decisions as what you have taught me. Thank you so much.
Papa, This card might look simple, but I think this is the best thing that represents what you've been to me. You've always been a simple guy to me, and you have never been demanding. You remained simple and humble although I knew you were more valuable than what you seem to be. This card reminded me of you so much. It is simple, humble, yet valuable. It contained the best wishes and true-to-heart words just like you. You always wished the best for me and our family, and you've never failed to stay true to yourself and speak from your heart. I love you! Happy Father's Day!
To my Dearest Daddy,

Happy Father's Day! This unique day is a celebration of you! Stay sweet, kind, and loving as you have always been. You taught me how to stay strong and stand up for myself. You taught me to never back down and pick myself up again each time I fall. You've always made sure I am a person of my words and kept true to myself. Thank you for all the things you taught me. You will always be the number one man in my life. I love you so much daddy!
Short Father's Day Messages

Here are some unique ideas of short Father's day greetings and messages:
Happy father's Day! You are the best Daddy in this huge world.
The Almighty has gifted me the best thing ever possible on earth and that is my father.
I wait for this day year long to generate a sweet smile on the face of mu father, Happy Father's Day papa.
My father is just like a candle to me who bring light in the darkness.
My father is someone who always provides a helping hand to me even if I don't need any help.
You are the sweetest and loveliest Dad and fortunately you are my Dad.
Dear beloved father, I don't have any words to explain my love for you, just want to say, you made my life.
I am so proud to be the child of you my Dad, happy Father's Day to you.
Sending oceans of Father's day wishes to you my Dad. I love you with all my heart!
Dad, you are the greatest hero of my life.
I can't tell you what you mean to me, you're my world Dad.
You are the pillar of strength and fountain of wisdom to me, my Dad.
Life is more beautiful when you are with me, my Dad.
Sending endless hugs on Father's Day to my Daddy.
I am so very lucky to have you as my father, love you so much Dad.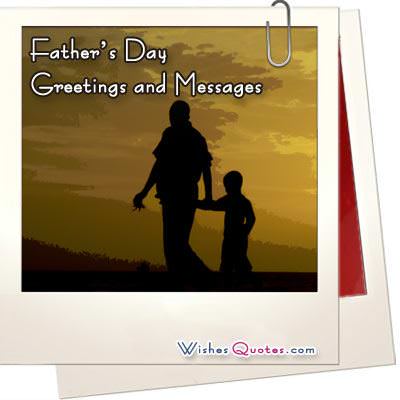 Take ideas from these greetings and messages to wish your Dad in the best way.
Didn't find what you were looking for?
Custom Search
If you liked what you read, please share it. It all helps to keep this site going!.