Famous Father's Day Poems
Father's Day is the best opportunity to express gratitude towards your father for all of his love and support. It is a time of family gatherings and the best time to give your dad a special card with warm messages, flowers, and other gifts of love. Here is a collection of famous Father's Day poems to write on the card you got for your dad or read it aloud to him and show him your love and how much you care.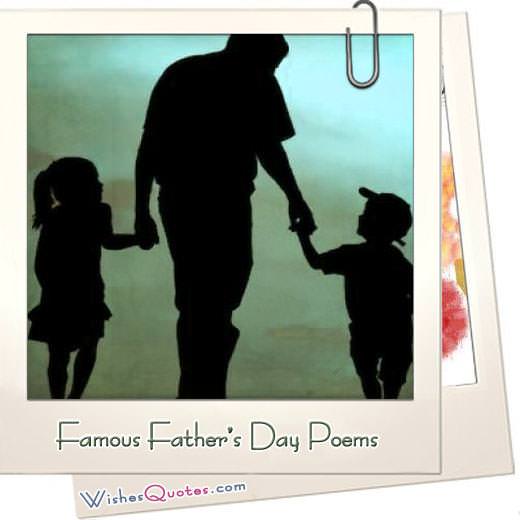 My Dad and I
My dad and I-we think alike,
He knows just what I mean
Before I even say a word
He reads, well, in between.
My dad and I-we like to fish
Or build a model plane,
Or fix a broken chair or two
Or just a windowpane.
My dad and I-we know the score
Of every single game;
Sometimes he's really busy, too
But he takes me just the same.
My dad and I-we go swimming too,
Each year and sometimes twice.
My dad and I-we do everything;
My dad-he's really nice.
By Phyllis C. Michael
My Dad's Hands
Bedtime came, we were settling down,
I was holding one of my lads.
As I grasped him so tight, I saw a strange sight:
My hands. . .they looked like my dad's!
I remember them well, those old gnarled hooks,
there was always a cracked nail or two.
And thanks to a hammer that strayed from its mark,
his thumb was a beautiful blue!
They were rough, I remember, incredibly tough,
as strong as a carpenter's vice.
But holding a scared little boy at night,
they seemed to me awfully nice!
The sight of those hands – how impressive it was
in the eyes of his little boy.
Other dads' hands were cleaner, it seemed
(the effects of their office employ).
I gave little thought in my formative years
of the reason for Dad's raspy mitts:
The love in the toil, the dirt and the oil,
rusty plumbing that gave those hands fits!
Thinking back, misty-eyed, and thinking ahead,
when one day my time is done.
The torch of love in my own wrinkled hands
will pass on to the hands of my son.
I don't mind the bruises, the scars here and there
or the hammer that just seemed to slip.
I want most of all when my son takes my hand,
to feel that love lies in the grip.
By David Kettler
Admiring fathers
Look at him there in his stovepipe hat,
His high-top shoes, and his handsome collar;
Only my Daddy could look like that,
And I love my Daddy like he loves his Dollar.
By William Jay Smith
On the Birth of His Son
Families, when a child is born
Want it to be intelligent.
I, through intelligence,
Having wrecked my whole life,
Only hope the baby will prove
Ignorant and stupid.
Then he will crown a tranquil life
By becoming a Cabinet Minister.
By Su Tung-p'o (c. 1070, trans. Arthur Waley, 1919)
To My Father
It matters not that Time has shed
His thawless snow upon your head,
For he maintains, with wondrous art,
Perpetual summer in your heart.
By William Hamilton Hayne
The Child Is Father to the Man
"The child is father to the man."
How can he be? The words are wild.
Suck any sense from that who can:
"The child is father to the man."
No; what the poet did write ran,
"The man is father to the child."
"The child is father to the man!"
How can he be? The words are wild.
By Gerard Manley Hopkins
Epigrams: On my First Son
Farewell, thou child of my right hand, and joy;
My sin was too much hope of thee, lov'd boy.
Seven years tho' wert lent to me, and I thee pay,
Exacted by thy fate, on the just day.
O, could I lose all father now! For why
Will man lament the state he should envy?
To have so soon 'scap'd world's and flesh's rage,
And if no other misery, yet age?
Rest in soft peace, and, ask'd, say, "Here doth lie
Ben Jonson his best piece of poetry."
For whose sake henceforth all his vows be such,
As what he loves may never like too much.
By Ben Jonson (1616)
To Her Father with Some Verses
Most truly honoured, and as truly dear,
If worth in me or ought I do appear,
Who can of right better demand the same
Than may your worthy self from whom it came?
The principal might yield a greater sum,
Yet handled ill, amounts but to this crumb;
My stock's so small I know not how to pay,
My bond remains in force unto this day;
Yet for part payment take this simple mite,
Where nothing's to be had, kings loose their right.
Such is my debt I may not say forgive,
But as I can, I'll pay it while I live;
Such is my bond, none can discharge but I,
Yet paying is not paid until I die.
By Anne Bradstreet (1678)
The Little Boy Lost
 "Father! father! where are you going?
O do not walk so fast.
Speak, father, speak to your little boy,
Or else I shall be lost."
The night was dark, no father was there;
The child was wet with dew;
The mire was deep, & the child did weep,
And away the vapour flew.
 By William Blake (from Songs of Innocence, 1791)
Father
 My father knows the proper way
The nation should be run;
He tells us children every day
Just what should now be done.
He knows the way to fix the trusts,
He has a simple plan;
But if the furnace needs repairs,
We have to hire a man.
My father, in a day or two
Could land big thieves in jail;
There's nothing that he cannot do,
He knows no word like "fail."
"Our confidence" he would restore,
Of that there is no doubt;
But if there is a chair to mend,
We have to send it out.
All public questions that arise,
He settles on the spot;
He waits not till the tumult dies,
But grabs it while it's hot.
In matters of finance he can
Tell Congress what to do;
But, O, he finds it hard to meet
His bills as they fall due.
It almost makes him sick to read
The things law-makers say;
Why, father's just the man they need,
He never goes astray.
All wars he'd very quickly end,
As fast as I can write it;
But when a neighbor starts a fuss,
'Tis mother has to fight it.
In conversation father can
Do many wondrous things;
He's built upon a wiser plan
Than presidents or kings.
He knows the ins and outs of each
And every deep transaction;
We look to him for theories,
But look to ma for action.
By Edgar A. Guest (1909)
A Prayer for My Son
 Bid a strong ghost stand at the head
That my Michael may sleep sound,
Nor cry, nor turn in the bed
Till his morning meal come round;
And may departing twilight keep
All dread afar till morning's back.
That his mother may not lack
Her fill of sleep.
Bid the ghost have sword in fist:
Some there are, for I avow
Such devilish things exist,
Who have planned his murder, for they know
Of some most haughty deed or thought
That waits upon his future days,
And would through hatred of the bays
Bring that to nought.
Though You can fashion everything
From nothing every day, and teach
The morning stats to sing,
You have lacked articulate speech
To tell Your simplest want, and known,
Wailing upon a woman's knee,
All of that worst ignominy
Of flesh and bone;
And when through all the town there ran
The servants of Your enemy,
A woman and a man,
Unless the Holy Writings lie,
Hurried through the smooth and rough
And through the fertile and waste,
Protecting, till the danger past,
With human love.
 By William Butler Yeats (from The Tower, 1928)
Father's Day
Over the years
As we grow old,
We remember our father
So brave and bold.
In the garden,
Leaning on the plow,
He would listen to me;
I see him now.
He would give advice
And understand;
He was always there
To lend a hand.
God made fathers
Strong and firm,
For he knew our lives
Would have great concerns.
So he gave us fathers
To teach us to pray,
And guide our lives,
And show us the way.
So on his day
Let's take the time
To say "Thanks, dad.
I'm glad you're mine."
By Mary Frances Bogle
A Father Is:
There in every memory
See his love and care
Strength and hands to count on
Freely he does share
Provider, toil so faithfully
To make our dreams come true
Give strong and tender discipline
Though it is hard to do
A Father is God's chosen one
To lead the family
And point it to His will for life
Of love and harmony…
By Sue Skeen
More Father's Day Quotes and Messages