A Wonderful Collection of Good Night Messages for Her
Send her an unforgettable good night message. Check out our wonderful collection of romantic and flirty good night messages for your girlfriend or wife. Couples who have a fairly good relationship, give each other a peck on the cheek at the end of the day, say "good night" and roll over, thinking about the next day's demands. Acceptable though this practice may be, a well-crafted note or message will send your special lady off to dream land with more than carpool on her mind. Wishing her a good night is an invitation to sweet dreams and illustrates how much you care for her. So, use the following examples or dream up your own, but give the woman you love a good night send-off message.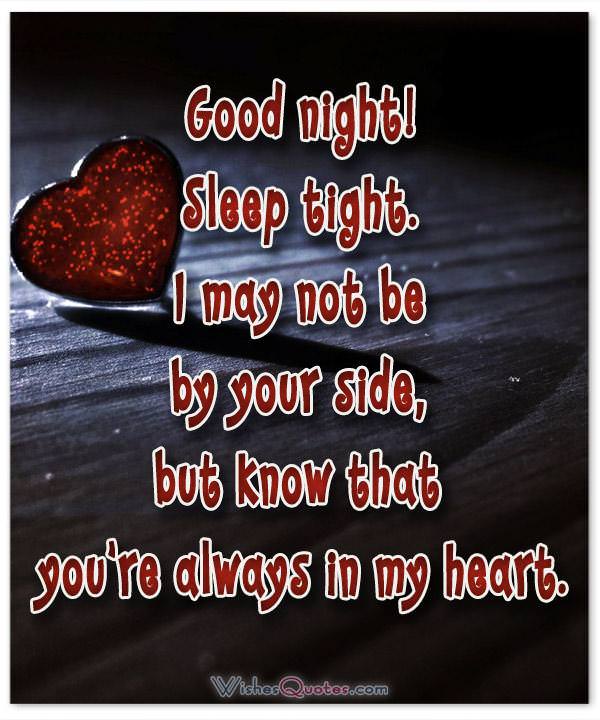 Romantic Good Night Messages for Her
May God bless and keep you until morning, when I get to gaze into those beautiful eyes once more.
Every morning I see you after a night separated, I can sense how much you've missed me in your eyes. I'm sure you can sense it for me as well, so, for now, the only thing we can do, is meet in our dreams. Good night, see you soon.
Hey, I know it's late, and we should probably be heading to bed soon. But before that, I just want to say how much I love you, and how much I miss you. Damn, wish you were here right now. Can't wait for the night to go away so I can see you tomorrow. Good night.
They say that hell is just a place without you, if that's true. Then I've been living in hell every night. Finding paradise only in my dreams, where I can see you again. Good night.
Are you thinking what I'm thinking? No? Well, as you sleep tonight I'll be sending subliminal messages about tomorrow night's activities.
I hope you have sweet dreams, my love, because you create sweet (sometimes hot) dreams for me simply by being you.
Let's plan a night of sweet dreams together by engaging in a little "us" time.
Whether awake and taking care of business, or sleeping next to me like the angel you are, I can't believe you're mine.
Here's a good night message to really turn you on: Baby, tomorrow I'm going to vacuum the entire house and do the dishes.
Everyone else in the world sees how beautiful you are on the outside, but only I know what a tiger you really are inside.
Isn't it weird? Dreaming of my future being creating a happy past with you? I mean, all my happy memories thus far have all been with you.  So I can't wait to make more the second we wake up. So let's say good night for now. Because the day will be even better.
Even though the time I spend away from you seems like a nightmare, the dreams I have of you throughout the night, are the sweetest a person can have. Good night. I love you.
If I only could have one wish for tonight. It would be to enter your dreams and see if you're dreaming about us. Because I certainly am. Good night.
Before we go to bed tonight, imagine the most passionate night ever. I'll meet you there, baby.
Warm breezes gently blowing, I think of you on a beach. Your beautiful face is glowing, come to bed and relax — within reach.
Roses are red, violets float above; let's hit the sack and make crazy love!
Somehow you manage to do it all, but when you sleep tonight, realize that I appreciate your dedication and hard work, honey.
Good night, my love. Have sweet dreams about my kisses covering your body (starting with you-know-where).
Just thinking about you, makes all incoming nightmares into the sweetest dreams. Good night!
It seems like we run, run, run all day long. As we drift off to sleep tonight, let's think about us, us, us.
When you're sleeping tonight, you'll look so sweet and angelic. But, you and I know the real truth (my tiger).
No picture can substitute the warmth of your body that is missing from our bed, no text can replace the kindness in your words, no voice message can beat the pleasure of you whispering in my ear, and no emoji has a more beautiful smile than you do. So no matter what we do over text, I will always miss you. So good night, and I can't wait to see you again.
I wish you a sweet night's sleep, sweet girl of mine. Dream of the perfect man for you — that would be ME!
I won't lie, I've missed you already. I know it hasn't been long. But as every century with you seems like a second, every second away from you seems like a century. So let this night ends fast so I can see you again. Good night, I love you.
Although we're not, think of us together tonight. Imagine I'm kissing your neck. Sweet dreams, baby.
You see, the night is an interesting thing. I have never loved and hated something so much at the same time. I hate it because it is the only time during the day when I can't be with you. But yet, it is the time where I can dream of you endlessly. Good night.
I can't wait to slide into bed with you and have your hair laying across my shoulder. That's heaven to me.
Meet you in bed later, honey, and you can simply relax while I massage out all the stress from your day.
Sweet Good Night Images for Her
Cute Good Night Messages for Her
Going to bed with you means much more that just sex. But, sex with such a gorgeous woman is a giant incentive.
Good night, my love. You're so rock-solid during the day, then look like a sweet little sparrow when you sleep.
Wishing amazing dreams to an amazing wife, amazing mother, and amazing-like-I-think-the- world-is-on-fire lover.
As you go to sleep tonight, forget counting sheep. Count the ways I love you because they are infinite in number.
Hey beautiful! Wanna go to bed with a strapping hunk of a man and make kinky jungle love? What do you mean "Who?!"
Let's enjoy our private bedtime tonight doing what we do best — and I don't mean clean the garage.
When you close your eyes to sleep tonight, I hope I creep into your dreams — in a good way.
Is it bad to hope you have erotic dreams about me tonight? I hope they're really bad and really good. (mmmmmmm)
Good night, my sweet girl. Have sweet dreams tonight, and maybe one or two not-so-sweet dreams with me in a starring role.
Have wonderful dreams, honey. Imagine I'm singing a lullaby for you (in your imagination, I'll be singing in key).
If I had a magic wand, I'd cast a spell and give you sweet dreams. Speaking of magic wands…
I'm anxious to get into bed with you so I can offer a physical demonstration of my all-encompassing love.
More Good Night Messages