Good Night Messages for Someone you Love
You may want the good night messages for your lover to be cute, romantic or silly… but your main goal is to make it memorable! Let's make yours stand out! Sending a romantic good night text message to your lover just before he or she goes to sleep at night is a wonderful way to express your love and make this person smile. When you send a text like this, it's even better than giving this person a card. A romantic text message from the love of your life is truly a gift to cherish. Night-time is the perfect time to send your love, so text your lover when the time is right. Use the text messages below, or let them help you create your own. Make your lover happy.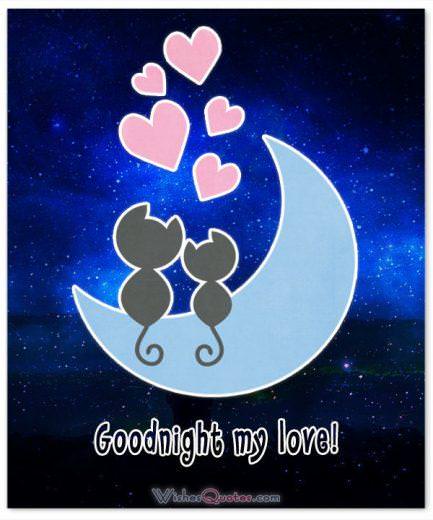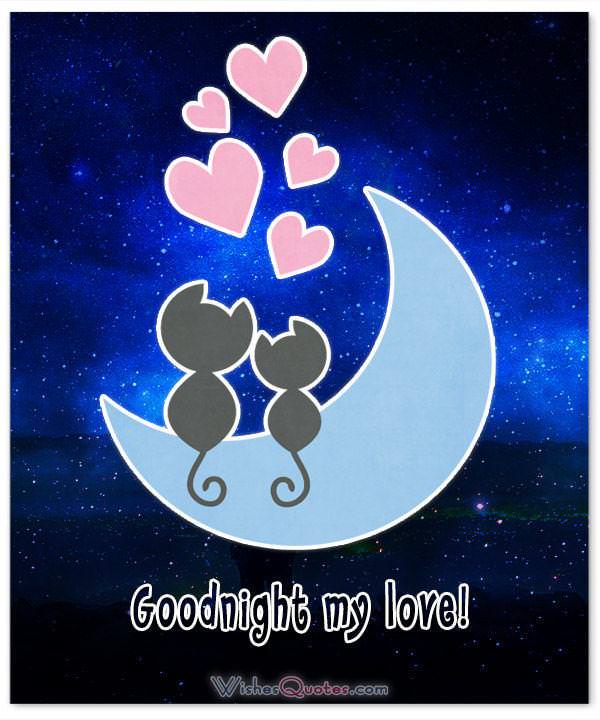 Heartfelt Good Night Messages
I've always thought you have beautiful eyes. Sparkling and clear, bright and shining eyes. Now CLOSE THEM so they stay bright!
May your sleep be peaceful and sweet, my love, and filled with dreams of the incredible love that we share. Good night!
As we lie in our beds to go to sleep, in our dreams is where I hope we will meet.
If I counted all the reasons why I love you, instead of counting sheep, I'd be up all night counting.
The day just wouldn't be complete without me telling you that I love you. I Love you and good night.
I'm sending you a warm embrace and all of my love. Have a restful night. I miss you very much.
Wish I could hold you now and fall asleep in your arms. Good night and pleasant dreams. Love and miss you.
I'll never get over my love for you. It's as vast as the night sky and as unchanging as the stars. Good night, my eternal love.
Night time is the time when we so often get to spend our most cherished moments together. Sweet dreams, darling. Remember how much I love you.
Nothing is as depressing as being without you. I love you more each day. Good night and sweet dreams, my love.
The love we share is like a dream come true. May it fill your mind with pleasant thoughts as you drift off to sleep. Good night!
Your love envelopes me like the night sky envelopes the stars. May your sleep be sweet as you think of my arms holding you tightly. Good night, my love!
My love, may your sleep draw you into a world of delightful dreams and refreshing rest. Good night, sweetheart!
The moon and stars above you can remind you of the light of our love that shines brightly even while we're apart. Good night, my love!
You fill my heart with love and my life with joy. Tonight I wish you the rest, relaxation, and peaceful sleep you deserve. Good night, love, and sweet dreams!
Instead of counting sheep tonight, count the many ways we've expressed our love for one another. Wishing you a relaxing night filled with beautiful dreams of the love we share. Good night!
Tonight and every night, I fall asleep with you locked in my heart and mind.
Loving you makes my life so much more complete. As you drift off to sleep think of how much I care about you and how thankful I am to have you in my life. Good night!
As the hours go by, and night falls, may your sleep be peaceful and the time pass quickly until the next time we can be together. Sweet dreams!
Sweetheart, I wish we could be together, but until our next meeting, I send you loving thoughts for a peaceful night's sleep.
You're the love of my life and the one I dream about each night. Tonight may your dreams be full of beautiful thoughts of the times we've spent together.
As you lay your head on your pillow, may my love cover you like a blanket. Good night, my love!
May your sleep be peaceful and your dreams are filled with scenes from our past, present, and future together. I love you!
Wishing you were here by my side. Please have a good night and pleasant dreams. My love will forever be yours.
I'm hugging my pillow and thinking of you. If only you were here with me, sweetheart. Love and pleasant dreams.
Tonight as you lay down to sleep, my love, imagine I'm right beside you. Even if I can't be with you in body, I am always with you in spirit. Love you!
I'm sending you good night wishes and all of my love. I'll be dreaming of you and smiling as I dream.
Sweetheart, rest assured I love you, and I always will. Sleep tight tonight, and let my love keep you warm.
I'll see you in my dreams. Before I close my eyes, I want to say Good night and I love you.
You and I are a perfect fit, like a lock and key or a hand and glove. As your head hits your pillow tonight, remember how much I cherish your love. Good night, my darling!
I can't say it enough, so I'll say it one more time before you fall asleep. I Love You. Good night.
Good Night Images for Someone you Truly Love
Say Good Night to Your Lover with a Romantic Text Message
Feel the warmth of my good night wishes as I imagine myself tucking you into bed. I Love you my sweetheart.
Good night my love. Just want you to know, my love for you will continue to grow. Sleep tight my dear.
Roses are red, violets are blue, may sweet dreams be yours all the night through! Good night from your love!
Place your head on your pillow and imagine me kissing you good night. Loving you is just so right. Pleasant dreams.
I'm texting you this message of love. I hope you sleep well, enveloped in my love. My heart is yours.
May all your dreams be as beautiful as you. May all your mornings bring you the brightest sunshine. Love you.
I plan to see you in my dreams tonight. I hope to meet you there because I love you madly.
Dream of me the way I'll dream of you tonight, and my night will be a pleasant one, my love.
I'm sending you this text to let you know, I love you so very much. I'm sending you kisses tonight.
This good night text is just my way of tucking you in and kissing you good night. Love from me to you.
May your night be filled with passionate dreams inspired by my love for you. To the love of my life.
With all my affection, good night my true love. You're as precious to me as the moon and the stars above.
May your night be filled with dreams of the special love we share, and may you wake up ready for the new adventures that await us tomorrow.
Your beauty fills me with awe, your wit fills me with laughter, and your wisdom fills me with pride. Good night to the most amazing woman in the world.
I'm charmed by your looks, inspired by your character, and overwhelmed by your love. Good night to the most incredible man on earth.
I feel like I could never deserve the love, beauty, and meaning you've brought to my life. Good night, and thank you for all the joy you've caused me to feel. I love you.
Until we meet again, my love, I hope you'll have sweet dreams of the next time when I'll be able to hold you in my arms, close to my heart, where you belong.
Hello Honey. May you have a pleasant night knowing my love for you is eternal, true, and so very strong.
I want you to know that I love you very much, sweetheart. Kisses and good night hugs I'm sending your way.
Good night to the beautiful woman that you are. I wish you were mine because you've captured my heart and love.
Nighttime is the time to express your love. Let me express mine by saying I love and adore you. Good night.
Thinking of you and all the wonderful reasons I love you. May your night be a good one, my love.
I love you from a distance. I love you when you're near. I love you always, my dear, and good night.
Hope your night is as good as it can be. Hopefully, this loving good night text message will warm your heart.
More Good Night Messages