Keep Him Thinking of You with These Good Night Messages
The moments before bed are a perfect time to express love and affection for your partner. In this article, we will provide a variety of heartfelt and romantic good night messages for him that will make him feel loved and cherished. From short and sweet to more elaborate messages, there is something for everyone to help end the day on a loving note.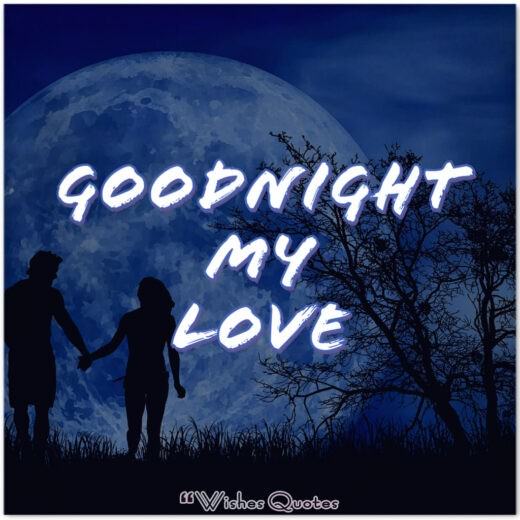 Win His Heart Every Night with These 10 Good Night Message Tips
Sending a good night message is a great way to show your love and affection to your significant other. But how do you make your message more meaningful and heartfelt? By following these tips, you can make your good night messages for him more meaningful and heartfelt. Don't be afraid to experiment and find what works best for your relationship. Remember, the most important thing is to show your love and affection for him in a way that feels authentic to both of you. Here are 10 tips to help you make your good night messages for him more special:
Hug him with words: Use words that convey warmth and affection, such as "I love you," "I miss you," or "I can't wait to see you tomorrow."
Keep it simple and sweet: Don't overcomplicate your message. Keep it short and sweet, but still heartfelt.
Use romantic nicknames: Add a personal touch by using a nickname that is special to both of you.
Add a personal touch: Incorporate something personal that you both enjoy, such as a shared memory or a reference to an inside joke.
Express gratitude: Show your appreciation for him by expressing your gratitude for everything he does for you.
Send a good night quote: Share a quote or saying that you both love and find inspiring.
Send a cute meme or GIF: Add some humor to your message by sending a funny meme or GIF.
Send a voice message: Record a short voice message to make your message more personal and intimate.
Tell him what you love about him: Take a moment to reflect on what you love about him and share it with him.
Be consistent: Make sending good night messages a habit, so that he knows you are thinking of him every night.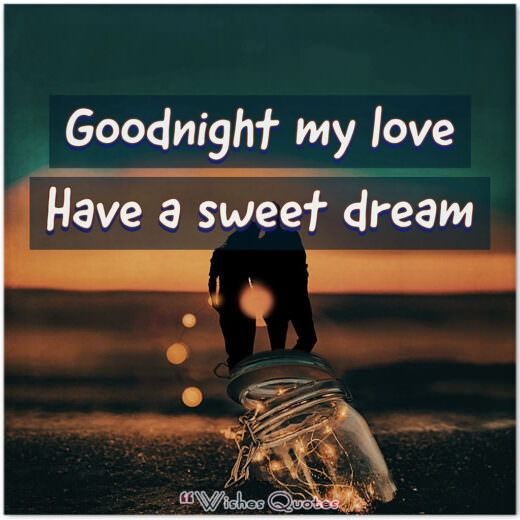 How Do You Say Good Night to Him in a Romantic Way?
Keeping the romance in your relationship requires significant dramatic moments and subtle touches. Private dinner dates and surprise presents are part of the rituals. Still, little gestures show your commitment to tending to the relationship. Sending cute flirty messages takes the place of good night kisses, especially for those who cannot be together physically. Remember to keep it light and stick to positive thoughts. This is not the time to bring up issues as you want to send your partner to dreamland on a pleasant note. Send your messages using whatever channel you usually use with your romantic partner: Twitter, Facebook, private text messages, or even Instagram. Consider the time differences between your location and his because waking him up with an alert that signals he has messages waiting may have the opposite effect of trying to give him a good send-off to sleep.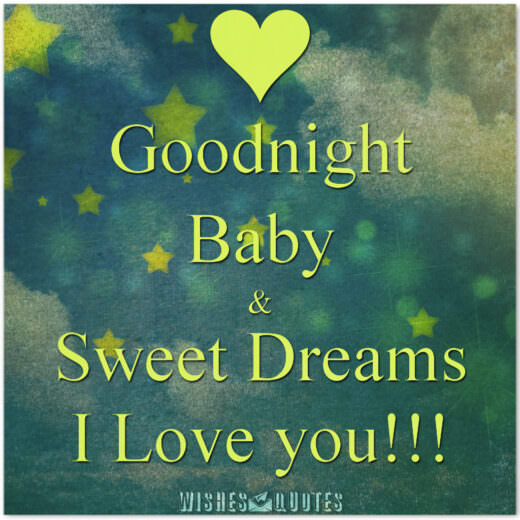 As the day comes to an end, my love for you continues to grow. Goodnight my heart, sleep well and dream of our beautiful future together.
The stars above remind me of your twinkling eyes, the gentle breeze whispers your name, and the silence of the night soothes my soul. Sweet dreams, my love.
I can't wait to wake up tomorrow and start another day with you by my side. For now, let's say goodnight and drift off into a peaceful slumber together.
I hope you have the sweetest dreams tonight, my love. May they be filled with joy, happiness, and everything you've ever wished for.
I may not be there to hold you in my arms tonight, but I am always with you in spirit. Close your eyes and feel my love surrounding you. Goodnight, my darling.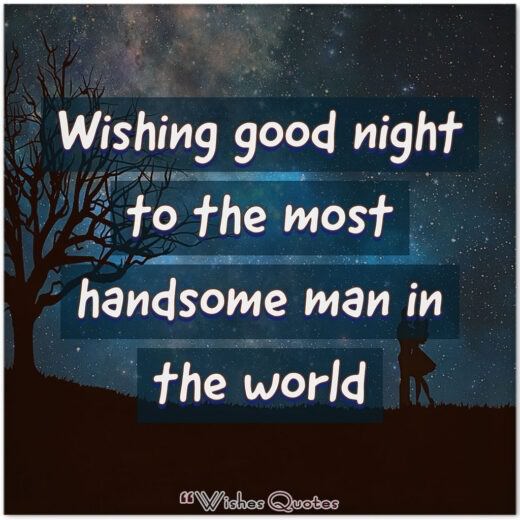 Flirty Good Night Text Messages for Him
The night sky is dotted with stars, but none can compare to the light you bring to my life. You are precious to me tonight and always.
I just wanted to let you know that you are always in my thoughts and the last thing I think about before going to bed. From the bottom of my heart, I wish you a pleasant night and beautiful dreams.
Goodnight, my lovely prince. I hope all of your dreams come true since you have fulfilled all of mine. I adore you!
I want something big, warm, and fuzzy on a cold night like tonight. Don't get any strange ideas. I just want a big hug from you. Good night, love.
I'm standing here with the evening breezes blowing my hair all around. I am imagining your kisses warming me up for a peaceful night.
I close my eyes and feel the warmth of your embrace, although we are many miles apart. I wish we could be together tonight.
Skin to skin – that is how our nights should be. Perhaps, soon? Good night, my dear.
Every time I say good night, it hurts me a little because it means I won't be able to talk to you, even for a few hours. Can't wait to see you again.
No matter how often I try to fall asleep, the absence of your scent, warmth, and aura is evident because the room feels empty without you. So let this night go by fast, so I can see you again. Good night.
As the day turns to night and our conversation starts, the night goes by without us even understanding it. So, as the clock turns into hours that prepare for the sun's arrival, is it appropriate to say good night when our conversations end in the morning? So… till we meet again, I love you.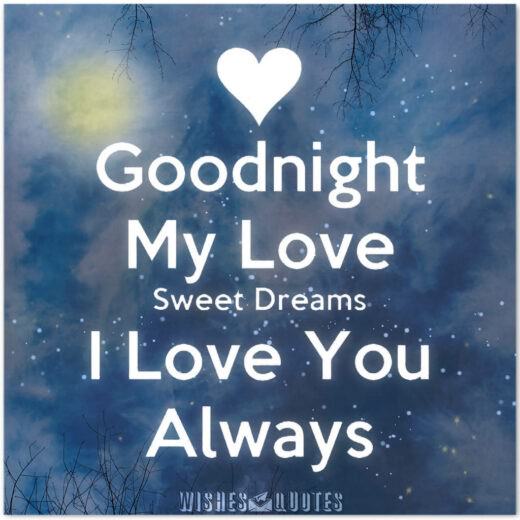 Funny Good Night Messages for Him
Everyone loves a good laugh before bed. Sending a funny good night message can make your partner smile before they drift off to sleep. Try out one of these messages to brighten up their night.Here are some funny good night messages to send your guy:
Goodnight, sleep tight, don't let the bed bugs bite…or the mosquitoes, or the spiders, or the boogeyman.
I'm not saying you snore loudly, but the neighbors asked me to give you this earplugs for tonight. Sweet dreams!
Roses are red, violets are blue, I'm going to bed, and so should you.
I hope you have a dream about being chased by a giant marshmallow. It will be sweet, just like you.
Goodnight! Don't let the bedbugs bite, or they'll get a stern talking-to from me in the morning.
Sleep well, my love. I promise not to steal all the covers…tonight.
What to Text Him in the Night to Make Him Smile?
The best part about the home is spending all night cuddling up with you. Please be here soon. Good night, love.
If I close my eyes tight enough, I can feel your gentle touch all over me. You make me feel alive. But for now, good night and sleep tight.
It always feels good to be in your arms. On nights when we are apart, I wrap myself in your loving embrace, if only in my dreams.
I live for your hugs and kisses. Take care, my love.
Your scent is on my pillow, and I love it. Sleep well, my dear.
Every handsome guy deserves a kiss from a beautiful girl. So promise that you will meet me in my dreams to give you as many as you want. Good night.
I wish I could be with you tonight. Pleasant dreams, my love. Dream of me.
You are brave and strong in many ways, and I am lucky to have you. So sleep tight, my warrior.
When I feel blue like tonight, I think of all the happy times we've shared. You have been so good to me.
Laying in the bed never felt so cold before, and the thing is, your firm, loving arms are not here to keep me warm. I can't wait to see you tomorrow. Good night.
I miss you when the night is deep, dark, and quiet. You are the light that guides me out of my troubles. You are my superhero.
Falling asleep never has been so rough without your loving arms wrapped around me to keep me warm. Can't wait to see you. Good night.
Sweet Good Night Messages for Him
Alone in the dark, you are all that occupies my thoughts. Don't you wish you could read my mind? Wink-wink.
Starlight, star bright, you're the only star in my thoughts tonight.
I know it hasn't been long since we last saw each other. And no matter how much I miss you, I know I will see you soon in my dreams. So good night, and see you soon, my love.
Hands-on, your heart and eyes shut tight, dream of me tonight.
You make every day brighter, and I can't wait to wake up next to you tomorrow. Sweet dreams, my love.
Even though we're apart right now, I feel you in my heart. Good night, and know that I love you to the moon and back.
I'm so grateful for the time we spend together, and I'm looking forward to making more memories with you tomorrow. Sleep well, my sweetie.
Your love is like a warm blanket that I never want to let go of. Sweet dreams, my darling.
I fall in love with you more and more every day. Have a good night's rest, my dear.
I hope your dreams are filled with happiness and love, just like you fill my life with those same things. Good night, my forever love.
You and me, we are one. Now and forever. Good night dear.
My heart is longing for the day when we can be together again. But, for now, good night.
I fall asleep thinking of the wonderful ways you bring me to life. I wish you could be here to kiss me awake like Prince Charming to his Sleeping Beauty.
If life were a film, I would fast forward to only those parts where we could be together. Every part of me misses you. Take care and good night.
How Do You Say Goodnight to a Guy you Love?
I will fall asleep tonight while holding hands with you in my dreams. Sweet sleep, my dear.
A thousand miles between us, yet I feel the warmth of your body beside me. Aaah… the power of dreams.
In the dark, I am calling your name. Sleep well, and may we be together soon.
Good night, sleep tight. I have you in my dreams all night.
My heart beats for you and only you. You are the best thing that's happened to me. Good night, my hero.
Look at the stars and call my name. Look at the moon and blow me kisses. Soon the sunrise will overcome the darkness and the loneliness of being without you.
I think of you before I sleep. I think of you as soon as I awake. You have shown me so much happiness. Good night.
I can't sleep until I tell you that you are my life's greatest, biggest, and straightest hero.
There is so much I wish to tell you, but let me save the stories for when we are together. Good night!
Someone is thinking of you tonight. I hope it's not keeping you up. With all the love I have – sleep tight.
Long Distance Good Night Messages for Him
Although we're miles apart, we share the same sky. Look up and know I'm thinking of you. Good night, my love.
I may not be able to hold you tonight, but I'll hold you in my dreams. Good night, sweetie.
Sleep well knowing that you're always in my heart. Good night, my prince charming.
Distance means so little when someone means so much. Good night, my forever love.
I may not be able to kiss you good night, but I can send you all my love. Sweet dreams, my dear.
As the moon rises, I'm sending you a virtual hug. Good night, my love. I miss you.
Romantic Good Night Images for Him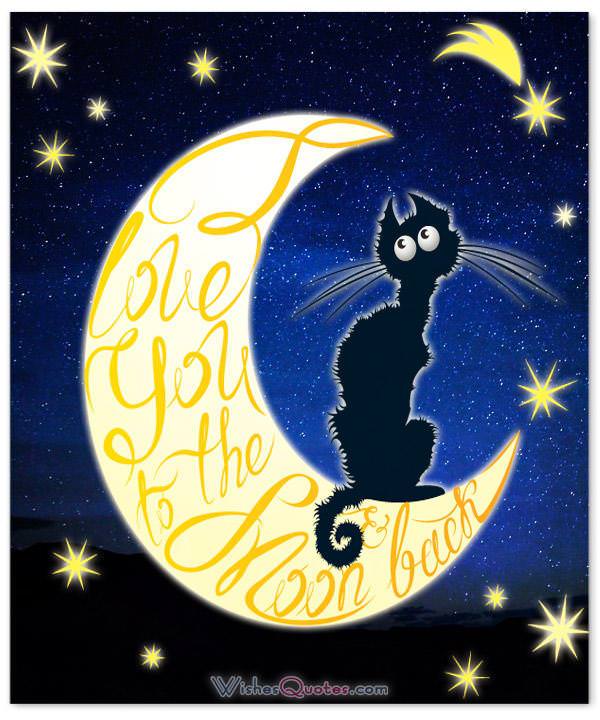 More Good Night Messages