200+ Good Morning Messages to Start an Amazing Day
Send a fantastic good morning message to your boyfriend, girlfriend, husband, wife, family member, or friend. Just pick the one that helps you best express yourself. If you like the idea of sending inspiration or your love to your family and friends as they start a new day. Still, you don't have the time to compose a message, then browse through these sweet and witty good morning text wishes and images. You are sure to find one that expresses just what you want to say, and then you can send it on its way through your email, text/SMS, Facebook, or other social media sites. Your thoughtfulness will put smiles on their faces as they open their messages. Besides, you can choose to send several, making a great day for everyone with these already written words, including you.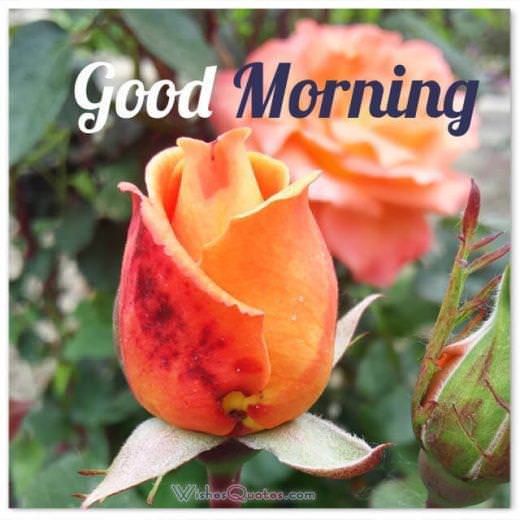 Heartfelt Good Morning Messages
With you in my life, I don't throw the alarm clock at the wall anymore because I can't wait to get up. So remember today that I love you.
Good morning baby. I just wanted you to know how much I care for you. You're always in my thoughts. Have a fantastic day.
I thought of you, and I don't need that first of coffee…at least not right away…maybe later, but I'm good for now.
This is just a note to connect with you and tide me over until I see you today. Then both days will be great.
I love you in the morning, in the middle of the day, in the hours we are together, and in the hours we are apart. Good morning love!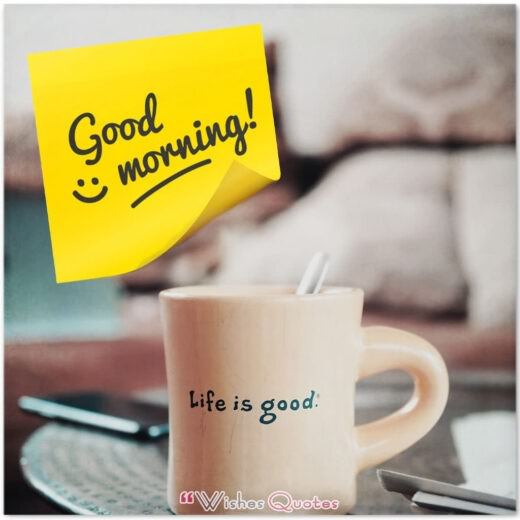 A smile to start your day… A prayer to bless your way… A song to lighten your burden … A message to wish you a good day … Good Morning!
I may not be able to whisper sweet nothings into your ear at night, but I can type them to you in the morning! I love you.
You are in my thoughts always, but especially this morning. Good luck today, and remember, I am only a phone call away if you need me.
You are the only reason I smile even when I cry, and I am happy even when I am sad. Good morning sunshine.
I just wanted to say good morning to one of the people that means the world to me. Time to wake up!
Sweet Good Morning Messages
Every new morning brings a new beginning, like a new page to write on; scribble my name a few times, won't you? Love you.
Just thinking about you makes me feel like tackling the world. You are the reason I take vitamins with my toast and coffee. Have a beautiful day!
Hello, my beautiful! You were the first thing to come to my mind as I woke up this morning.
As the coldness of the night gives its place to the warmth of the sun, I'd like to wish you to have a great day that brings you one step closer to achieving all of your dreams. Good morning!
Whatever comes your way today, remember I love you, and I'm here if you need me.
I got up to watch the sunrise this morning. It reminds me of your smile, and I can never get enough of your smile.
I know today may be challenging to get through. If it would help to have my love wrapped around you this morning, consider yourself wrapped.
Some days you just have to create your own sunshine. Good morning!
I got up this morning with you in my thoughts. Although come to think of it, I went to bed last night the same way. Hey, at least I'm consistent. Good morning my dear!
It was raining when I got up, but I thought of you, and the sun came out! So that's my secret for having a nice day.
I know today is a big day for you, with lots of challenges, but I also know you can do whatever you set your mind to do. "YOU GOT THIS!"
With your brains, your energy, and all you've done to get to this point, you don't need luck, but I wish it to you anyway. Good Luck!
A great man once said that success only comes to those who are willing to give up their sleep to work for their dream. So come on, go seize the day!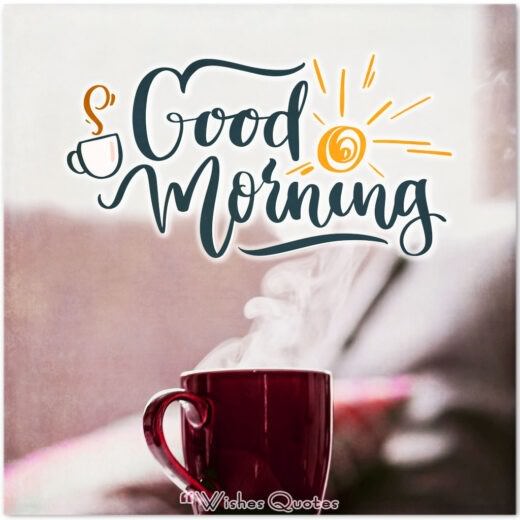 Lovely Morning Texts
Good morning! I wanted to remind you to take my love with you today as you face the weather. It and an umbrella are all you need to keep warm and dry.
My dream is one day to wake up next to two guys. One will say, "good morning, sweetheart," and the other will say, "good morning, mom."
One day I'm going to wake up, roll over on my side, and kiss the love of my life good morning.
Always kiss me good night. Always kiss me good morning.
Whatever you are facing this morning, face it with my love and a cup of Starbucks. Or just face your day with my love and bring me the coffee.
You have what it takes, whatever it takes, to do great things today! You will rise and shine exactly the way the sun does, and nothing will keep you back.
I thought of you this morning, and a smile crossed my face. I thought it was a spider at first, but I couldn't brush it off.
You have what it takes to succeed today; don't ever doubt that because I don't. Go, "get 'em, slugger."
Whatever you want today, make it happen. It doesn't take luck; it takes guts and skill, and you have both. I have faith in you.
Good morning! Today was just an ordinary day until I thought of you, and suddenly everything everywhere became extraordinary. So I figured I would let you know.
Good morning. Have you looked into the mirror yet? I hope not because I want you to look at yourself through my eyes and know how special you are.
When I made you pancakes, do you remember that you got your special days off to a good start? I'll tell you a secret: it wasn't the pancakes that made it special. It was my love.
The thing about good friends is that distance can separate them, but it can't erase the unique something that made them close, to begin with. A connection of the soul. I hope you have a great day, my friend.
At our age, it is sometimes easy to forget things like the lunch we packed, coffee mugs, car keys, even underwear, but not friends. So have a good day, my friend.
I just woke up, and you're already on my mind.  Good Morning, Beautiful!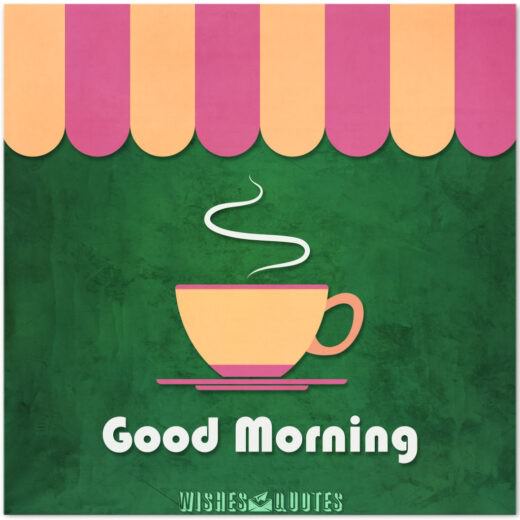 Funny Good Morning Messages
Early mornings, big shirts, messy hair, vogue, and coffee.
I can't get out of my bed. These blankets, at last, have accepted me as one of their own. If I leave, now I might lose their trust forever.
– Good morning. – Prove it!
Happiness is … warm toast with jam.
When people tell me, "you're gonna regret that in the morning," I sleep in until noon because I'm a problem solver.
Dracula is a morning person compared to me.
Life begins after morning coffee.
Check baby name meanings or explore the best baby names, including famous names,
unusual names, cool names, names by ethnic groups, and many more!
Baby Names
Good Morning Quotes in Different Languages
Goeiemore – Afrikaans
Jóusàhn – Chinese
Huomenta – Finnish
Bonjour – French
Guten Morgen – German
Kalimera – Greek
Aloha – Hawaiian
Buongiorno – Italian
Quid agis mane? – Latin
Bonġu – Maltese
Dzień dobry – Polish
Доброе утро (Dobroe utro) – Russian
Buenos Dias – Spanish
Habari ya asubuhi – Swahili
Günaydın – Turkish
Chào buổi sáng – Vietnamese
Cute Good Morning Images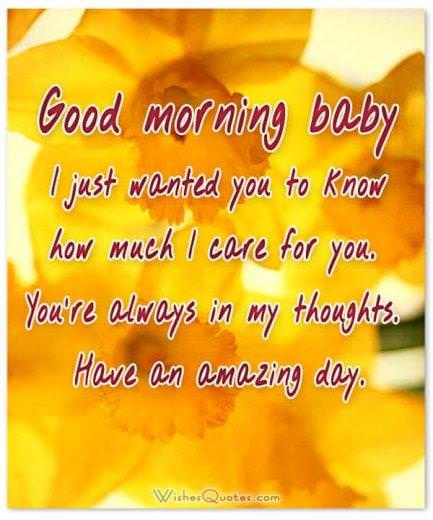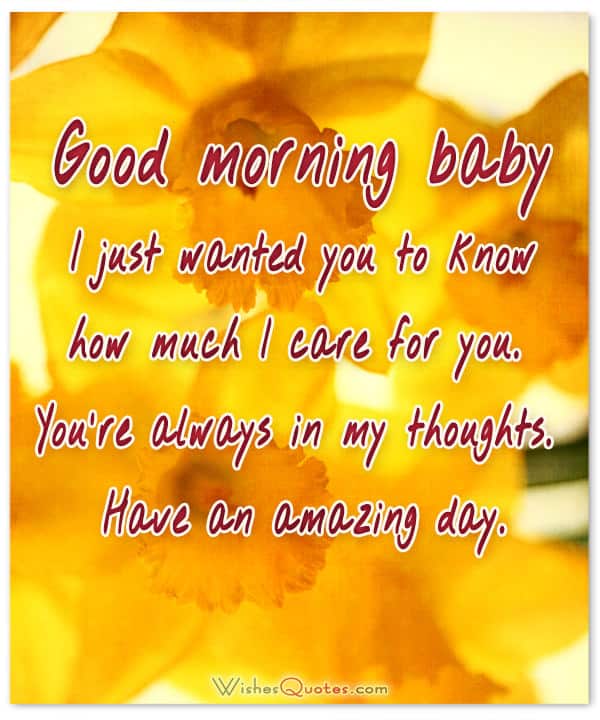 More Good Morning Messages