Romantic Good Morning Messages for Wife
A fulfilling, long-lasting marriage requires some care and feeding. The vicissitudes of life are sure to occur, but the marriages that endure are those that ride those bumps in the road with humor and a little romance. Leaving a romantic good morning note for your wife or hiding one in her lunch are just a couple of ways to remind her how much she means to you, despite your hectic schedules. Although lavish gifts are always happily accepted, gestures such as a "good morning" message go directly into her heart, adding cement to the cracks that can occur as time goes on. So think of your spouse's best qualities, search your heart (or funny bone), and leave a note to start her day off with a smile.
Start Your Wife's Day with Love
Good Morning Beautiful. This morning I just stared at you for a few moments, trying to figure out how I got so lucky.
As you go through your day, I want you to know that I'm sending my heart with you. Have a great day, honey.
I may not be a knight in shining armor, but I will always be on your side. Those nasty people at work have no chance!
We're supposed to wake up and count our blessings each day. I've got it really easy… I just roll over and look at your sweet face.
Just wanted to say you constantly amaze me. Everything you accomplish each day, and then I look at you beside me… Wow.
Last night was wonderful. I woke up beside you and knew that I'd be thinking about "us" all day. (Hope you do too!)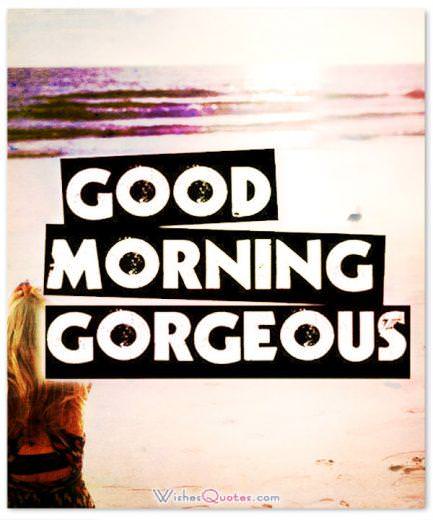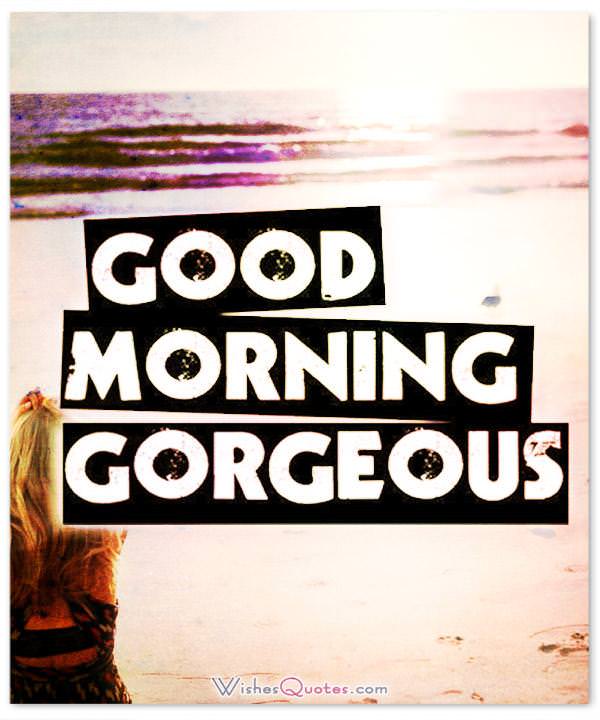 The Best Good Morning Messages for your Wife
I know that things have been rough for you lately, but your sweet sleepy face was beautifully serene this morning. I love you.
How did I get so lucky?! You're so sexy at night and an angel in the morning. You're breathtaking.
I put this note in your lunch so you'd think of me. I have more surprises waiting for you at home (wink, wink).
Intelligent, kind, spiritual, reliable, and smokin' hot. What a thrill to wake up to you each morning.
We have so much fun together, just living our busy lives, but there's nothing I love more than sharing our quiet mornings.
There's no such thing as the "perfect marriage," but you make ours come pretty close. Have a great day, babe.
When I hear my friends complaining about their spouses, I think, "I really can't relate." But, you make my day EVERY day.
When people use the phrase "rise and shine," I think of you. You always wake up like a ray of sunshine. Hope your day is sunny too.
On those mornings when it's challenging to get moving, all I have to do is look at you beside me. Instantly, it's a beautiful day.
I should have kissed you awake this morning, but you looked so restful and beautiful that I couldn't do it. Forgive me.
Last night was so fantastic that I will walk through my entire day with a perpetual smile. I hope you do too. (kisses)
As you wake up and before our "circus-life" begins, take one moment to smile and know your husband is crazy about you.
When we put on the "glam" and go out, you always look amazing, but I don't think you ever look more lovely than when you're sleeping beside me.
Hey, babe! I snuck this note into your lunch because I wanted us to think about each other exactly at the same time. Love you!
I woke up thinking about how lucky I am to have such a beautiful, capable, intelligent woman as my wife and just had to tell you.
Good morning honey. When I get frustrated at work today, I'll know why I'm there. I love the life we're building together.
When people talk about "chasing their dreams," I realize that I roll over, and all my dreams are lying beside me.
You are an intelligent, hard-working, and capable woman. I really admire you. Wake up and go get 'em, baby!
Monday morning…I love you on Mondays. Actually, I love waking up with you on any day ending in "Y."
Sweet Good Morning Images for Wife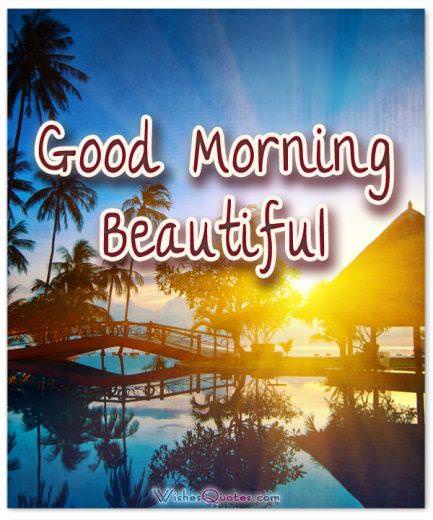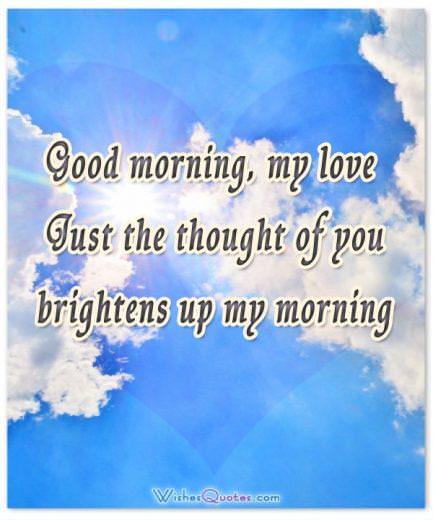 More Inspiring Good Morning Messages