100+ Unforgettable Birthday Wishes for your Sister
Send your sister a special birthday message with these cute birthday wishes for your sister. A birthday is just another excuse to tell your sister why she will always be your favorite person. A traditional brunch and mimosas can be a classy way to say to her how much you love her, or maybe it's buying her favorite line of body and face washes so that she can feel beautiful wherever she goes. And if all else fails, a cute card will suffice. If you are having trouble figuring out the perfect message to write, here are 100+ birthday messages that will remind her why having a sister is the greatest gift in the world.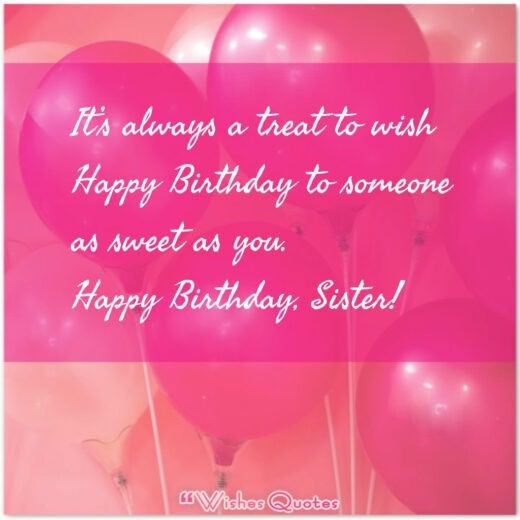 Sweet Birthday Wishes for Sister
When I'm not strong, you were always there for me to lean on when I am down. You are slow to judge and quick to forgive; I love you, my sister, to you the world I give. Happy birthday wishes, dear sister!
You touch my heart like no one else, and you have always been my best cheerleader and source of support. I'm so happy to be able to celebrate your birthday with you. Let's make it the best one ever!
Congratulations on becoming a year older. This year, don't be afraid to set high goals because you can do so much more than you realize. Wishing you best wishes on your birthday from your siblings.
Hey, you a hot woman, amazing sister, and wonderful person. I feel blessed to have a sister like you. Happy Birthday to you!
The meaning of a true friend: someone you can trust, someone who will always be there for you, someone who knows my faults and secrets, my sweet sister, that is you—happy birthday, dear sis.
We not only share parents, share rooms but also share clothes and secrets. We are two of a kind, two peas in a pod; we are inseparable. To the best sister in the world, happy birthday.
We may be far apart, but I am always thinking of you; you may be far away, but I've still got your back. You are the best sister in the entire world. Happy birthday my sister.
Sister, remember those pillow fights we used to have every Saturday night? What do you say we do it again! You're only as old as you let yourself get. Happy birthday!
I know that you are sad because I am not thereby your side on your special day. But all my thoughts and wishes are with you. I wish you joy and happiness.
I am so lucky to have a sister like you. You are always there to support me every step of the way. Thank you for always having my back. Happy birthday, sister.
What Should I Write in my Sister's Birthday Card?
You have the wonderful gift of lighting up every room with the hope and love that resides inside you. Never change that. Happy Birthday.
Another year has gone by, my dear sister. Even though you are far away, you are always close to my heart—happy Birthday and blessings for the year ahead.
You're always beside me whenever I need you, you're still there when I can't make it through, and today is your birthday, so I say "big thanks to you."
Many times in my lifetime, I've found myself wishing you weren't my sister. But today, I send you the sweetest of birthday wishes. Enjoy your special day!
Rain or shine through good times and bad, I can always count on you. You're my best friend, my sister, and my sidekick. Happy birthday and I love you.
To my little sister, you keep getting older and taking me with you. I can't believe that you are already ___. Oh well. Happy Birthday! I love you.
Dear sister, I saw the birthday fairy heading your way, and I knocked her out! Enjoy your day, knowing that I will always have your back.
An extraordinary birthday greeting to my best friend, my sister. Thank you for being the coolest sister. May you have many more birthdays to come.
Happy birthday to my beautiful sister: Remember that your most exceptional qualities are the ones that show the real character of your heart.
You are very special in my life, not only for being my sister but also for being one of my best friends. Happy Birthday, Sister!
Funny Birthday Wishes for Sister
Dear Sister, I love you with all my heart! I'll never leave your side, and you can always count on me to be there at good and bad times. Mainly because we're related and I have no choice! Happy Birthday!
Happy B'Day, I hope you enjoy these cute slippers; sorry, I meant strippers!
My sister is the best and most special sister… because we're the same size, so I have double the wardrobe! Have a lovely birthday, Sis!
Congratulations on being old enough now to get a senior discount.
Happy Birthday from someone who knows how old you really are. I will keep your secret, though. Have a good day and a happy year to come.
Happy birthday to my favorite sister! Thank goodness you get less annoying as you get older. Just kidding. You're the best!
Happy Birthday to the woman who taught me that glittery underwear is the best accessory.
My dear sister, another year has gone by, but unfortunately, that doesn't mean you've to turn out to be any wiser.
On every day, you must behave, but on your B'Day, you have my permission to be ridiculous.
You are one more year wiser and about two minutes away from grabbing a cocktail.
Thanks for taking all the good looks in the family- oh and Happy B'day.
Happy B'Day, don't worry, I won't forget to bring the Champagne this year!
Sentimental Birthday Quotes for Sister
You are the only one in this entire world, and I could not find another sister like you anywhere. Happy Birthday, Sister!
Happy birthday to a lovely woman who is beautiful, intelligent, and reminds me a lot of myself. I love you, sister!
I am sending this message to wish my sister a Happy Birthday from across the coast. Happy Birthday, Lovely Sister!
Many people say a true friend is hard to find. I don't have to search because I have you. Happy birthday, sister.
My wonderful sister, I wish you all the best and success in life. I could never ask for a better sibling.
May you be overwhelmed with hugs and smiles on your special day. Wishing you a happy birthday.
To my partner in crime, to my best friend, to my sister. Have a fantastic birthday; I love you.
Happy Birthday, big sister, and congratulations on becoming the hottest cougar I know.
Dear sis, you have taught me so much. There is no better teacher than you. Happy Birthday!
Sending this message to wish my beautiful sister a Happy Birthday from across the coast.
I am the luckiest person in the world because you are my sister. Happy Birthday, Sis!
Thank you for being my greatest inspiration and my best friend, Happy B'Day, darling.
Short Birthday Messages for your Sister
This message goes out to my favorite girl, who can always make me laugh.
Sister, you are very special to me; you are the rainbow of my life—happy birthday, sweet sister.
As Nsync once said, "God must have spent a little more time with you."
One more year older is just another excuse to party like a rockstar.
Wishes are for the stars, but I can see you've already reached them.
A snail once said, "It's never too late to wish you a Happy B'day."
Happy B'Day, time to celebrate in Vegas and lose all of our money!
Sending you this message to let you know I am always proud of you.
Best wishes on a year full of great opportunities and happiness.
You will always be the rainbow that shines after my biggest storms.
Enjoy every minute, because this particular day was made for you!
You are adorable, caring, and loving. Happy Birthday, Sister!
Happy birthday… now let's cut the cake already, I'm hungry!
What does it mean if one candle goes out before you blow it?
To my baby sis- thank you for being the best person I know.
Raising my glass today to toast my beautiful sis; you are indeed one of a kind.
You are not only my sister but a good friend and mentor. Happy birthday, sis!
Best wishes today to the only girl I like to dress in princess clothing with.
Wishing you another year of high adventure and unpredictable life surprises.
You are like eating chocolate: sweet, generous, and undeniably amazing.
You are only young once- time to cross public streaking off your bucket list.
Happy B'Day to the most stylish girl I know; you'll always be a head-turner.
Greetings from the biggest fan on your birthday. You'll always be my number 1.
Wishing you a great day of cake eating and one too many glasses of vino!
How Can I Wish my Sister Happy Birthday?
Having a sister is a precious luxury. She will always be that person that you can share your deepest secrets with. You can always count on her to be there to share the high mountains that you may have to climb and those surprising moments of joy. In turn, you will be her shoulder to cry on over a lost love, or maybe splitting a bottle of Champagne in celebration of her big promotion, by her side when she finally gives her heart to another. You will always thank her for making you laugh harder than anyone else you know.
"Happy Birthday Sister" Cute Images

More Birthday Wishes