Amazing Birthday Wishes to Inspire your Employees
It doesn't take much effort to put a smile on your employee's face on his or her birthday. Browse through our collection of birthday wishes for your faithful employees! You are guaranteed to find the best way to make them happy, and a happy person is guaranteed to be more productive! So, here you have it, be a good employer now and send your employee a birthday wish that will never forget! Just the right birthday message within your staff birthday cards can make all the difference!
Birthday Wishes for New Employees to Relieve them of all the "New Guy Stress"
When a new person starts working under you, it's usually recommended to get on their good side quickly, in order to increase efficiency and productivity, and also because it's just the proper thing to do! Also, knowing that you are appreciated in your office will reduce all the stress someone new to his job might have. Having said that, why not use the opportunity of that person's birthday to send them an amazing wish and impress them? This will make them quickly like you, and go home saying: "Oh, my new boss is great, he even remembered my birthday and gave me an amazing wish!" So, some of our recommendations are: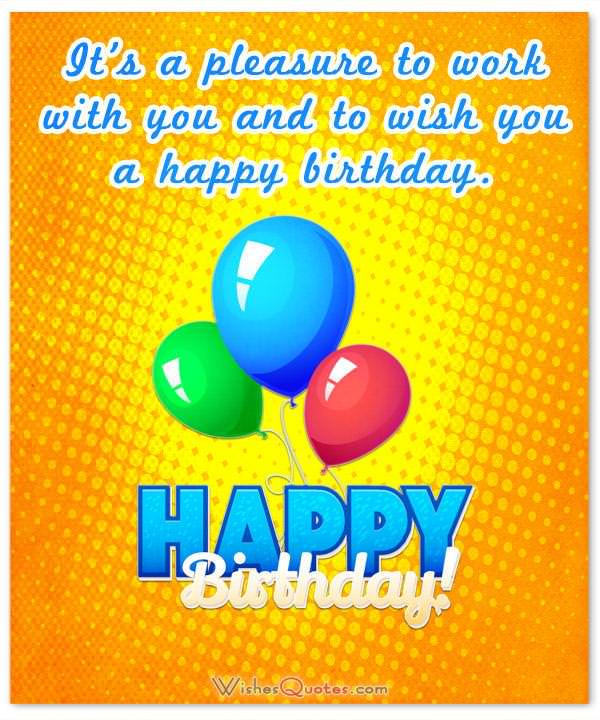 I'm always optimistic about the future; this is why I am certain that you will become one of the best people to have ever worked here! I know talent when I see it. Happy Birthday!
I know your time here has not been long, but it has definitely been valuable! You are one of the most valuable people to have ever set foot in this company. Happy Birthday!
They say with enough willpower anything is possible, something you have proven already by achieving so many things even though you've been with us for a very short amount of time. I have a lot of faith in you, keep it up, and happy birthday!
I have a confession to make. I wasn't very keen on hiring new people, but, the short amount of time you've spent here has proven me wrong on so many levels! Happy Birthday!
Destiny has a way of always bringing us positive influences in our lives. On the case of our company, that influence was you! Keep on being amazing, and happy birthday!
Getting to know you has been a great honor, and getting to work with you an even greater one. You truly are a pleasant figure around the office and I'm glad you chose to apply for this job! Happy Birthday!
Seeing someone getting results so fast after they started working truly is a marvelous sight! I knew right when I hired you that you would be a great addition to our staff, and I'm glad to see I was right. Happy Birthday!
The truth is, I was skeptical at first whether I should hire you or not. But so far, not only you've proven that I was wrong to doubt you, but you've gone beyond every single one of my expectations! You are a marvelous and very hard working person that deserves all the praise in the world! Happy Birthday!
It is rare to see someone so dedicated to his line of work that is willing to give up his free time for it. You've worked harder than anyone else in here, and you deserve all the praise for it. Keep up the good work! Happy Birthday!
Your great personality and deep sense of humor has been a positive influence around the office. I'm glad you started working for us, and I hope that you stay for many years to come. Happy Birthday!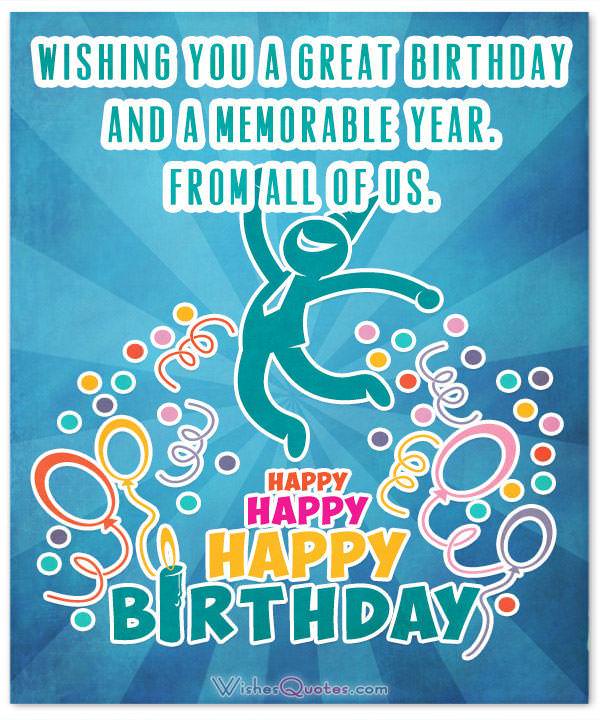 Let your Seasoned Veterans Know you Appreciate them
Having someone work under you for so long truly must give you a special place in your heart for them. Seeing their faces every day for so many years must truly mean you either love or hate them. But, for you to be here reading this, I'm going to guess it is the former. So, let them know how much you appreciate them with these extraordinary wishes: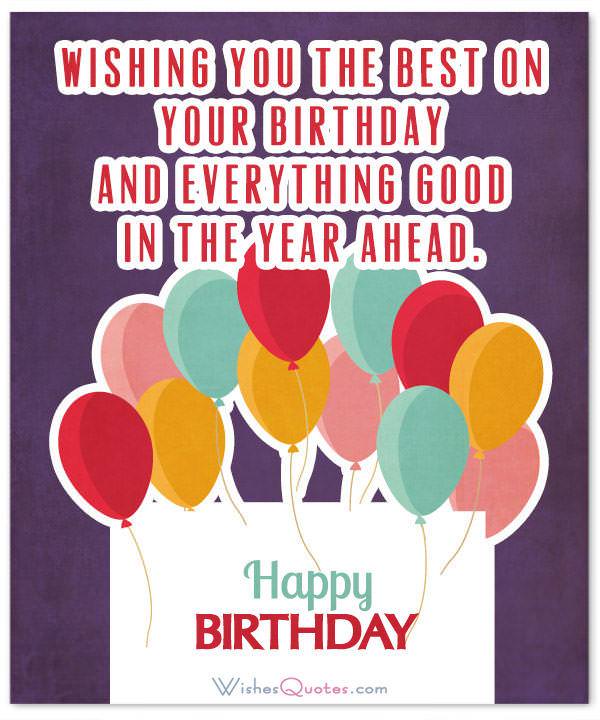 After all these years, I still feel the same excitement of seeing you in the office every day. I truly am happy you've been by our side for so long. Happy Birthday!
Everyone in the office has looked up to you for many years, your extraordinary personality and positive attitude has made you a very positive influence around the office, one that I hope will stay here for many years to come! Happy Birthday!
I'd like to wish you success and happiness in your path, no matter what you do. Because, since you've given your best for this company, you only deserve the best in return. Happy Birthday!
You've been with us through good and bad, happiness and sorrow, success and failure, yet never faltered, and never lost faith. You are an exemplary co-worker, and an even better person. I wish you the happiest of birthdays, and may you only find success in your life.
They say good things come to those who wait and I know how much you've waited for this promotion! You've been with us for a very long time now, being one of the greatest influences around the office. So, here is your gift! Happy Birthday!
For so many years, you haven't let down the company a single time. You deserve all the praise in the world and the happiest of birthdays!
Having spent so many years in this office, you may as well call it your second home, because to us, you certainly feel like family. Happy Birthday!
After all these years, you've evolved from just an employee, to a friend with a special place in my heart. So, I wish that you have the happiest of birthdays!
Working with you for so long has been a real privilege, you've proved time and time again that hiring you was the best choice I could have done as an employer. So I thank you, and wish you a happy birthday!
After all this time, it's not unreasonable to call you a veteran. Everyone has learned many things by working alongside you, and I truly hope that they will keep learning for as long as you're with us! Happy Birthday!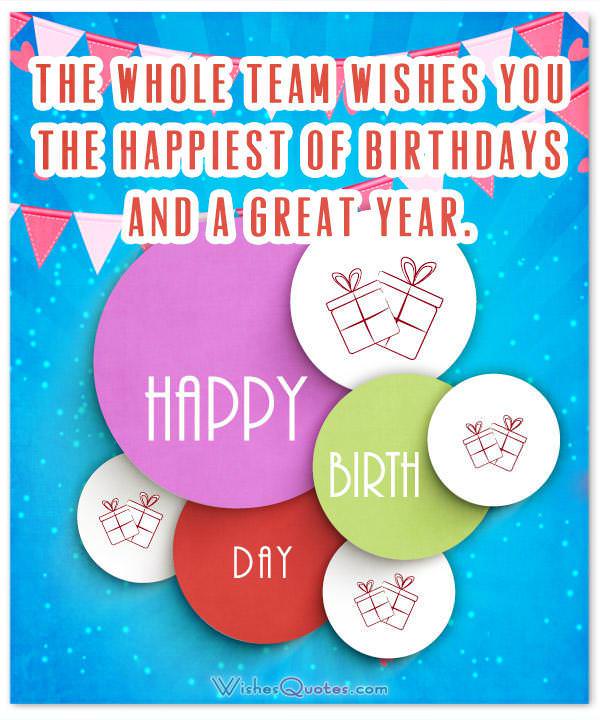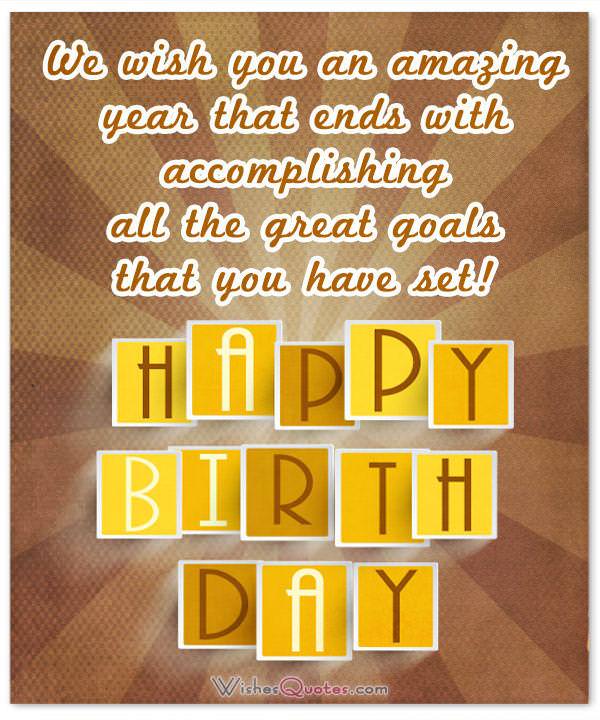 Related Posts