21 Unique 21st Birthday Wishes
A 21st birthday is a very special birthday, especially for Americans, because it is the legal age to drink. Many young adults around the country throw wild parties and dance the night away with their friends. If there was ever a time to go competently of the charts, then a 21st birthday is it. Of course, it is also a wonderful birthday to spend with family celebrating in style. If a loved one, a friend or a relative is getting ready to turn the big 2-1, then these 21st birthday wishes and quotes will help you deliver the message in style.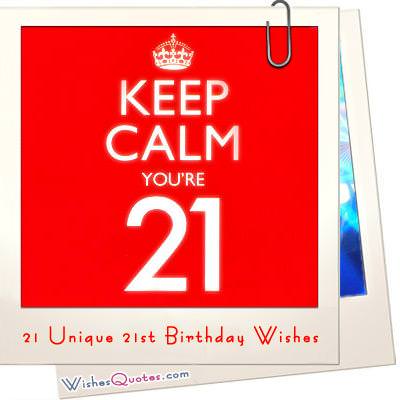 Amazing 21st Happy Birthday Messages and Quotes
Your 21st birthday is going to be the best one you have ever had. We are going to make this a night you never forget-literally! Happy birthday my friend!
Turning 21 is a big deal. You have survived long enough to prove to the world you are a responsible, loving, and legal adult. Happy birthday, and here is to the next 21 years!
There is nobody I love more than you. I am so excited we can celebrate your 21st birthday in style. Cheers to an amazing night with the love of my life.
I cannot believe you are now legal! I am so glad I have someone who can supply me with alcohol! Just kidding, but happy birthday!
Happy 21st! You are now legal to drink us under the table if you want! However, we recommend taking it slow if you want to avoid a birthday hangover in the morning!
Enjoy this champagne because you are now able to drink legally! Happy 21st birthday!
We are going to wild and free tonight because you just turned 21! I hope you are ready for the best birthday of your life.
We are in the fast lane to the best 21st celebration ever. I know you are going to have a fabulous time tonight, happy birthday!
Here is a my advice to you: the last 21 years went by so fast. I hope the next 21 are just as incredible as the first, just take your time to enjoy everything. Happy birthday dear!
I cannot believe you are finally 21 years old! You have grown into such a beautiful/ handsome young man/ woman. I hope that you have the best birthday ever. Love, me.
Can you believe you are turning 21 today? I remember when you were just a little girl sitting on my knee. I hope you have a wonderful day today my (relation).
There is nothing better for a young adult than turning 21. You can finally order that margarita without pulling out your fake I.D. Happy first day of legal drinking!
I know you have been dreaming of this moment for so long. You are finally able to get the big cocktail you have always wanted! Happy 21st!
Shots! Shots! Shots! We have to do some shots with the birthday girl/ boy! You only turn 21 once, and we have to celebrate it right. Happy birthday friend!
Today is your big day! You are turning 21, and I hope you have the most amazing party ever with all your friends and family around to celebrate.
There is nothing more exciting than the rush of ordering your first legal drink. It will be the first of many, but tonight is the night to live it up. Happy 21st birthday!
I hope you have an incredible day with your friends. However, tonight we are taking you out hard core. You only turn legal once, and we have to show you how it is done properly. Happy birthday!
One of the most important reasons 21 is such a great birthday is because you are now legal. However, there is more to 21 than just partying. This is a time to enjoy in your life because youth is fleeting. Happy birthday my son/ daughter.
I know you are not a child anymore, but I cannot help but think of you on your first birthday. Now, 20 years later you are still just as dear to me. Happy birthday love.
Can you imagine a more perfect reason to celebrate? You are turning 21! This happens once in a lifetime, and we are going to make it a night you never forget.
This is your chance to have the most perfect night of your life so far. Turning 21 is a big deal, but it will only be the beginning of great things to come. I hope you have an amazing birthday today.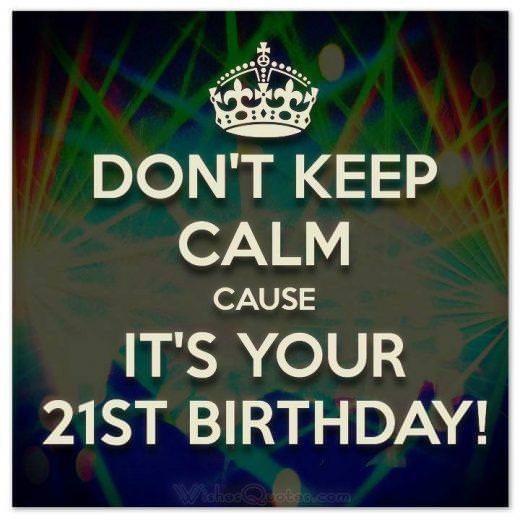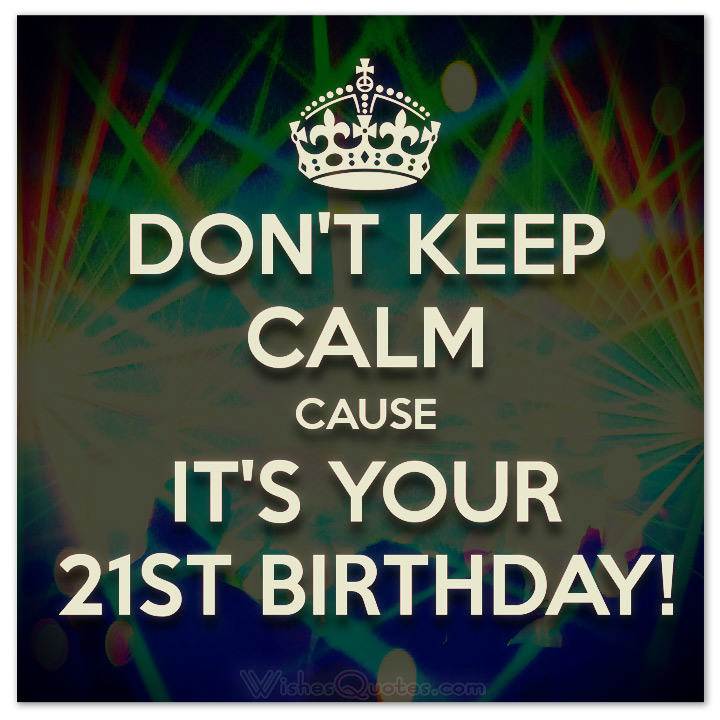 21 Birthday Messages for Someone Special
As you celebrate your 21st birthday, I know the candles cost more than last time. May you live to ages when the candles will cost more than the cake.
Hey, you are among my best friends, but sometimes I feel like punching you on the face. Every time I try to reach your age, you take off. Happy 21st birthday thou, but wait for me next time.
Happy 21st birthday cousin, I guess at that age you can now bake us a cake and make it sweet so that we share the joy in your life.
Today is your 21st birthday. I always miss your birthdays, not that I want you to grow old, it's the cake that I miss. I wish your 22nd one was tomorrow. Keep smiling and swallow my jokes buddy.
May your birthday make you find life worth living and commemorate the far that you have made through. Happy 21st birthday daughter.
You are a strong investment by your parents and I am so proud of you. As you turn 21, live to give thanks to the Lord for this far and ask Him to guide you in the life ahead of you.
Being 21 is awesome, so that even when I splash you with mud and water, you'll not yell like a sibling. Have fun.
I definitely know that you want to live long life, but aging is the only option. Happy 21st birthday brother.
Age increase does not necessarily mean one is growing old. It's another meaning of ripening and therefore getting better. Congrats for making it 21.
On your 21st birthday, I wish you blessings for you have been part and parcel of every revolution we make. Have it all pal.
Each anniversary of your birthday is also my anniversary for our friendship. It hit 21 now. Long live your birthday.
You have been a rare commodity to get, but am proud that I have you. May all your wishes come true as you mark your 21st birthday.
You always fill my days with laughter and happiness, and as you turn 21, change the age number, but retain the fun.
I pray that your 21st birthday makes you experience care and concern from the world. You are such important and wonderful. Happy birthday.
Your birthday is a sign of wellness and achievement in life. I hope it becomes better and nicer as you grow old. Wishing you all the best as you hit 21.
Your birthday is like a race against the odds and celebrating each year means you have conquered the race. Am proud that you have won 21 races. Keep up friend.
Friends value and love you, but you may not know the value I have placed in your life. Each birthday I celebrate for you reminds me that your worth is not aging but appreciating. Happy 21st birthday son.
I thought I should buy 21 lollipops this time and fill them in your mouth. If you will not accommodate all of them, I will not buy presents anymore. I will just sing the monotonous happy birthday song even if you are 21. How about that fellow joker?
At 21, it's an indicator that you are drawing closer to more responsibilities. May your age increase with wisdom so that life becomes easier in hitting the next birthday.
You are an amazing gift to me and am glad of the moments we share together. As you turn 21, I wish you loads of fun and excitement and may you live to blow candles that will exhaust your breath.