Love and Chocolate
Valentine's Day is one of the most romantic days of the year, and with it approaching so soon, love is all around us! Planning a special surprise for someone you love is so very exciting as well as suspenseful; however there is no more luxurious way to spoil your love than with a delectable chocolate surprise! There are so many wonderful options including dark rich chocolate covered strawberries, delicate white chocolate covered cake-balls, or even an elegant toffee delicately wrapped in milk chocolate. For an overnight getaway gently place a selection of exquisite dark chocolate truffles on the bed with a flavorful red wine for a night to remember. Love is in the air and is often celebrated with gifts of chocolate delights as they should be.Chocolate is one of the top-selling candies not just any time of the year but specifically around this famous day (which originated in Rome for those who don't know) and with its versatile flavor and ability to be great in all just about all forms, it is certainly understandable why that is!
For the chocolate enthusiast, consider preparing a decadent chocolate cake rich and moist with a center of warm liquid chocolate add a couple of cherries on the top to enhance the flavor. Increase the romance by sharing the desert at your favorite dine in restaurant, it is sexy to share. If you are looking for a child's Valentine gift then purchase the ultimate large chocolate kiss or a chocolate heart to your younger love. Cupcakes made of butter cream with Oreo cookie textured icing are always a crowd pleaser. You cannot go wrong with a chocolate treat of any kind. Deep dark chocolate is seductive yet elusive but it is best served warm or cold. The soft gooey sweetness, the full color, the melt in your mouth sensation are all enjoyable features of a gift of chocolate. No matter what tickles your fancy albeit dark, milk, or white chocolate it is all equally delicious and worth every penny. Take a few minutes to enjoy the holiday and celebrate your loving relationships with a lovely sweet treat. We do not always give ourselves permission to indulge in our favorites; however, this holiday is a true free pass to appreciate your favorite treats of your choice. So make sure you select the finest chocolates out there, prepare a sumptuous dinner (of course) and indulge, enjoy and live the fullest holiday possible.
All About Chocolate Quotes and Sayings
Love is like chocolate, sweet and bitter at the same time. Many writers have tried to put the sweet experiences of love into words. Here are a few chocolate quotes that bring out the taste of love in the perfect manner.
There is nothing better than a boyfriend, unless it is a boyfriend with chocolate.
Even the finest chocolate loses half its pleasure if you are not here to share it.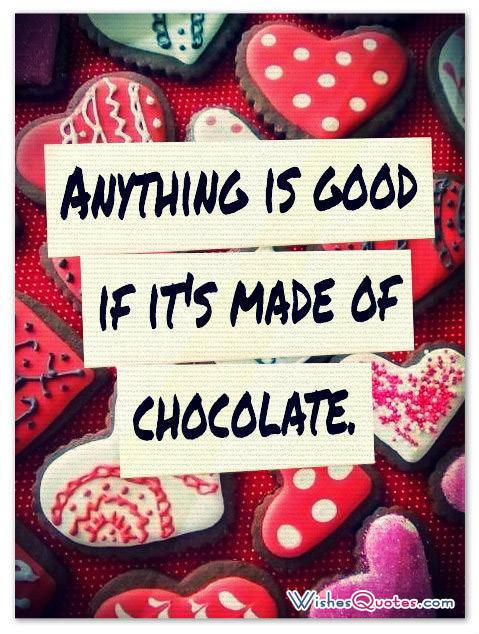 Anything is good if it's made of chocolate.
A day without you is like a day without chocolate.
Chocolate says "I love you" so much better than words.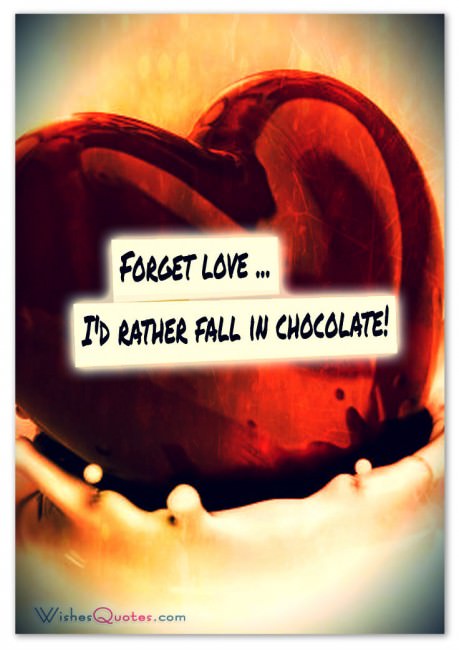 Forget love … I'd rather fall in chocolate!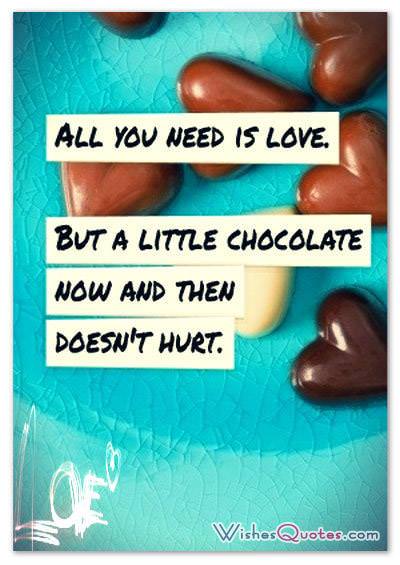 All you need is love. But a little chocolate now and then doesn't hurt.
Sometimes a girl's must have some chocolate!
Sometimes I think what is love. And then I think love is give up the last chocolate cookie for you.
All you need is love. But a little chocolate now and then doesn't hurt.
Love is like swallowing hot dark chocolate. At first it takes you by surprise, but keeps you warm for a long time.
Without love and chocolate, there would be darkness and chaos.