Love Quotes for Her – Romantic Quotes to Express your Love to Her
Being able to experience love is a fantastic emotion. When a man is able to show his girlfriend or wife just how much he loves her, she is sure to be grateful for the gestures. Using these sweet love quotes for her to express our true feelings and thoughts is the easiest way to let others know what we are thinking and feeling. It is important to express our feelings to our significant others, so they are aware of exactly how we feel about them. It can often be difficult to put into words a passion for another person, but having the right love quotes for her will melt her heart and give her a sense of security. For a man to be honest and express his true feelings will surely outweigh any corny expressions that he may opt to use instead. Here are some messages with love quotes for her that may be used to express love to a significant other.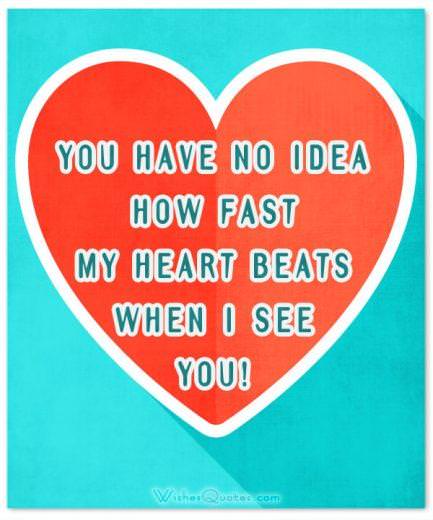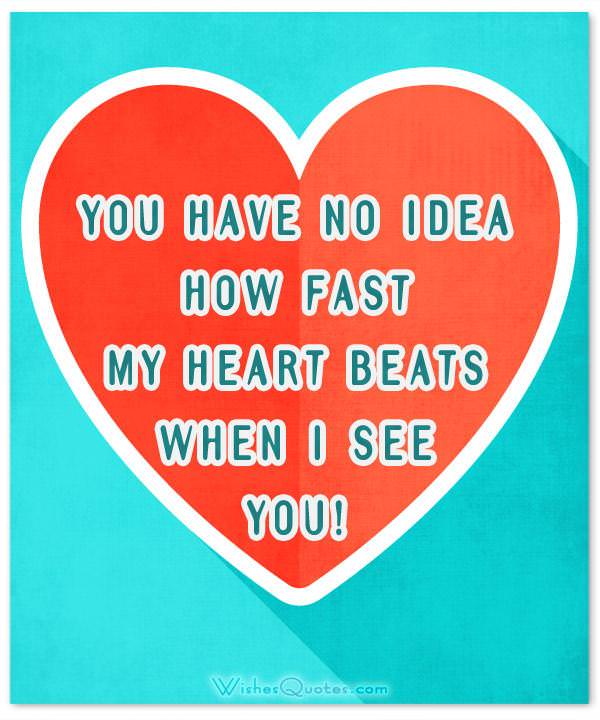 Adorable Love Messages for Her
In your eyes, a thousand stars glow tonight, in your heart a thousand heartbeats. But in me one endless love just because I thought of you.
My love for you is a promise that I made and intend to keep. I gave you my heart and hoped you hold it until the end of time.
Reaching for you was like reaching for a star: so distant, so gloriously beautiful and so mystical. I dared, and I succeeded only because you reached for my outstretched hand. I am forever blessed by your love.
The world loves engaging love stories. These are stories that inspire and stories that restore our faith in humanity. I love them, too. You and me – living out our own fairy tale.
Follow your bliss they said. So I followed you.
Love is sharing that last potato chip in the bag. I know that sounds silly, but it explains why I am completely enamored with you; You are so good-hearted and pure and noble, and I could go on and on. I'm glad you're mine, my angel.
My laptop may crash, and my cell phone may get lost. My camera may cease to flash, and my car may combust. But you, my dear, will never fail me.
Touch my heart with your fingers, and you will hear the most beautiful heartbeats dedicated only to you.
You are so much more than I ever dreamed of. I want you to know that you complete my life and fill my heart.
The sun brightens the day, and the moon brightens the night, but you brighten my life.
Flirty Love Messages for Her
I waited a lifetime for my heart to tell me, "She's the one" and it was worth the wait.
Knowing that I have found my soul mate makes my life complete.
You play the most wonderful music, and in hours of loneliness my soul can hear it.
You are just a strange little compass that leads me to that wonderful emotion called love.
Waking up next to you every single day is all my dreams fulfilled. I love you with everything I have.
I love your hands when they hug me. I love your lips when they kiss me. But most of all I love when you don't say a word and I can still feel your love.
For the touch of your hand, for the beat of your heart, for your small embrace, for your sweet kiss, for all that my heart loves you so strongly tonight.
If you put a little bit of my love in your heart, every tenderness will have a meaning.
The phrase I love you coming from your lips is one I could hear on repeat for the rest of my life.
Just like a candle burns its flame, my heart burns it's everlasting love for you.
Have you heard me in that foggy night? I've been calling you to give me your love.
You fill my life with sunshine and rainbows, and you shine from within. I love you with all that I am, today and forever.
I love you for all that you are, all that you have been, and all that you will be. Past, present, and future…I am here for you.
Fights may happen sometimes during our relationship, but we learn to work through them and not abandon the ship.
I love you more than you will ever know. I wish that you could look inside my heart for only a moment so you could see the depths of my devotion.
Every emotion that a person experiences in life has a story and a reason. You are the story behind all of mine. I will love you for the rest of my life.
You know that overwhelming feeling of love? The one that makes you feel like you'd do anything for someone? Only you can make me feel that way.
If I were to die today, I would spend my last breath telling you how much you mean to me, and go to sleep peacefully in your arms.
I want you to know that I am thinking about you right now, no matter where you are and what you are doing. I love you completely and you are always on my mind.
I just want you…all of you. From your beautiful face and warm heart to your smiles and laughs, bad jokes and sarcasm. You make me happy all the time.
Love is made up of little moments, bursts of affection and pleasure. I am happy that I get to spend all those moments loving you.
Imagine me holding your hand. But wait, between them there is something. Oh, it's a little heart. It is a small world that we haven't opened yet. It beats. It waits for our tender kiss and then we will be able to sense it with our own hearts.
The powerful feeling of passion and love is one I am blessed to be experiencing with you.
Don't say a word. Let the silence from our hearts speak for us.
I never believed in fairy tales or the tooth fairy or fairy godmothers, but you waltzed into my life and made everything so magical and special. Ours is a love story that knows no earthly bounds. May our love survive for all time.
We have good weather and bad weather but no matter what type of storm we weather it together.
Though I can't bring the sun or moon to you, I will promise to light your way brighter than both and be at your side forever.
I make it through each day looking forward to spending my nights laying next to you.
Romantic Images with Cute Love Quotes for Her
Short Cute Love Messages for Her
My wife, my friend, my love, you are my everything.
My life is better when my girlfriend is at my side.
You are my one and only love. You will always be safe with me and I will treasure you for all my life.
Humor, honesty, and patience are the traits I admire about the woman I love.
I love you. That may not be fancy, but it is what I truly feel for you every second of every day.
Time continues to flow as my love for you continues to grow.
The ocean is deep and the sky is high, but my love for you will never die.
You are my rock and my strength. You are my everything!
When our eyes lock, my heart melts, this is a feeling I have never felt.
The fish have the sea and the birds have the sky, I have you to share my journey.
Love is a precious treasure, and the depth of my devotion to you and our love is immeasurable.
I want to love you always as you love me, with undying devotion and passionate kisses.
My promise to you is to always love you and keep you happy.
You keep me grounded and you keep me sane. I love you always and will shield you from any pain.
Radios tune into stations but I tune into your love, and I promise never to tune into another.
Keeping you happy is my promise to you, keeping us together is my mission in life.
Finding your love is a wonderful blessing, one that I will never lose.
Understanding each other may be difficult at times, but understanding my love for you is never difficult.
When soul mates find each other, they do everything to stay together.
You are my wind when I am hot, you are my sun when I am cold. Your love saves me from the elements.
Being happy is knowing that I get to spend my life with someone as special and devoted as you.
Love is full of ups and downs, but I will always keep us grounded right next to each other.
Being in love is the key to a happy and fulfilling life. I'm blessed to be apart of something so special.
My body tingles from your slightest touch. The sparkle in your eye lets me know you feel as such.
Never lose sight of who you are, for that is the person I fell in love with and will always admire.
Love hits us when we least expect it, I'm happy we were in the crossfire and found each other.