Beautiful Love Quotes to Express Your Feelings to Her
Welcome to a journey of love, affection, and heartfelt emotions! In this enchanting collection, we delve into the world of love quotes for her, capturing the essence of romance and devotion that words can convey. Love has the power to spark a fire within, to bring smiles to faces, and to bridge the gaps between souls. Whether you're looking to express your affection to a special someone or simply celebrate the beauty of love, these quotes are here to inspire you. From sweet and romantic whispers to passionate and fiery expressions, let these words speak from the heart and touch the depths of your beloved's soul. Get ready to unveil the magic of love with these heartfelt love quotes for her.
Adorable Love Quotes for Her
In your eyes, a thousand stars glow tonight, in your heart a thousand heartbeats. But in me one endless love just because I thought of you.
My love for you is a promise that I made and intend to keep. I gave you my heart and hoped you hold it until the end of time.
Touch my heart with your fingers, and you will hear the most beautiful heartbeats dedicated only to you.
You are so much more than I ever dreamed of. I want you to know that you complete my life and fill my heart.
Love is sharing that last potato chip in the bag. I know that sounds silly, but it explains why I am completely enamored with you; You are so good-hearted and pure and noble, and I could go on. I'm glad you're mine, my angel.
My laptop may crash, and my cell phone may get lost. My camera may cease to flash, and my car may combust. But you, my dear, will never fail me.
Reaching for you was like reaching for a star: so distant, so gloriously beautiful, and so mystical. I dared, and I succeeded because you reached for my outstretched hand. I am forever blessed by your love.
Follow your bliss, they said. So, I followed you, and I fall in love, again and again, every day with you.
The sun brightens the day, and the moon brightens the night, but you brighten my life.
Whispers of the Heart: Sweet Love Quotes for Her
In your eyes, I found a universe of love, and in your smile, I discovered the warmth of a thousand suns.
You are the melody to my soul, the lyrics to my heart's song, and the rhythm that keeps me dancing through life.
Like a gentle breeze on a summer day, your love caresses my heart, bringing peace and tranquility to my soul.
In every beat of my heart, I find the rhythm of your love, the melody that makes life a beautiful symphony.
You are the missing piece to my puzzle, completing me in ways I never knew were possible.
When I gaze into your eyes, I see a reflection of a love so pure and true, a love that knows no boundaries.
With every passing moment, my love for you grows deeper, stronger, and more profound.
Your love is the key that unlocks the door to a world of endless possibilities and endless happiness.
In the chaos of life, you are my calm; in the storms of emotion, you are my anchor.
I may not be a poet, but with you, my heart speaks in verses of love, painting a masterpiece of devotion.

Igniting Desire: Passionate Love Quotes for Her
Your touch ignites a fire within me, and in your embrace, I find the warmth of a thousand suns.
In the depth of your eyes, I lose myself, drowning in the ocean of passion that lies within.
With every breath, I inhale your essence, and with every beat of my heart, I long for your presence.
You are the flame that dances in my soul, the spark that sets my heart ablaze with desire.
In the embrace of your love, I find solace, and in the intensity of your passion, I discover ecstasy.
Every kiss we share is a symphony of passion, and every moment together is a masterpiece of love.
Your love is like a fever that consumes me, leaving me intoxicated with desire for you.
With you, every touch is electric, and every moment spent together is a journey to euphoria.
In the fire of your love, I am reborn, and in the heat of your passion, I am alive.
You are the flame that burns bright in my heart, filling me with a passion that knows no bounds.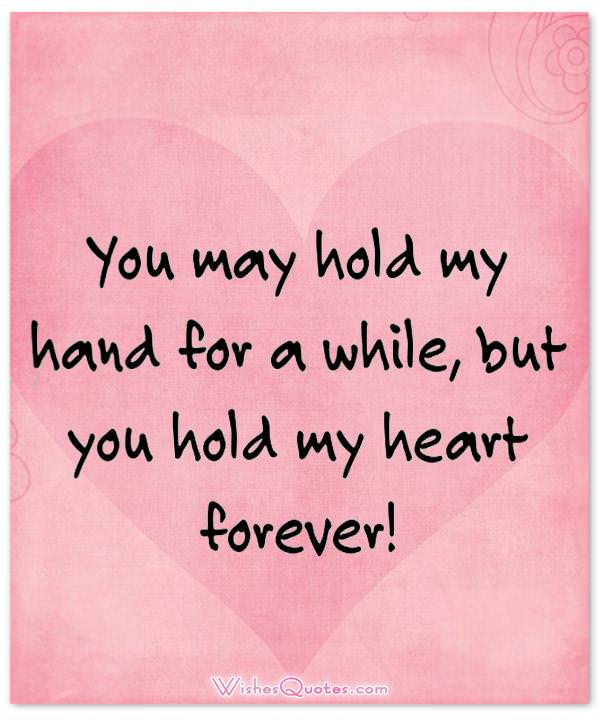 Love and Laughter: Funny Quotes to Amuse Her Heart
You stole my heart, so I'm calling the police… for theft of my affections!
Love is like a roller coaster – thrilling, scary, and sometimes, you just want to scream!
If loving you is wrong, I don't want to be right… but I'm pretty sure it's not, so we're good!
You're my favorite distraction from everything I'm supposed to be doing.
Love is sharing your popcorn at the movies, even if you secretly want to hoard it all for yourself.
I love you more than coffee, and that's saying a latte!
If you were a vegetable, you'd be a 'cute-cumber'!
You make my heart skip a beat, but that's probably just the caffeine.
You're the peanut butter to my jelly, the cheese to my macaroni, and the smile to my face.
They say love is blind, but with you, it's more like love is goofy, crazy, and wonderfully absurd!
Capturing Moments: Love Quotes for Her on Special Occasions
On this special day, I am reminded of how lucky I am to have you by my side. Happy anniversary, my love!
May your birthday be as sweet and beautiful as you are. Wishing you all the happiness in the world!
Every moment with you is a celebration of love. Here's to many more joyful years together!
To the woman who lights up my life every day, thank you for being my guiding star. I love you!
On this anniversary, I want you to know that my love for you grows stronger with each passing year.
Happy birthday to the one who makes every day brighter and more colorful. You are my sunshine!
Life's greatest gift to me is having you as my partner. Here's to another year of love and laughter!
Your love is the melody that fills my heart with joy. I'm grateful for every moment with you.
Cheers to a love that's timeless and everlasting. Happy anniversary, my dearest!
May your birthday be a day of dreams come true and wishes fulfilled. You deserve all the happiness in the world!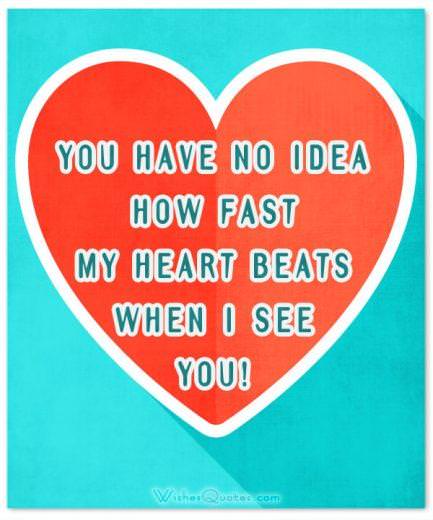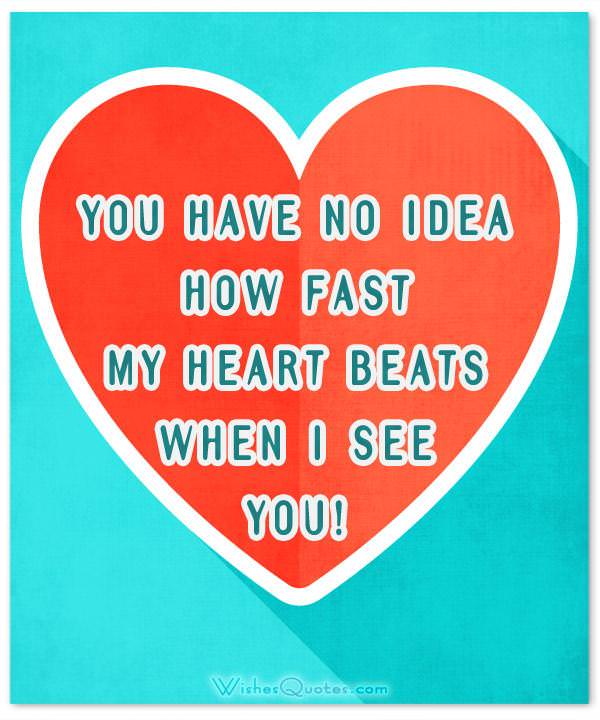 From My Heart to Yours: Crafting Personalized Love Quotes for Her
In a world full of love, no two relationships are alike, and that's what makes each one special and unique. When it comes to expressing our feelings, sometimes finding the perfect words can be a challenge. However, there is a secret to making your love messages stand out and touch her heart in a way she'll never forget – personalized love quotes. Creating personalized love quotes is a heartfelt way to show your partner just how much they mean to you. It's about tapping into the essence of your relationship, capturing the little moments that make your bond special, and putting those feelings into words. Whether you've been together for years or just starting on this journey of love, personalized quotes can be a beautiful gesture to cherish the connection you share.
Tips for crafting personalized love quotes
Think about your relationship. What are the things that you love most about your partner? What are the things that make your relationship special? Consider these things when you're crafting your quote.
Use specific language. Don't just say I love you. Instead, say something like I love the way you make me laugh or I love the way you always know how to make me feel better.
Be personal. The more personal your quote is, the more meaningful it will be to your partner. Share a memory or a inside joke that you both share.
Keep it short and sweet. A long, rambling quote might be impressive, but it's not always the most effective way to express your love. A short, sweet quote is more likely to stick in your partner's mind.
Examples of personalized love quotes
In your eyes, I found my universe – a place where love knows no bounds and where we journey through life together, hand in hand.
With each beat of my heart, your name echoes like a beautiful melody, reminding me that love is the most precious symphony we'll ever know.
You are the missing piece that completes my puzzle of life, and together, we create a picture of love that is truly extraordinary.
In a world of a thousand smiles, yours is the one that lights up my soul, making every day a reason to celebrate love.
Our love story is like a constellation, filled with countless moments that shine brightly and guide us through life's journey.
From the moment our paths crossed, I knew our love was written in the stars – a cosmic connection that will forever illuminate our lives.
With you, every day is a canvas, and our love paints the most beautiful picture, filled with colors of joy, passion, and endless love.
You are the sunshine that warms my soul, the moonlight that brings serenity to my heart – with you, every moment is pure magic.
In a world of chaos, your love is my safe haven, a place where I find peace, comfort, and the certainty that we belong together.
Our love is like a garden, nurtured with care, blooming with laughter, and rooted in the love that continues to grow with each passing day.
Creating personalized love quotes requires listening to your heart and being attuned to the emotions that flow between you and your partner. It's about cherishing the uniqueness of your love story and putting it into words that resonate deep within both your hearts. So, the next time you want to express your love, take a moment to craft a personalized quote that will make her heart skip a beat and remind her of the special connection you share.
Express Your Love with Romantic Love Quotes for Her
Love is a powerful emotion that should always be expressed. Sometimes it can be difficult to find the right words to convey our feelings, but that's where romantic love quotes come in. Here are some heartfelt words to help you express your love to your significant other. These quotes are a beautiful way to express your love to your significant other. They show that your love is deep, sincere, and everlasting. Use them to convey your feelings and strengthen your bond with your loved one.

"I love you not only for what you are, but for what I am when I am with you." – Elizabeth Barrett Browning
"I saw that you were perfect, and so I loved you. Then I saw that you were not perfect and I loved you even more." – Angelita Lim
"The best love is the kind that awakens the soul and makes us reach for more, that plants a fire in our hearts and brings peace to our minds. And that's what you've given me. That's what I'd hoped to give you forever." – Nicholas Sparks
"I never want to stop making memories with you." – Pierre Jeanty
"In your smile, I see something more beautiful than the stars." – Anonymous
"If I had to choose between breathing and loving you, I would use my last breath to tell you I love you." – DeAnna Anderson
"I have waited for this opportunity for more than half a century, to repeat to you once again my vow of eternal fidelity and everlasting love." – Gabriel Garcia Marquez
Flirty Love Quotes for Her
I waited a lifetime for my heart to tell me, "She's the one," and it was worth the wait for true love.
Knowing that I have found my soul mate makes my life complete.
You play the most beautiful music, and in hours of loneliness, my soul can hear it.
Waking up next to you every single day is all my dreams fulfilled. I love you with everything I have.
I love your hands when they hug me. I love your lips when they kiss me. But most of all, I love it when you don't say a word, and I can still feel your love.
You are just a strange little compass that leads me to that beautiful emotion called love.
Read Also: Romantic Love Messages
For the touch of your hand, for the beat of your heart, for your small embrace, for your sweet kiss, for all that my heart loves you so strongly tonight.
If you put a little bit of my love in your heart, every tenderness will have a meaning.
The phrase I love you coming from your lips is one I could hear on repeat for the rest of my life.
Just like a candle burns its flame, my heart burns its everlasting love for you.
Have you heard me on that foggy night? I've been calling you to give me your love.
You fill my life with sunshine and rainbows, and you shine from within. I love you with all that I am, today and forever.
I love you for all that you are, all you have been, and all that you will be. Past, present, and future, I am here for you.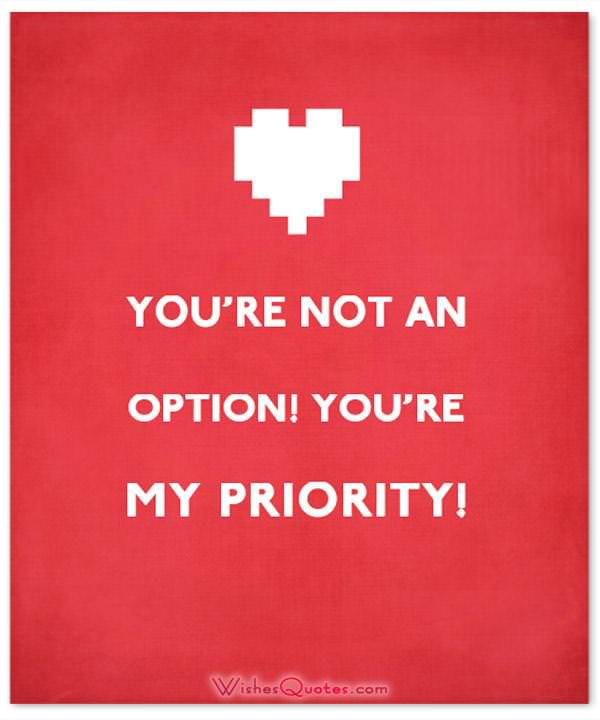 Speak to Her Soul: Inspiring Love Quotes for Her
Love is a powerful force that can inspire and motivate us to be better people. Here are some inspiring love quotes that will speak to your girlfriend's soul and inspire her to pursue her dreams. These quotes serve as a reminder that love is not just about the physical connection, but it is also about emotional, mental, and spiritual connections. They inspire us to appreciate the beauty of love and its transformative power. Use these quotes to uplift your loved one and show her that you believe in her and her dreams.
"I am yours, don't give myself back to me." – Rumi
"The best and most beautiful things in this world cannot be seen or even heard, but must be felt with the heart." – Helen Keller
"Love is not about possession. Love is about appreciation." – Osho
"Love is the voice under all silences, the hope which has no opposite in fear; the strength so strong mere force is feebleness: the truth more first than sun, more last than star." – E.E. Cummings
"Being deeply loved by someone gives you strength, while loving someone deeply gives you courage." – Lao Tzu
"The real lover is the man who can thrill you by kissing your forehead or smiling into your eyes or just staring into space." – Marilyn Monroe
"Love is not just looking at each other, it's looking in the same direction." – Antoine de Saint-Exupéry
"To love is not to possess, to own or imprison, nor to lose oneself in another. Love is to join and separate, to walk alone and together, to find a laughing freedom that lonely isolation does not permit." – James Baldwin
"Love recognizes no barriers. It jumps hurdles, leaps fences, penetrates walls to arrive at its destination full of hope." – Maya Angelou
"I love you not because of who you are, but because of who I am when I am with you." – Elizabeth Barrett Browning
Romantic Love Quotes for Her
If I were to die today, I would spend my last breath telling you how much you mean to me and go to sleep peacefully in your arms.
I want you to know that I am thinking about you right now, no matter where you are and what you are doing. I love you completely, and you are always on my mind.
I just want you! All of you, from your beautiful face and warm heart to your smiles and laughs, bad jokes, and sarcasm. You make me happy all the time.
We have good weather and bad weather but no matter what type of storm, we weather it together.
Though I can't bring the sun or moon to you, I will promise to light your way brighter than both and be at your side forever.
I make it through each day, looking forward to spending my nights next to you.
Fights may sometimes happen during our relationship, but we learn to work through them and not abandon ship.
The dominant feeling of passion and love is one I am blessed to be experiencing with you.
Don't say a word. Let the silence from our hearts speak for us.
I never believed in fairy tales or the tooth fairy or fairy godmothers. Still, you waltzed into my life and made everything so magical and unique. Ours is a love story that knows no earthly bounds. May our love survive for all time.
You are my wind when I am hot; you are my sun when I am cold. Your love saves me from the elements.
Love is a precious treasure, and the depth of my devotion to you and our passion is immeasurable.
You are my one and only love. You will always be safe with me, and I will treasure you for all my life.
You keep me grounded, and you keep me sane. I love you always and will shield you from any pain.
Radios tune into stations, but I tune into your love, and I promise never to tune into another.
I love you more than you will ever know. I wish that you could look inside my heart for only a moment so you could see the depths of my devotion.
Every emotion that a person experiences in life has a story and a reason. You are the story behind all of mine. I will love you for the rest of my life.
You know that overwhelming feeling of love? The one that makes you feel like you'd do anything for someone? Only you can make me feel that way.
Love is made up of little moments, bursts of affection, and pleasure. I am happy that I get to spend all those moments loving you.
Imagine me holding your hand. But wait, between them, there is something. Oh, it's a little heart. It is a small world that we haven't opened yet. It beats. It waits for our tender kiss, and then we will be able to sense it with our own hearts.
Love in Words: Beautiful Love Quotes for Her
"I never want to stop making memories with you." – Pierre Jeanty
"If I know what love is, it is because of you." – Hermann Hesse
"In a sea of people, my eyes will always search for you." – Unknown
"You are my today and all of my tomorrows." – Leo Christopher
"I am in love with your smile, your voice, your body, your laugh, your eyes." – Unknown
"You make my heart skip a beat." – Unknown
"I would rather spend one lifetime with you, than face all the ages of this world alone." – J.R.R. Tolkien
"You are the missing piece I've been trying to find." – Unknown
"Every moment spent with you is like a beautiful dream come true." – Unknown
"The best and most beautiful things in this world cannot be seen or even heard, but must be felt with the heart." – Helen Keller
Short Love Quotes for Her
My wife, my friend, my love, you are my everything.
My life is better when my girlfriend is at my side.
Humor, honesty, and patience are the traits I admire about the woman I love.
I love you. That may not be fancy, but it is what I genuinely feel for you every second of every day.
Time continues to flow as my love for you continues to grow.
The ocean is deep, and the sky is high, but my love for you will never die.
You are my rock and my strength. You are my everything!
When our eyes lock, my heart melts; this is a feeling I have never felt.
The fish have the sea, and the birds have the sky; I have you to share my journey.
I want to love you always as you love me, with undying devotion and passionate kisses.
My promise to you is always to love you and keep you happy.
Keeping you happy is my promise to you; keeping us together is my mission in life.
Finding your love is a beautiful blessing, one that I will never lose.
When soul mates find each other, they do everything to stay together.
Being happy is knowing that I get to spend my life with someone as unique and devoted as you.
Love is full of ups and downs, but I will always keep us grounded right next to each other.
Being in love is the key to a happy and fulfilling life. I'm blessed to be a part of something so special.
Never lose sight of who you are, for that is the person I fell in love with and will always admire.
Love hits us when we least expect it; I'm happy we were in the crossfire and found each other.
Using Love Quotes in Relationships
Love quotes are an effective tool for expressing love and affection in relationships. These quotes can be used in various ways, whether it's a quote that speaks to your relationship or a personal message written just for your partner. Love quotes can help you communicate your feelings in a meaningful and impactful way. Moreover, using love quotes can help enhance relationships by building deeper connections and fostering greater understanding. Sharing quotes with your partner, discussing their meaning, or simply reflecting on them together can help bring you closer and strengthen your bond. Love quotes can also be a great way to add some extra romance to your relationship, rekindling the spark and reigniting the flame of passion.
Beautiful Images with Cute Love Quotes for Her
More Love Quotes and Messages