Get Well Soon Messages for Friend
There's an old saying that goes, "A friend in need is a friend indeed." So it's essential to be there when your friend needs you most. You may not be a doctor, but you can offer a very unique type of medicine as a friend. Friendship and happiness is powerful medicine, so remember to send your friend plenty of "Get Well Messages" and "Get Well Wishes." These recovery messages are sure to brighten their day, and that's been scientifically proven to boost a patient's recovery! The following are some unique Get Well Soon Messages for a friend. You can go through them and even add your own spin to them if you're the creative type. Send lovely, get well soon wishes to your friends and loved ones: it's the perfect way to keep them cheerful during a difficult time!
Unique Get Well Soon Wishes for Friend
Get well soon, my friend. Your absence makes me sad, and I long to see you feeling better. Get well quickly because you are missed by so many. Take good care, take time to heal, and know that many are praying for your speedy recovery.
I miss you so much, and so does everyone else. We all miss you and wish you a speedy recovery. We especially miss your humor and your kindness. Take care, and know that we are eagerly awaiting your return.
Golfing, swimming, bicycle riding, me …. all waiting for you when you're up and back to your energetic self.
I just heard about your illness, and I want you to know that I miss you and will be praying for your speedy recovery. Being ill is no fun; that is for sure. So, take time to heal and know how much I and many others miss you.
So sorry to hear that you're not feeling well; I just heard about your illness last night. Along with everyone here, I send their best wishes and prayers to you. We all wish you a speedy recovery. Follow your doctor's wishes and before you know it, you'll be in fine form!
Everyone here is thinking about you while you are in the hospital and recovering from your illness. We want you to know how much we miss you and long for your return. Best wishes we send to you for a quick recovery. God Bless!
We miss you so much! So sorry to hear that you're not feeling well and will be away for a while. Everyone here misses your kindness, humor, and loyalty. We didn't find out about your illness until early this morning. It was a shock to everyone. So hang in there, dear friend, and know that you are missed and treasured.
Waaahhhh! BooHoo! I'm on my knees, and I'm begging you! I'll do anything! Please get well! (How's that working?) C'mon, just get well.
Okay, pal, enough lounging around. We rely on your energy and positive attitude to keep things going around here, so get well!
Fast Recovery Wishes For Sick Friend
You're an overcomer in any difficult situation I've ever witnessed, so this silly bug doesn't stand a chance against "Super Friend." Feel better soon.
I didn't know you were ill until several hours ago! I am so sorry that you're not feeling well. But, don't worry about anything. Just concentrate on getting better, and before you know it, you'll be feeling like your old self—only better!
Get well soon! Together, we shall make the bond of our friendship even tighter and stronger.
I pray to the Almighty to bring you healing and a speedy recovery.
Yo, home slice! Getting sick of going to lame-ass parties since you've been down. C'mon! I need my Wing Man back!
Sending all good wishes to my friend. Here's hoping you'll get well very soon.
I wish the very best of health to you, my dear friend.
Get well soon, and together, we shall continue to find happiness in our friendship.
Dear friend, get well soon and rock your life!
Sending positive, healing thoughts to you, my dear friend. I hope you get well very soon.
I pray for your good health, my dearest friend.
It's hard to be patient when you're a patient. More succinctly, it's hard to be patient when you're a "sicky." So relax, I know you'll be better soon.
Get well soon so we can discover the world again and resume our fun!
I'm sending you loads of good wishes for a fast recovery.
My friend is sending oceans of good wishes for your fast recovery and good health.
Get well soon, dear friend! Your companionship is so important to me. I hope you're feeling better soon.
I pray for my dear friend's fast recovery and future good health.
Get well soon, my dearest friend, as I always want to see you fit and fine.
I am sending good vibes to you, my dear friend, to help fight your sickness. I hope you get well soon.
Get well soon so we can again rock together!
Wishing you a very speedy recovery my friend.
Dear friend, bid farewell to your bad health and get ready to greet happiness and wellness!
 Bible Verses for Sick Friend
Psalms 30:2 – LORD my God, I called to you for help, and you healed me.
Matthew 9:35 – Jesus went through all the towns and villages, teaching in their synagogues, proclaiming the good news of the kingdom and healing every disease and sickness.
Luke 6:19 – And the people all tried to touch him because power was coming from him and healing them all.
Proverbs 16:24 – Gracious words are a honeycomb, sweet to the soul and healing to the bones.
Proverbs 17:22 – A cheerful heart is a good medicine, but a crushed spirit dries up the bones.
Isaiah 41:10 – So do not fear, for I am with you; do not be dismayed, for I am your God. I will strengthen you and help you; I will uphold you with my righteous right hand.
Jeremiah 17:14 – Heal me, LORD, and I will be healed; save me, and I will be saved, for you are the one I praise.
3 John 1:2 – Dear friend, I pray that you enjoy good health and that all may go well with you, even as your soul is getting along well.
Psalms 119:50 – My comfort in my suffering is this: Your promise preserves my life.
Psalms 6:2 – Have mercy on me, LORD, for I am faint; heal me, LORD, for my bones are in agony.
1 Peter 2:24 – "He himself bore our sins" in his body on the cross so that we might die to sins and live for righteousness; "by his wounds you have been healed."
Philippians 4:19 – And my God will meet all your needs according to the riches of his glory in Christ Jesus.
Matthew 11:28 – Come to me, all you who are weary and burdened, and I will give you rest.
Isaiah 33:2 – LORD, be gracious to us; we long for you. Be our strength every morning, our salvation in time of distress.
John 14:27 – Peace I leave with you; my peace I give you. I do not give to you as the world gives. So do not let your hearts be troubled, and do not be afraid.
Psalms 73:26 – My flesh and my heart may fail, but God is the strength of my heart and my portion forever.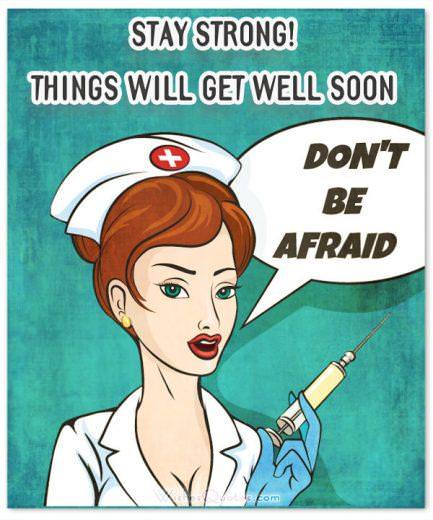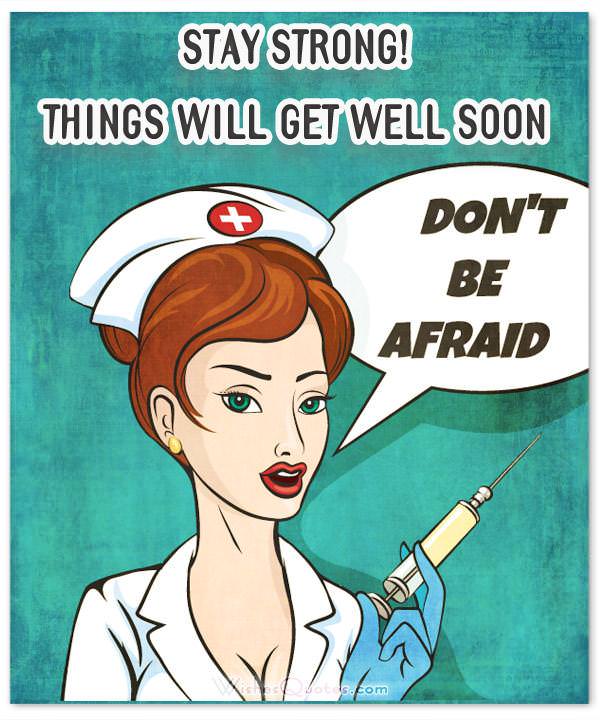 Funny Get Well Soon Messages
I wish I had a genie, so I could spend my 3 wishes on you getting better, never getting ill again, and having another 3 wishes so I can dominate the world! Muhahahaha. Just kidding, hope you get well soon, buddy!
I consider being sick as one of the immense pleasures of this life, provided you are not too sick, and you are not obliged to go to work till you get better.
Ever since you got sick, I've had no drinking partner! This isn't fair. You have to hurry up and get better to go grab a drink together again. Drinking alone isn't fun! Get well soon!
Get well messages, and cards have become so hilarious that you miss the fun if you don't fall sick once in a while. I wish you the quickest recovery from your illness.
When illness knocks you on your ass, it is worth relaxing and taking your time before trying to get back up. We can't wait for you to join us once more.
Physical illnesses are taxes levied upon our wretched lives; some are levied higher while others are lower, but we are all charged something. I wish you a quick recovery from your illness.
It is a fact that enough doctors graduate from university every year to take good care of patients. So do not worry because everything will be alright with you soonest.
You can use the above ideas as inspiration to writing your very own fantastic message to wish "Get Well Soon" note or card for your dear friend.
Check baby name meanings or explore the best baby names, including famous names,
unusual names, cool names, names by ethnic groups, and many more!
Baby Names
More Get Well Soon Messages