100+ Amazing Birthday Wishes for Father
Sending birthday wishes to your father is the perfect way to show him how much meaning he brings to your life.
How Can I Wish my Father on his Birthday?
Today, you have the benefit of choosing from various ways to send your message, too. Texts, social media posts, and good old-fashioned birthday cards are fun ways to let your dad know that you remember his special day. These wishes can tell stories, bring fresh tears, or have fathers bursting with laughter. Words are powerful tools, and if they are placed correctly together, they can be formed to show love. So as your father's birthday draws near and you wish to send him a special message, there will be many moving words in these messages.
Sweet Birthday Wishes for your Dad
Growing up, I always admired your awards. Today, I have to say that you deserve the Best Dad in the World award for all that you do. Have a happy birthday, Dad. You deserve the best!
I am so lucky to have a dad like you. You are my superhero, my role model; you were always there by my side in hard times! I wish you the most fantastic birthday!
I know I wasn't always the perfect child, but you have always been the perfect dad. Thanks for fixing the little things I broke and for showing me how to correct my own mistakes as I grew. Enjoy your birthday today. I love you!
From helping me up when I fell to taking me out for practice after I missed the winning goal, you've taught me to never give up. I owe my success in life to you and can't wait to take you out for your birthday.
I always wanted to grow up just like you, but I still haven't changed my mind. You are my perfect example of strength and love, and I aspire to be the same type of dad to my kids that you have always been to me. Happy birthday!
Another year has passed, and you are one year wiser. You've given me some excellent advice about my life. I hope you will continue assisting me in navigating life's turbulent waves.
From barbecues to fishing, sports, and computers, there is literally nothing you can't do! You're like a super dad! And that is why I admire you! Happy birthday!
Thank goodness looks are genetic! I hope I look half as good as you do at your age. Have a great birthday, and don't forget to stop by the mirror and celebrate that you just get better looking every year.
As I was growing up, I always looked up to you, always admired you, and always had you as my role model. And judging by the person I am today, you've been a great role model, dad! Happy birthday! Thank you for everything; I love you.
Dad, you have always been there for me. Even when you were not home to care for me, it is because you were out, working, so you can provide the sufficient funds needed to raise me. You are the best father I could hope for. Happy birthday. I love you.
Dad, you were there for me from the day I was born, always having my best interests in mind. You are one of the most influential people in my life, and I love you with my whole heart. Happy birthday, Dad!
I'd like to use this day as an opportunity to tell you how much I adore you and how great of a father you've been throughout all these years. Happy birthday, dad!
No matter how old you become, you will still be my best friend, dad; after all, with whom am I going to watch the game on Sunday night if it's not with my beloved dad? Happy birthday!
Happy Birthday Messages For Your Dad's Birthday Card
Another great year of having the greatest papa in the world to spend time with
Growing up, you taught me to laugh; I hope you laugh on your special day.
I wish I could be there to wish you a happy birthday in person, but please know that you are in my thoughts on your special day. Happy birthday, Dad! I can't wait to see you!
Now that I'm a parent myself, I sincerely appreciate everything you do. I aspire to be just as impressive at this parenting thing as you. Love you, Dad!
I'd be rich if I had a dollar for everything I love about you! Happy birthday to a million-dollar dad!
Dad, you are my hero, my role model, the man I look up to, and my dream to become. Happy birthday, Dad!
People tend to call their fathers superheroes. But superheroes tend to disappear, and you've always been there for me. So my dad isn't a superhero; he is a super dad! Happy birthday!
I could never find a gift to measure the love you showered me in.
Dear dad, I hope and pray this is the best birthday yet:) May you have many, many,  many more successful years to come.
Happy birthday to the best father ever. When you cleaned up my skinned knees, I remember you held my hand across the street and taught me how to reach for the stars. You are my inspiration and my hero.
Hey, Dad! You taught me to grill a perfect steak, and that's what I'm doing this weekend for your birthday. Looking forward to seeing you!
No words can ever take the place of my heart's feelings for you; I hope your day is joyful.
Your soul is pure, your heart is priceless, and your wisdom is astounding. Happy birthday, Dad!
I am the best I can be because you taught me never to give up. Happy birthday, Dad!
Your eyes hold the moon, and your heart holds the sea. But, you are worth more than any of those things.
Yet again, I find myself at a loss trying to come up with the perfect words on your big day, but you already know what I'm about to do before I do it most of the time, anyway. Thank you for creating our special bond.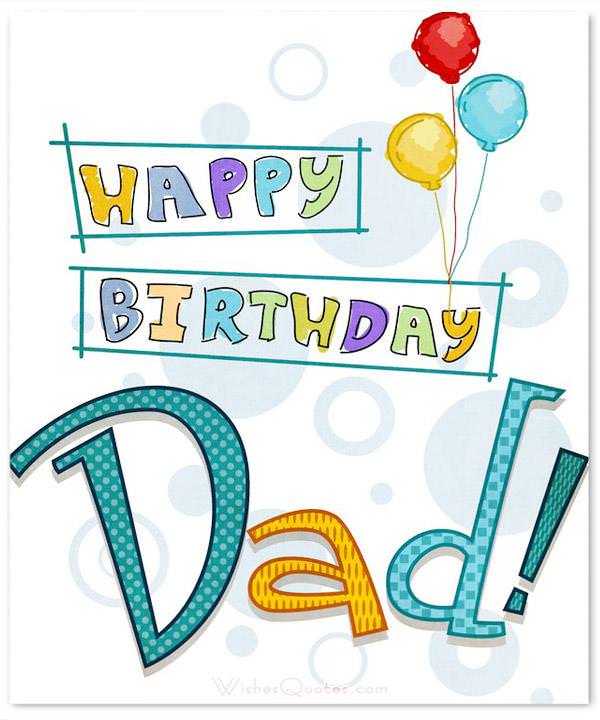 Happy Birthday Dad
Happy birthday to a one-in-a-million father. If I can relive any day, I would choose any day spent with you.
Birthday wishes and dreams are all reserved for you today, daddy.
Hope mom makes your favorite dinner on your special day.
I will always be your little girl, have a day worth cherishing.
I may have been tough, but you were always tougher. Don't soften up now!
With the joy I see on your face, it's a shame; not every day is your day to celebrate.
Before you know it, we will have to buy a bigger cake to fit all candles.
There is no bond like the one that we share. Happy birthday, Dad!
There isn't a throne suitable enough for a king like you.
I hope every candle you blow out will be a wish come true on your special day, papa.
No matter how tall I have grown, I will always look up to you.
You always helped me chase my dreams; now it's time you pursue yours.
You may be old, but you aren't dead yet. So here is to wishing you many more candles!
Happy 50th birthday, daddy! Half those years of putting up with me is a feat!
You may be turning 60 today, but you are still as young as you can be!
Your heart is made of diamonds, and I hope they glitter on your forever dad.
How Can I Say Happy Birthday To My Dad?
You are my compass; you have always shown me the right way; I love you for that.
I have always been the princess to the greatest king.
May your heart be full of only the happiest and unforgettable memories.
Through thick and thin, you have always been there. I'll always be here for you
Thank you for each valuable lesson you taught me.
It's a good thing you had a son, now we can go party like men on your special day!
Thanks for always picking me up and teaching me to try again.
Here's to making it to 100, happy birthday daddy!
You're every girl's dream of a papa, and I am lucky you are mine.
I hope your days are short and your nights are sweet to the greatest man I have ever known.
My wishes all came true, all because of a papa like you. Happy birthday, Dad!
There may be many great fathers, but there is only one amazing one, you!
Daddy, you deserve a wish that can win you the stars.
Thanks for always loving me, pops. Missing you on this day and every day after.
Nothing better than seeing the best dad in the world having a big laugh.
Check baby name meanings or explore the best baby names, including famous names,
unusual names, cool names, names by ethnic groups, and many more!
Baby Names
Funny Birthday Wishes for Dad
They say that wisdom comes with age. Today, you have to be the wisest man I know. Just kidding! Have a great birthday!
I got you a 6-pack; even though you're turning 60, you still need your booze!
Thought I'd taken you golfing on your big day since that's what old people do.
I know my brother will try to top me again this year, so I decided to sneak in an early birthday surprise. Guess who's the best? Neither of us, since you still can out throw both of us. Let's go watch the game tonight!
You may be an old man, but man, do I love you. Happy birthday, Dad!
Dear Dad, I hope your birthday is all fun and smiles, but don't forget to put your teeth in.
I wait a long 364 days to finally get to this special day!
Happy birthday pops, you are a mischievous old hoot.
The older you get, the smellier you get, happy birthday old fart!
Adorable Birthday Images and Cards for you Father
The bond between a father and child is everlasting. Although words cannot capture love completely, they can have power and hold strong emotions.  A birthday is a wonderful time to celebrate the happiness of having a friend or family member brought into the world on that special day. Having thoughtful words written on a gift or a birthday card can really show that person how much you care. This is especially true for fathers. Are you looking for even more birthday wishes for your dad? Browse this wonderful collection of dad birthday wishes from son or daughter.
Sending Love and Joy with the Perfect Birthday Wishes