Father-In-Law Birthday Wishes, Messages, and Cards
Browse through our original birthday wishes for your father-in-law and be sure to find something for any occasion! We all have that special someone in our lives that makes our day so much better just by being a part of it. But relationships with the parents are always a tough thing. A father will never give away his daughter easily, or let his son be with someone he doesn't feel is right for him. So, it is occasions like these that give you the opportunity to take that next step and make your relationship with the in-laws a bit better. It may be a heartfelt wish coming from your heart, or one from the list we have provided you today if you can't get past a simple Happy Birthday! But no matter what it is, be sure to get a hand-picked birthday card to go along with your wish to make it more personal!
Amazing Happy Birthday Wishes for a Good Relationship with your Father-in-Law
If there is one thing I should be grateful about for joining this family is the opportunity to have a father in law like you! Happy Birthday!
Meeting the love of my life is one thing, but meeting his/her father was the next best thing! Happy Birthday!
I was really interested in finding out why my husband/wife ended up becoming such a great person, but after meeting his father, I was confident that it was because of you. Happy Birthday!
I can only feel blessed for having a father-in-law that is such a role model for both my husband/wife and my children. I wish you the very best in your life! Happy Birthday!
It is amazing how just by cutting off two words from the phrase father-in-law you can express what feels like you are to me. Happy birthday, father!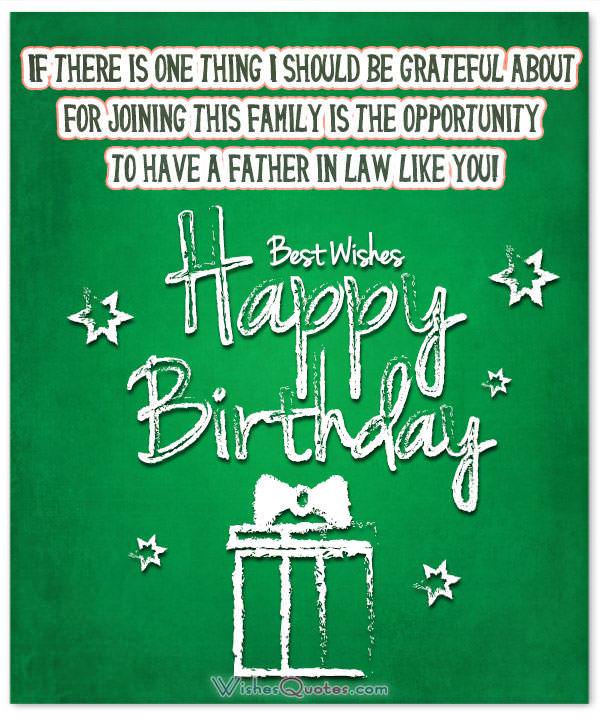 What to Write in your Father-In-Law Birthday Card when Just got to Know Each Other
I know that I just recently got to meet you, but I can only be thankful for you letting me become a part of this beautiful family! Happy Birthday!
We might not know each other well, but judging by how well you raised your child one can only guess that you must be a fantastic individual, I hope I get to know you better! Happy Birthday!
Like a star in your child's life, I genuinely hope our relationship evolves to become filled with love as vast as the galaxy itself! Happy Birthday!
From strangers to family, fortune has a funny way of making people meet. I sincerely hope one day that we become bonded like an actual parent with its child! Happy Birthday!
Getting to meet your child was one of the most amazing experiences of my life, one that I genuinely hope meeting you will compliment perfectly. Happy Birthday!
Eh, There is Some Work to be Done Here.
I know that our relationship started out on the wrong foot, but that does not mean we are not family. So on the premise of this special day of yours, I genuinely hope that you accept me as your son/daughter one day! Happy Birthday!
You may not have been able to accept me yet, but you have to know that I feel like you are a father to me and I'm sincerely grateful that you raised your child to become such an amazing Happy Birthday!
We may not see or talk to each other very often, but I want you to know that you are always in my heart and I appreciate you as a child does to its father. Happy Birthday!
We may be sailing on rough seas at the moment, but every disagreement must come to an end. So I want to use this exceptional day of yours to take the first step in reinstating our relationship. You have my most sincere and heartfelt wishes. Happy Birthday!
We may not see eye to eye in many things, but that does not mean we should not be bonded over the one thing we have in common. The love we share for the most exceptional individual on Earth that you call your child! Happy Birthday!
More Birthday Wishes
This marks the end of today's article! I hope that you found something that you deem is perfect for your situation! I know that relationships with the in-laws can be tough, but you must not forget that they are significant people to the one you call the love of your life, so it is your duty towards them to take the extra step and put in that effort to maintain the best relationship possible with their parents. I guarantee you that it is something they will appreciate a lot and it will affect your marriage in a very positive manner.