Mother-In-Law Birthday Wishes, Messages, and Cards
Check out our amazing collection of special birthday wishes for your very special mother-in-law. We all have that special someone in our lives that makes every day worth living for. In most situations though, that loved one is accompanied by the "nightmare" (often called jokingly) that is the Mother-In-Law. But no matter what your relationship with her is, this still is an extraordinary day for both her and your significant other. So, you should be able to take that extra step past a simple "Happy Birthday" and think of something creative to set that birthday mood rolling! So, this is why we are here for! We have provided you with the best birthday wishes on the Internet for any type of situation!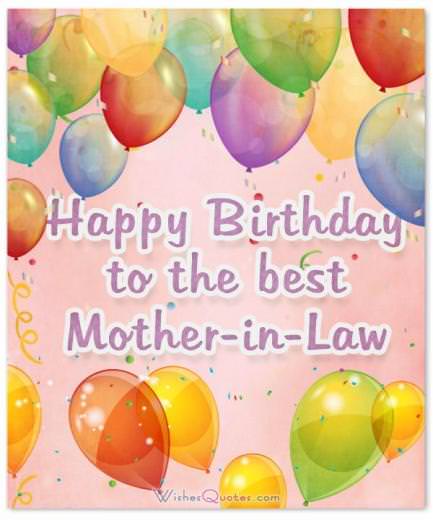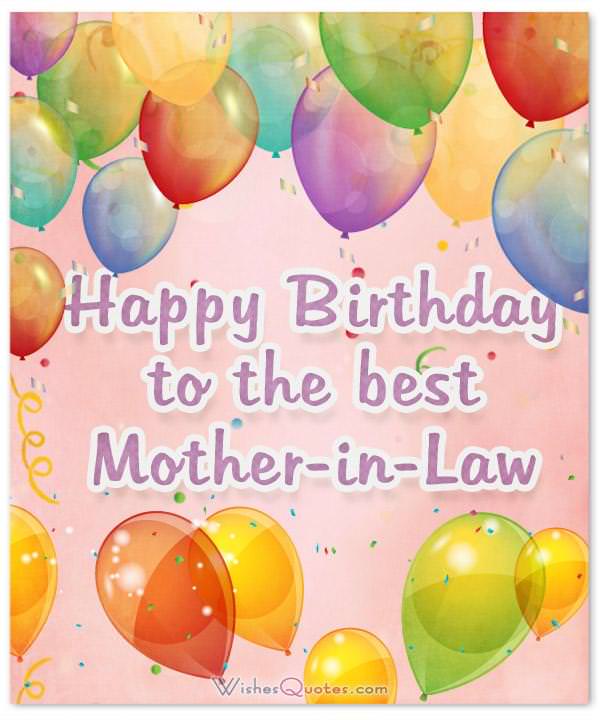 Heartfelt Birthday Wishes for a Good Relationship with your Mother-in-Law
Getting to meet you was only topped by getting to meet your fantastic You indeed are an amazing mother. Happy Birthday!
I know you're only supposed to love one mother in this world, but after meeting you, I have to say I'm grateful to two of them! Happy Birthday!
My biological mother may have given birth to one half of me, but I wasn't complete until you decided to give birth. Thank you for being such an amazing Happy Birthday!
Judging by how amazing your children have become, you honestly must be an amazing mother, one that I can only feel proud of having in my life, even if not as my biological one. Happy Birthday!
They say that there is no place like home, but spending time at the place where the love of my life grew up, really does feel warm. This is because it takes an amazing mother to establish an amazing household! Thank you for everything. Happy Birthday!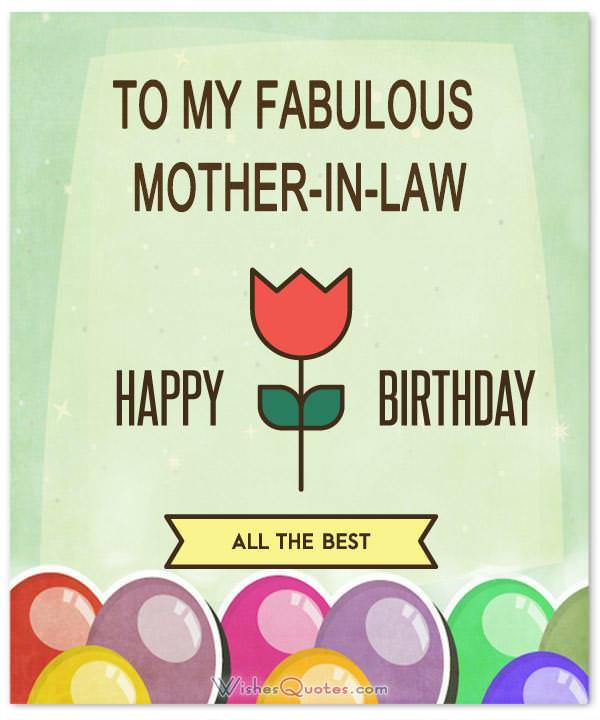 What to Write in your Mother-In-Law Birthday Card For a Decent Relationship
I know I don't mention it often, but I'm grateful for all the love and support you've provided us over the years. You truly are a great mother. Happy Birthday!
Usually, mothers in law are presented as evil and overprotective. In your case, turns out it's quite the opposite! I feel lucky for having such a cool mother in law that is still able to help and support us! Happy Birthday!
If there is one thing I'm certain of, is that our kids will have the best grandmas in the world! One of them being my lovely mother and the second one being the person that is responsible for the birth of the person that completes me. Happy Birthday!
Most people feel blessed when they meet their significant other, and they turn out to be amazing people. I had a 2 in 1 package because I got a great mother in law as well! Happy Birthday!
Seeing you with the kids really makes my heart feel warm because now I realize how the love of my life turned out to be such an amazing Thank you and happy birthday!
Well…….Stereotypes
I know we started off on the wrong foot, but that doesn't mean that it has to stay the same forever. If you were able to give birth to the love of my life, then I'm pretty sure we can start sharing some of that love to one another! Happy Birthday!
I know we haven't been able to connect much over the years, but that doesn't mean I don't genuinely care about you. After all, you are the mother of my favorite person in the world. Happy Birthday!
Our relationship has always been similar to Thai food. Always too hot and spicy. But once you get used to it, turns out that it is pretty tasty and enjoyable. So let's hope that we keep that for a while. Happy Birthday!
If there is one thing I can say I'm thankful about despite our differences is the fact that you were such an amazing mother when it came to raising the love of my life. So, thank you and happy birthday!
I know that we've had our ups and downs during the years, but I hope that in the future we get to be more than just "in-laws" and we can become family. Happy Birthday!
Well, that was it. I hope you enjoyed reading this and hopefully, you got some nice words, to sum up your feelings to that fairy godmother/evil witch you call your mother-in-law! I know that in-laws can be a bit too much at times and especially mothers in law are presented in the most horrible of ways, but you have to remember that your significant other deeply cares for her, and you have to go along with it no matter what, otherwise it's going to come the very hard decision of you versus their mother, which usually will not end favorably for you.