Cancer Birthday Wishes and Messages
Browse through our unique collection of amazing birthday wishes for Cancer (June 21 – July 22) man or woman, friend, or family member. Cancer is a water sign represented by the crab, a creature that thrives on land and in water. This is symbolic of Cancer's tenacity, empathy and intuitiveness, which are traits that help them understand the material and spiritual sides of the world. To some people, this may mean psychic abilities, while others may see this as expansive imagination and creativity. Those born under this sign have the unique gift of perception: They can read a room and pick up the energies quickly.
Fantastic Birthday Wishes for Cancer Man
I pity the team that ever goes up against you. You are a formidable foe with your tenaciousness. I am glad to be on your side. Happy Birthday!
Happy Birthday to the Cancer guy who shows us what it takes to make it through tough times and fun times. You are appreciated.
Sending you positive energy and good vibes for a wonderful birthday today.
May your life be filled with opportunities to reimagine the world. May your days be filled with high energy to tackle the issues. May your heart be filled with songs to see you through.
When the world needs a shoulder to cry on, they turn to a Cancer-born. You have enough love and understanding to bear the weight of the world. Happy Birthday.
You show us every day that men can be in touch with their emotions and still be manly. Happy Birthday to my Cancer man.
The world may end up upside down, but you will always be by my side—happy Birthday to the person who always has my back.
The occasional moodiness is fine. You more than make up for it with the mind-blowing insights that you share when the mood lifts. Happy Birthday, my friend!
Your heart is a sea of emotions, but gentleness and empathy for your fellow humans will always shine through. Happy Birthday to you.
Big-hearted, persistent and loyal are qualities that one should seek in a good friend. I am so glad to have you—my best birthday wishes for a special friend.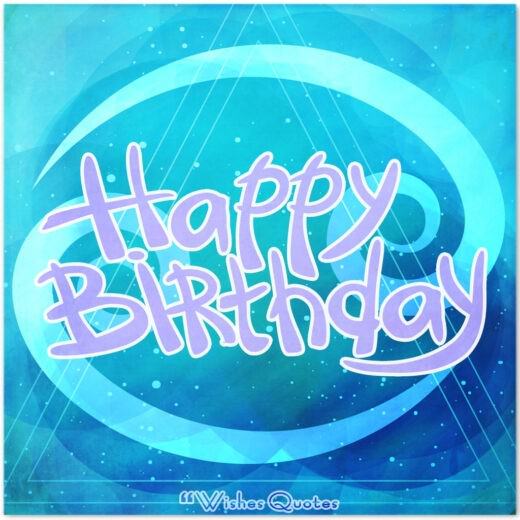 Excellent Birthday Wishes for Cancer Woman
To a woman of many worlds: Happy Birthday. Here's wishing you the best in love, life and laughter on this special day.
You have a mind like a steel trap. You can process information at the speed of light. You ignore the chaos around you to get to the goal. Happy Birthday to a winner.
A brilliant mind without a golden heart is nothing but a data processor. Thank goodness you have the gift of caring and compassion for the sisterhood. Happy Birthday.
That hard exterior may often be mistaken for coldness, but it harbors a warm heart and a magnificent mind. Happy birthday to someone who cares deeply about humankind.
You have the tenacity of a woman born to be a leader of men. I am so proud of what you have accomplished in this life. Happy Birthday!
When the going gets tough, Cancers hang in there while holding others up with them. That is what you have done for so many of us. You deserve a great birthday and many more to come.
Walking into a crowded room behind you is like witnessing the parting of the sea. You have the unique ability to read a room and roll with the punches. You are a boss. Happy Birthday!
You see challenges where others see problems. You see solutions when others can only see more obstacles. Wishing you a lifetime of significant challenges to satisfy your soul.
Persistence is your middle name. Now I understand your success. Happy birthday to my inspiration.
Sayings and Quotes about Cancerians
Cancer hate guessing, mind games, and lies. They see honesty as their moral compass and expect others to do the same.
Because Cancer feels insecure, any rejection or hurtful words hit them 10x harder than other signs.
Cancers know they should put themselves first but still try to make sure everyone is happy.
A Cancer doesn't just walk away from you for no reason. There's been a buildup of things that you may not have even recognised.
Cancers are not the most significant risk-takers, except in love… they see no boundaries or limits when in love.
More Birthday Wishes and Cards