Brother-In-Law Birthday Wishes, Messages, and Cards
Find the most fitting birthday wish for your brother in law in our hand-picked, original wishes! It is true that getting along with the in-laws is not always easy. Naturally, our family wants only what's best for us in any situation. So, you regularly have to prove that you are the best your partner can have, especially to their brothers, always the ones that become the most protective of their siblings due to their position in the family. So, what a better opportunity than this very special day to show that you care about your partners family by sending one of the following birthday wishes!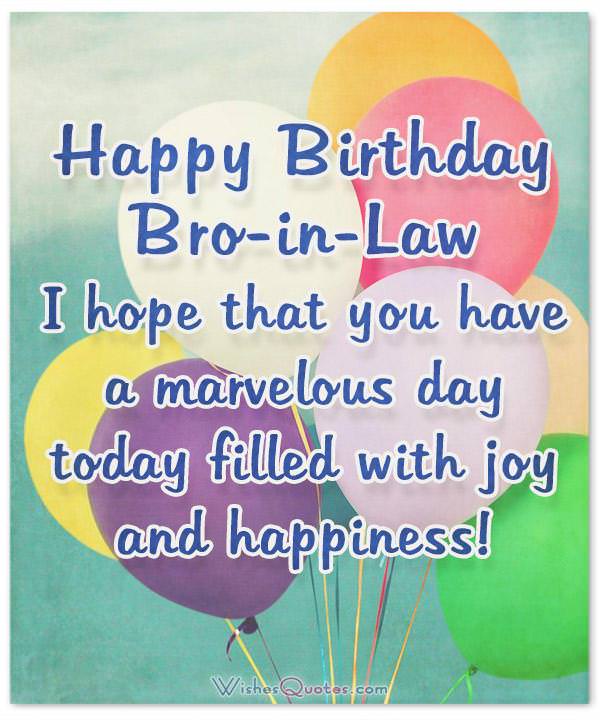 Amazing Birthday Wishes for Brother-In-Law
To my awesome brother-in-law, I wish you all the best for your birthday.
Hey, marvelous bro-in-law today is your birthday, so it's time to eat, drink, and celebrate!
Happy birthday to my fantastic brother from another mother. I hope that you have a marvelous day today filled with joy and happiness!
Happy Birthday to an amazing brother-in-law, I wish you wealth, health and success! Don't worry I also got you a present!
Hey, bro-in-law I know my sister can be a pain, so if you need any help dealing with her, just ask. In the meantime, enjoy your birthday!
I'm not great at birthday wishes, but I just want to say you are a pretty fantastic brother-in-law. I hope you have a great birthday.
Original Happy Birthday Wishes for an Older Brother-in-Law
With your endless wisdom and paternal-like figure in the house, you have greatly helped with the love of my life evolve into such a wonderful Thank you and happy birthday!
You have always been like a father to my husband/wife, always helping out in times of need and being there for him/her while growing up. I am fortunate to be calling such a wonderful person my brother-in-law. Happy birthday!
Being the older brother, it must have been hilarious getting your clothes stolen all the time by my husband. Primarily when they were meant to be used to impress me. But, always the patient and forgiving one, among your many virtues, you were always kind to him. Happy birthday!
You've always been a role model for both the kids and my husband/wife. I could have never asked for a better brother-in-law! Happy birthday!
It's guys like you that make this world a much better place. With your graceful smile and endless wisdom, you make this family evolve for the better! Happy birthday!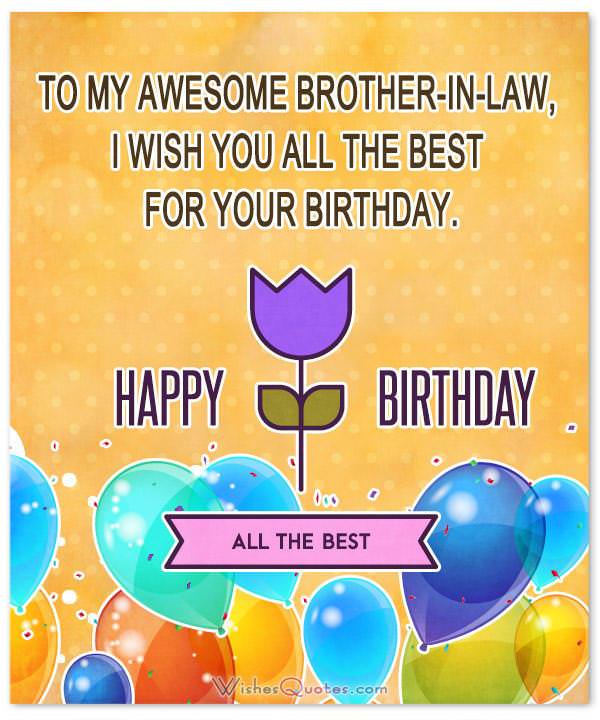 Heartfelt Birthday Wishes for a Younger Brother-in-Law
Always the devious one, going around pulling pranks on everyone! Your youthful energy and charisma make you one of the best brothers in law I could have ever wished for. Happy birthday!
Your fantastic energy and youthfulness make all family meetings so much more enjoyable! You indeed are the best. Happy birthday!
You're like the baby brother I never had! Always happy and smiling, feeling like you're the king of the world, you give off this fantastic vibe to everyone around you, making their day better just by being close to them. Happy birthday!
It was always funny hearing my husband complaining that he couldn't find any clothes to wear because you would be stealing them from him. The stories you two share while growing up always made me laugh! Happy birthday!
Another year has gone by where you were undoubtedly the coolest brother in law ever! Happy birthday!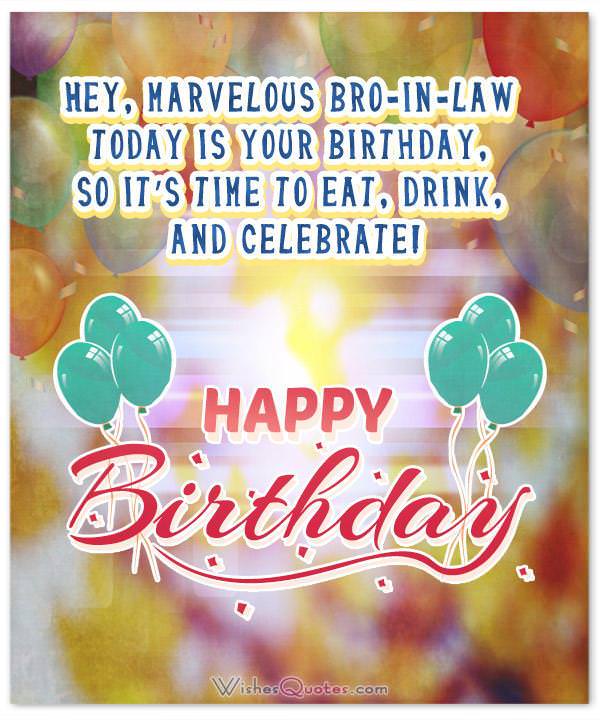 Unique Birthday Wishes for Twin Brother-in-Law
Double the brothers double the trouble! Seeing how extra my husband is, I can only wonder how your mother managed to raise two of you little demons! Always keep being yourself, because you're terrific! Happy birthday!
Meeting the love of my life, I thought that there couldn't be another person in this world that was so wonderful. Then I met you, like two buttons from the same shirt sharing life, a two in one deal! Happy birthday!
It seems so funny to me for the love of my life and my brother in law to be almost the same person on the outside! A moment of confusion and some alcohol always seemed like it would make me confuse you two! Nevertheless, I could have never asked for a more amazing brother in law. Happy birthday!
That was it! I hope you enjoyed reading and most importantly that you found something that fits your situation. The in-laws are always a tricky scenario that requires excellent handling to win them over. But never forget, the best strategy is to be yourself and make that extra effort to get close to them, as it is something that your partner will greatly appreciate. So, a great piece of advice would be getting a birthday card to go along that wish of yours! Show them you care, because they are now your family as well. So, if our childhood taught us something, it's that Ohana* means family and family means that nobody gets left behind! So get out there and make them feel appreciated! It's their birthday!!! * Part of Hawaiian culture, Ohana means family including blood-related, adoptive or intentional.