Birthday Wishes for Daughter-in-Law from the Heart
If you're struggling to write birthday wishes for your daughter-in-law browse through our amazing collection of the best birthday wishes you can send to your daughter-in-law! Now with her birthday coming up, you must send your best wishes to the woman that makes your little boy happy! I know that you feel a bit sad that you don't have the pleasure of having him around the house as the amazing child he once was, but now he is with the love of his life having a blast, and as a parent you have to send your best of wishes to make sure that it remains that way. But coming up with the right words is not always easy. So, we have provided you with the best wishes you can find on the internet for you to get some ideas!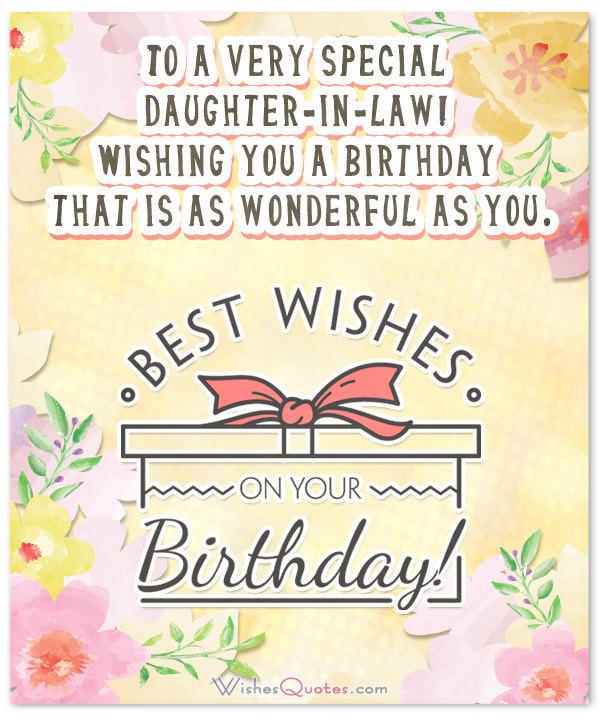 Amazing Birthday Wishes to Write to Your Daughter-in-Law Birthday Card
Happy Birthday to my beautiful daughter-in-law. Our son is fortunate to have a beautiful wife like you by his side.
We are proud to have a lovely woman like you as our daughter-in-law. Wishing you a birthday that's as wonderful as you.
We are lucky to have a wonderful daughter-in-law. Now that you've come along, our family is complete ! Happy birthday, have an amazing day!
After all these years of raising him, I've never seen my son this happy. So, I thank you with all my heart for taking care of my little boy. Happy birthday!
I've put my trust in you to make my son the happiest man in the world. So far I can say I'm more than satisfied! You are the best thing to have happened to our little boy. Thank you and happy birthday!
It's incredible how blood does not relate us, yet you've managed to make me feel like you are my child. Thank you, my daughter, for making me such a proud parent. Happy birthday!
For this castle we call home, you are but the most fitting of princesses, since you treat our son like a prince, with all the love you can provide. Happy birthday!
You may be my daughter-in-law, but that doesn't make you my child any less. We love you, and we sincerely thank you for taking care of our son. Happy birthday!
Having such a responsible, caring and kind daughter-in-law is more than a blessing for this family since you have been able to take care of our son as nobody else could. Happy birthday!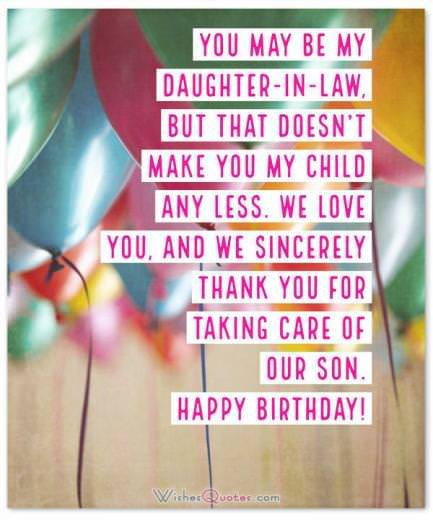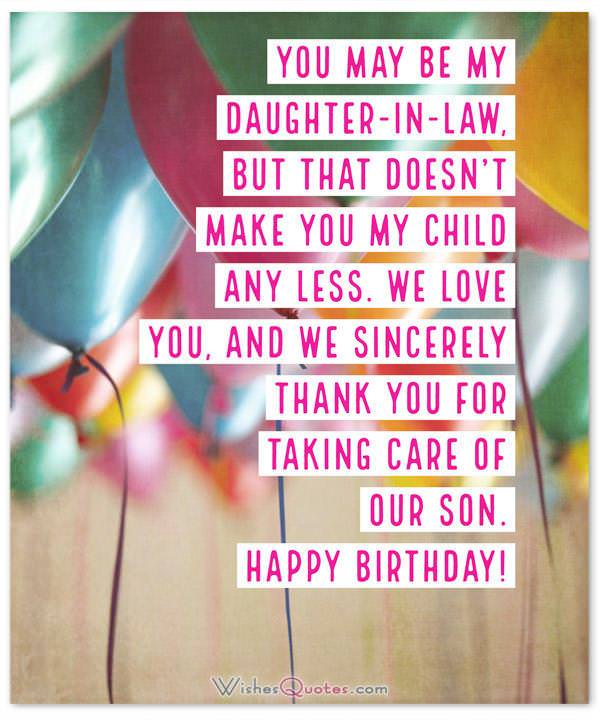 Happy Birthday Daughter-in-Law
True happiness comes from seeing the people closest to you being happy. So, if anything, all these years you have brought us more joy than we could have ever Happy birthday!
Girls like you are hard to come by, this is why I am excited to have you as my daughter-in-law. I'm sure my son is in the best hands he could Happy birthday!
For you to be this amazing, it must be a gift from God. You indeed are a blessing to the family my dear. Happy birthday!
It takes a lot of courage to be with our son. So for you to have stayed with him and loved him with all your heart for this long, you honestly must be unique. Happy birthday!
Getting to meet you was one of the most exciting things to have ever happened to me. Because it always amazes me how such a graceful, loving and kind woman has become a part of our family, making our son the happiest man in the world. Happy birthday!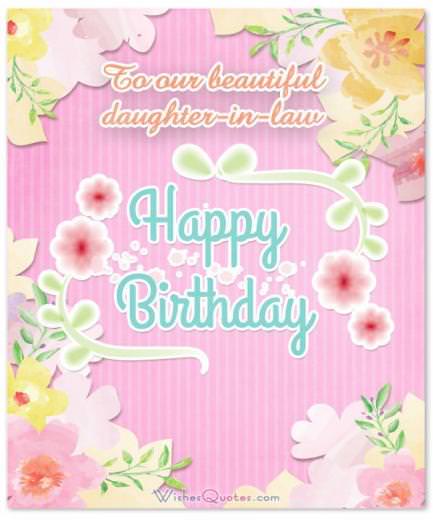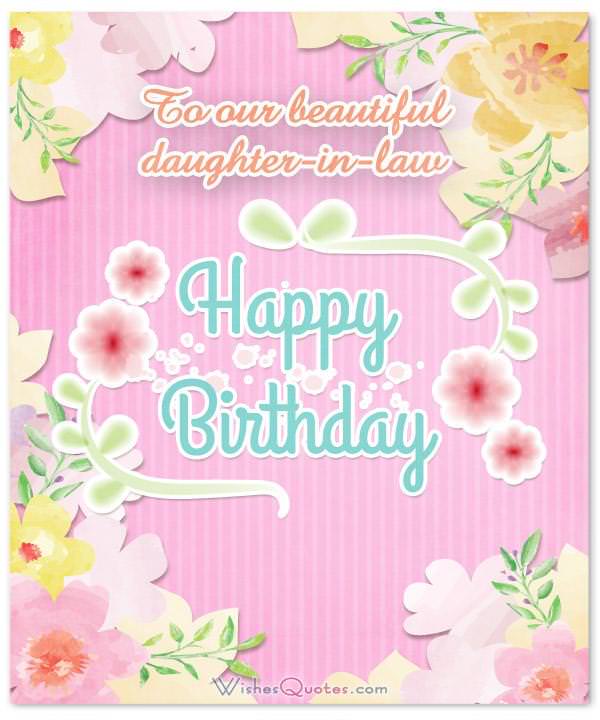 It only takes a single smile from you to make our son happy and just a single smile from our son to cause the same to us. So thank you for all the laughs you have given us. Happy birthday!
It is your loving arms that make our son the happiest man in the world. So for that, we sincerely thank you. We couldn't have asked for a better daughter-in-law. Happy birthday!
This is but another chapter in the book of life, one that has now gained two main characters, ever since our son became a part of your life, with us cheering you in the background. Happy birthday!
Every time you come to visit, our house becomes bright and cheerful. You radiate a glowing aura of kindness and love, one that has made our son happier than we have ever seen him. Happy birthday!