Congratulations Messages for a Second Child
When it comes time for the second baby, it is often hard to know how to congratulate the happy couple. First babies are always welcomed with great aplomb; however, second children are sometimes inadvertently overlooked. Don't let the lack of words get in the way of expressing your congratulations to the happy couple. Use these greetings to let friends, coworkers and family know that their additional bundle of joy will be born into a world of love and blessings. These sentiments are perfect for cards, social media, toasting at a formal dinner or just letting the parents know you are happy for them.
Your family is growing, and with it love continues to blossom. May your blessings increase tenfold as we welcome your second child.
Your first child has brought joy to all who have the pleasure of knowing your family. We can't wait to experience the wonder that will come with your precious new gift.
For the fates to bless a family with one child is a delight to all who view and share their joy. For the fates to bless a family with more children, it is because they have seen the love the family has to give overflowed its vessel. May your cup continue to overflow.
A mother's love is like no other. The smile on your first child's face shows that your love is abundant. May you continue to delight in your children as your family grows.
It is so much easier the second time around. Welcome to double parenthood!
Sibling hugs, kisses and rivalries are in your future. Congratulations and keep up the good work!
Now the stork knows where you live. May your second child bring as many blessings as your first!
You made all of your mistakes with the first one, so now you are home free! Enjoy the love and excitement that comes from your second little love.
You know the joys that come from little toes and baby bows. Now it is time to do it all again. Dive in to the snuggles and kisses for the second time around. We are so happy for you!
When you met, the seeds of love were planted. As you grew to love each other the plant began to grow. With your first child a beautiful flower started to bloom. Now, a second bud is forming. May the flowers of your garden be ever fresh and ever sweet as we welcome your new baby.
Two kids means twice the love and twice the fun. Congratulations!
Sweet sunshine is about to shine upon you again as you welcome your second baby. May blessings abound as your family grows!
The chorus of angels welcomed your first baby a few years ago. As they prepare to sing for your second child we sing with them, knowing they will arrive into a loving family. Congratulations on your new baby!
Baby blessings for the second time around!
You survived the first child and now you are back for more. May your adventures in parenting continue to amuse and delight!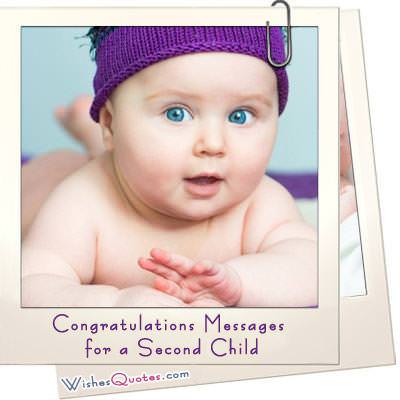 Love knows no bounds. Remember this when the kiddos refuse to nap at the same time, the floor is covered in toys and you forget the last time you didn't smell like peanut butter. Congratulations!
New babies bring new beginnings, blessings and love. As your first child becomes the big brother/big sister and you become a mommy and daddy for the second time around, your hearts will grow in pace with your family. Brightest blessings!
When God blessed you with your precious first born, he gave a gift that is like no other. He watched you caress her face, wash her toes and smile with the love that only a parent can offer. He saw you, and it was good. Because of this you have a new baby on the way with whom to share this divine love. May you be blessed beyond compare.
May your second child be as sweet, smart and beautiful as your first. With your genes, we aren't worried!
 It is big brother/big sister time. Congratulations on your second child!