Love cannot be measured in actions and words but when expressed in the right terms it can sure melt someone's heart. Valentine's Day is the day which is celebrated all over the world as the day of love. It is the perfect day to communicate your deep feelings of passion and affection towards someone you have fallen for. Top 100 Valentine's Day Love Messages and Quotes are the perfect expressions to help you convey your feelings of deep affection and passion towards that special person on Valentine's Day. Let your emotions follow and surprise your lover with some of the best Valentine's Day Love Messages.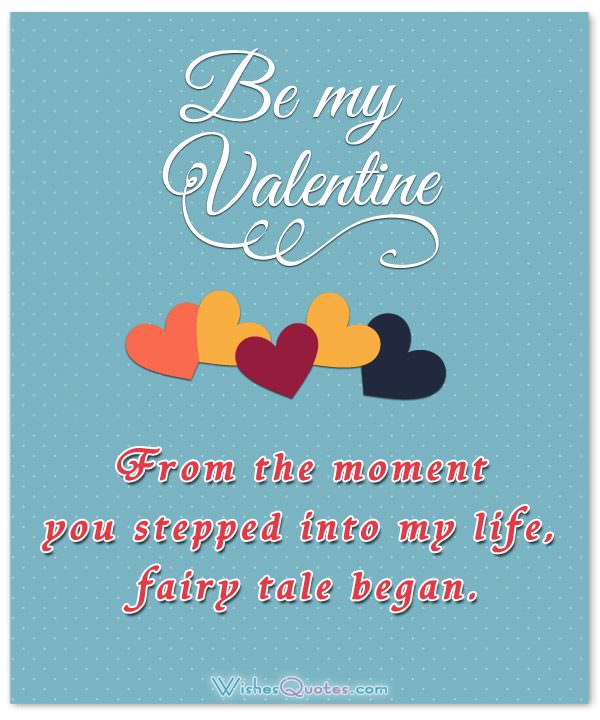 Make me your cushion when you want to sleep.
My love will always be there no matter where you go and what you do.
My Valentine, you still turn the fire on.
No matter where I go your love will always be with me.
Nothing ever remains constant but you can be sure about one thing that my love will always be the same for you.
Open up your heart this Valentine' Day and tell me how you feel about our relationship.
Our love will pave the way for us if the road ahead is difficult.
People say – "Life is not a bed of roses" but honestly I have seen no thorns in my life from the time you have come into it.
Sending warm wishes to the best lover and friend in the world on this special day.
Thank you for being the most wonderful Valentine.
The star-filled night sky also looks dull in front of your beauty, my love.
There are no words to describe how much you mean to me.
There is nothing beautiful than the smile of my lover. Keep smiling my love
There is nothing on this earth that I would not do to make you happy.
There's nothing in the world I cannot do if you are with me.
There's nothing more than your love that I seek.
To see you smiling and to give you love is my greatest wish.
Want to be with you to love you all my life.
Want to feel the touch of your hands and the warm kiss of your lips.
Want to feel what it is like to be in heaven when I lie with you.
Want to hold you to never let you go away from me.
Want to stay wrapped up in your arms forever.
Want to take all your pain and give you immense happiness, my Valentine.
When I need someone to care about me, I find you to be always there for me.
When sadness fills my heart, its your presence that comforts me.
When you put your hands around me, I feel on top of the world.
Will do whatever it takes to spend the entire lifetime with you.
will love you more with every passing second of my life.
Will u mind, If I hold you tight and come close to you?
Winning your heart has been my greatest achievement.
Wish I could bring away all the stars in the sky to shine on you always.
With every passing second, my love for you grows and gets stronger.
You are my angel, making every bit of my life beautiful each day.
You are my biggest crush since date and now I want you to be my lover. Will you be mine on this Valentine's Day?
You are the answers to all my prayers.
You are the reason I believe in love.
You are the perfect Valentine that I always dreamt of.
You brighten up my life with your smile.
You give me wings to fly and I feel free with you my Valentine.
You have been all over me like a spell and I am drowning deep into this magical charm.
You will always find me near when you need someone to love you.
Didn't find what you were looking for?
Custom Search
If you liked what you read, please share it. It all helps to keep this site going!.