200+ Wedding Wishes & Cards
Browse our wonderful collection of wedding wishes, cards and congratulations wedding messages for the newly married couple. You stare at the wedding congratulations and wonder what to say to the future bride and groom. Everyone sends greetings; they'll receive multiples of each. What will make yours stand out? We can help. Choose a sentiment from among the many we offer. Inscribe it with your name at the bottom of your card and they will notice the difference. You want to send a message along with your wedding gift, but you can't think of any inspirational quotes. Well, we can. We have many quotations to select from. Choose one that applies to the groom and his bride and makes your gift personal. You can post your wishes to the happy couple on Facebook and make them unique by including one of our many congratulatory sentiments. In case the occasion slipped your mind, you can still craft memorable SMS messages using our sentiments to convey your thoughts in just a few, well-chosen words. You are as unique as your friends and family are. Customize your sentiments by adding words that others will connect with you, even before they notice the signature. Include quotations bringing special thoughts or memories to the couple you are honoring; they will know you care.
Heartfelt Words of Congratulations to Write in a Wedding Card
Once in a while, we witness a great love story. Yours is one of the greatest and most inspiring I have ever been witness to. Congratulations and best wishes for a happy life together.
Marriage is not just an auspicious bond. It is a journey that lasts until the end of eternity. Here's to wishing that the both of you have a memorable and joyful ride.
I hope you enjoy all of the pleasures that togetherness brings in life. May your life hereafter be filled with happiness and delights. Good luck on the days to come.
As this journey of yours begins, I wish you a life full of happiness and love. May every day you spend together, be even better than the previous one. Congratulations!
May the bond you share as husband and wife grow stronger each day the two of you spend together. Congratulations!
As the seasons' change and the cycle of coldness and warmth continue throughout the years. May your household grow bigger, and your love grows stronger.
Of all the weddings we've been to so far, this one is definitely the one that has gotten me excited the most! I'm so happy to call both of you my family from now on.  Congratulations!
I'm am so happy that you decided to invite me to this life-changing moment of yours. May the bond you share with the person of your dreams become stronger than anything you have ever imagined.  Congratulations!
To my dear friends who show that love can be true and forever. I hope your life together will be filled with happiness, joy, and lots of love!
Wishing you lots of love and happiness together! May every day of your life hereafter hold wonderful shared experiences!
May you have and the happiest of marriages! As you start this new journey in life don't forget that love is all you need.
There is nothing more inspiring in this world than to watch two people find love in each other. We are all so happy for you. Thank you for sharing this special day with us.
May you have the wedding of your dreams! Wishing you a lifetime of love!
Heartfelt congratulations on your marriage. May your bond last forever, and should it ever change, may it change to a firmer and better one.
Love knows no barriers. There is neither mountain too high nor ocean too deep when it comes to getting together with the one you love. Your journey of love is truly inspiring. I wish you great fortune and true happiness as you build a life together.
Wishing you many more days as happy as this one, many more occasions for celebration, and a lifetime of love and laughter.
Blessings to the happy couple! May your commitment deepens, your joy increase, and your love grow stronger from this day forward.
Every now and then, we come along this great romance, that surpasses everything we have ever seen. I truly hope yours is the one! Congratulations!
May you always remember the love shared on this special day! May your lives continue to grow in love and happiness together!
As you embark on this journey as husband and wife, I wish you to live a life with no regrets, and as many happy memories as possible. Congratulations!
Words can't describe how happy I am that life has brought you two together. May the romance burn brightly in your hearts for as long as you live. Congratulations!
This momentous occasion marks the start of your life together. May the journey be a happy one filled with peace and harmony, joy and laughter, and romance and passion. May your enduring love be the crown jewel that ties together all the rest. Best wishes!!
As we witness two hearts unite as one, we pray your unity will always remain strong by letting the chords of love that bind you to strengthen over time. Many warm wishes on your wedding.
As the years pass and memories fade, hold fast to your sweet remembrances of this day. This will be your happy place. Congratulations on your wedding day.
Everything I know about relationships I learned from the two of you. Your fairy tale romance with a fairy tale ending is truly inspiring. It would be so wonderful if all of us had your good fortune, but in the meantime, thanks for letting me be a part of your story.
May each day be more beautiful than the one before it. May your love for each other grow stronger as you get older. May you find yourselves still holding hands and basking in each other's love when all that is youthful and impermanent have faded away. Congratulations on taking this leap of faith.
All the world loves a great love story. It gives us hope and fills our hearts with joy. Here's to a lifetime filled with joyful moments. Best wishes on your wedding.
May love fill your days. May there always be enough happiness to survive the pain. May you always find comfort in each other's embrace. May this day be forever etched in your hearts as a symbol of your love and commitment.
Best wishes to both of you on your special day! May the future be bright, and filled with all of the blessings and joys of life. You two deserve it!
You have set the bar really high for a relationship of equals. May your married union continue to be rock steady, fulfilling and inspiring for both of you. Cheers on your wedding day.
Congratulations on your wedding! What an honor to be part of your special day and witness the blooming love between two dear friends transcend into a lifetime commitment. May your love only deepen and your joy only grows with each passing year.
With the warmest wishes to a very special couple, may the bond of marriage unify your souls and bring out all that is good in the both of you.
Our delight knows no bounds on the day of your wedding. We wish that you carry this serene bond from strength to strength with each passing day.
Heartiest congratulations on your marriage. May your marriage be like a cloudless night sky, filled with sparkling stars of love, joy, and care.
A wedding bond signifies the unification of two hearts. May the seeds of love continue to grow through the sands of time and bring plenty of joyous fruits for you both.
Finally, the day has arrived. As you both set out to start a new life of togetherness, here's to wishing that you keep falling in love with each other time and time again in the future.
A special wish for a lovely couple: may the love that blossoms in your hearts this day only be the foundation upon which larger monuments of togetherness are to be built.
12 Adorable Images with Wedding Messages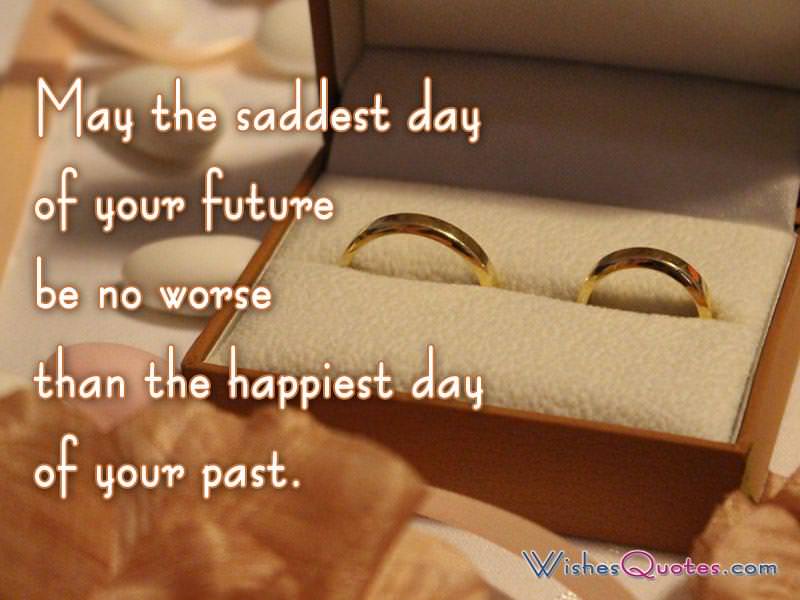 Tips to Write Original Wedding Card Greetings
You can't decide what to write in a wedding card? Offer your congratulations to the bride and groom with these inspiring wedding wishes. You can never go wrong with telling a funny story and wishing the newlyweds a wonderful life together. Be sure that any memories or advice that you offer to the newlyweds won't end up being a "party killer," though! Keep your wedding wishes and toasts tasteful and rich with valuable knowledge. If you don't have what it takes to push out an amazing wedding wish, you can always play it safe with other ways of wishing them a happy life. These wishes have become a crucial part of the wedding culture that offers humor or sentiment. One major distraction while giving proper wedding congratulations is when people are put on the spot. If you maintain your bearing, you can get away with offering up a life experience as advice to the newlyweds, or you might be able to reflect on a funny moment in their lives. Wedding wishes are always filled with emotion as they should be. It is a giant leap of faith for the couple and an inspiring event for friends and family. It can be difficult to craft a sincere message that will resonate with the couple. Although there are no rules for creating wedding messages, consider your relationship to the celebrants, and respect personal and professional boundaries as applicable. Here are some messages that you can use as is or personalize:
Sincere Wedding Wishes

We wish you strength, courage and unwavering love as you begin this new chapter in your lives. Best wishes on your union.
Warmest wishes on your wedding day. May your mutual trust grow with every passing moment. We look forward to seeing you grow old together.
As you venture into a new journey of life holding each other's hands with vows of love, devotion, and loyalty, wishes that the fragrance of your love keep spreading with time.
Wishing you all the health and happiness in the world on your wedding.
We are really glad to be a part of your special day. May the years to come bring loads of joy and fill your lives with unbounded love.
Never forget that the love of your life gives you the courage you need succeed in this marriage.
Wishing the groom to never fail to forget the words "Yes Love."
Marriage is the meeting of two hearts to share love, and pain, and still be one.
Remember the groom's golden rule: "happy wife, happy life"
May you prosper with wealth in this life as a couple as you grow in love together.
Wishing you a healthy family and generations of beautiful children.
Wish you the most joy and happiness through your loyalty for each other.
May your life be fulfilled with each others company, and that you may grow old and happy together.
May your bride never forget: "My money is my money and your money is my money."
Sharing a dream is life's most valuable gift; that's why everyone wishes you a very happy, wonderful life.
Related Posts