Groom's Wedding Speech. The Ultimate Guide with Examples and Tips
Whether outgoing and accustomed to public speaking, or shy and withdrawn, giving a wedding speech can be a frightening prospect. Even the most experienced speakers are nervous because of the importance placed upon this task. The groom is not only called upon to talk to and welcome everyone, he is also the co-star of the show. With a few general tips, along with a deep breath, the speech will go smoothly and be remembered fondly.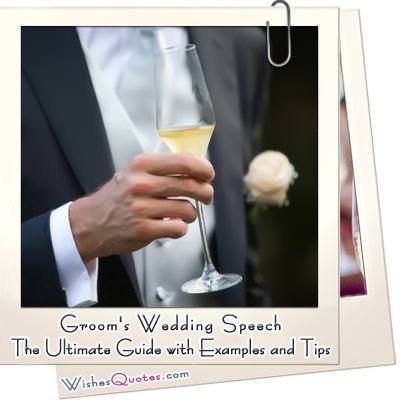 Tips for a Great Groom's Wedding Speech:
First, introduce yourself and your wife, and on behalf of both of you, thank everyone for attending (especially those who traveled a distance). You will then want to thank your parents for everything they've done for you, both the preparations and the support. The bride's parents created the woman of your dreams, so express your gratitude for her, and promise to care for her as they have. The speech should always acknowledge the "grey hairs" in the room, meaning grandparents or any beloved senior attendee.
Give a "shout out" to the groomsmen and bridesmaids for the responsible job they have carried out, and for your relationships. This would be a good point to address humor. Injecting humor is advisable because it breaks up what otherwise might be a boring interruption in the festivities. Humor gives the groom the opportunity to display his personality and draw the listeners closer. This not the time to share off-color or gross snippets. Make your speech lively, but not to the point that anyone in attendance is embarrassed or uncomfortable.
As you begin to wind down your toast, briefly thank the folks you have paid: the caterer, the venue, the DJ, the florist and so on. Before you hand the microphone over to your best man for his toast, end with a loving and heartfelt tribute to your new wife.
Groom's Wedding Speech Examples that you can Adapt Yourself
Good evening everyone. Jen and I want to thank you all for coming out to celebrate the most important day of our lives. We look out over the room and see all the people who have loved and cared for us. Thanks to those who made the effort to travel from out of town to share our day.
Mom, Dad… you have always supported me emotionally, and you've supported my love for Jen from the moment I introduced you. You knew, like I did, that she's the only woman I could share my life with. Thank you so much for embracing and loving her along with me. Bill and Marge, I don't know where to begin. You taught and nurtured Jen, and transformed her this wonderfully complete woman I love. She deserves the very best so I promise you now, I will make it my mission to continue to provide her a happy and secure life.
Grandma, and Jen's grandparents are such an important part of our wedding. We owe you our lives, and we want to thank you for the legacy of love and devotion you have modeled for us. We learned by watching you what real, deep, romantic, committed love looks like. We can only hope that we will be able to reflect your example for our family someday.
To my best man, thank you so much for your unfailing help, making this day go smoothly for us. You supported me and held a great bachelor party, after which there were no indecent stories swirling about. (You found that hundred dollar bill under your plate, right?) The groomsmen, thank you for making bail so you could make it here today. Seriously, you all mean so much to me and I'm grateful you agreed to be a part of our day. It wouldn't be the same without you. Jen's bridesmaids not only look beautiful, their elegance adds class to the event and they've been invaluable to Jen with their assistance and support. Thanks for multiplying our joy.
We want to thank the pastor, church, this beautiful facility, caterers, florist, photographer and musicians for exceeding our expectations. We know our photo album will remind us of the outstanding choices we made by enlisting your expertise.
Finally, to my beautiful wife. Even saying that word fills me with happiness. Why you ever chose a guy like me I will never know, but I will always be grateful for that lapse in judgement. I'm fully aware that I "married up" in the sense that you are so lovely, kind, intelligent and spiritually grounded. Honey, I will spend the rest of my life proving that you made the right decision. I love you.