Bridal Shower Quotes and Invitation Ideas
Weddings are a magical moment for any woman, so it's always a great idea to throw a bridal shower. Next to the wedding itself, a well-planned bridal shower is a significant event and a rite of passage for the bride. It's important to make the bridal shower a success. No matter what theme you chose for the bridal shower, it's always best to take the time to make it worthwhile and not a waste of the bride's time. Remember, an organized outline of the theme and a classy invitation with the right bridal shower sayings or wishes will prove to be a successful bridal shower.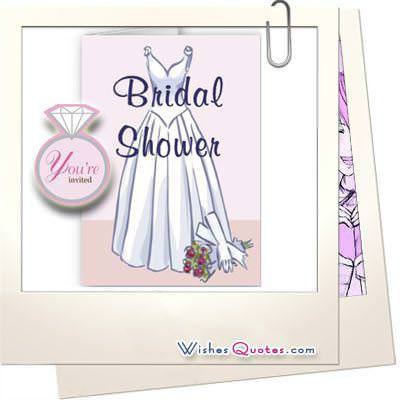 Whoever is hosting the bridal shower can create excitement and set the tone for the upcoming bridal shower.
A bridal shower invitation is the number one tool to create a sense of excitement and can make or break the success of the shower.
Always, be well prepared and organized. Keep the bridal shower invitations simple but make sure to get the point across. Simple is more when creating an invitation.
Don't forget the basic elements such as time, and place.
A nice quote will help you achieve the theme of the bridal shower. All quotes should be tasteful and classy.
Take the time to make the bridal shower an instance that will reflect memories of youth, with fun girl themes. This could be a tea party, or a talent show.
Here are a few quotes that can help create excitement from the invitation:
"There comes a time in every woman's life when the only thing that helps is a glass of Champagne" Bette Davis
"The best and most beautiful things in the world cannot be seen or even touched. They must be felt with the heart" Helen Keller
"The heart that loved is always young" Greek Proverb
"To love another person is to see the face of God." Les Miserables
"A successful marriage requires falling in love many times, always with the same person" Unknown
The capacity to love is tied to being able to be awake, to being able to move out of yourself and be with someone else in a manner that is not about your desire to possess them, but to be with them, to be in union and communion.– Bell Hooks
One of the best things about love is just recognizing a man's steps when he climbs the stairs.– Colette
Where there is great love, there are always miracles.– Willa Cather
It was just enough to sit there without words.– Louise Erdrich
When you love someone all your saved-up wishes start coming out.– Elizabeth Bowen
Love is everything it's cracked up to be. That's why people are so cynical about it. It really is worth fighting for, being brave for, risking everything for. And the trouble is, if you don't risk anything, you risk even more.– Erica Jong
Love has nothing to do with what you are expecting to get — only with what you are expecting to give — which is everything. — Katherine Hepburn
We are each other's harvest; we are each other's business; we are each other's magnitude and bond.– Gwendolyn Brooks
What greater thing is there for two human souls than to feel that they are joined…to strengthen each other…to be at one with each other in silent unspeakable memories.– George Eliot
Everyone admits that love is wonderful and necessary, yet no one agrees on just what it is.– Diane Ackerman
Anyone can be passionate, but it takes real lovers to be silly. — Rose Franken
In a great romance, each person plays a part the other really likes. — Elizabeth Ashley
Love is blind — marriage is the eye-opener. — Pauline Thomason
Love is the lifespring of our existence. The more love you give, the happier you feel and the more love you will have within you to give.– Susan L. Taylor
Never is true love blind, but rather brings an added light.– Phoebe Cary