Sample Thank You Notes and Messages for Baby Shower Gifts
Having a baby shower is a great way to receive plenty of gifts from members of your family, numerous friends and co-workers all while having fun and spending quality time together. It is important to thank each individual guest by sending personalized hand written thank you notes to your friends and loved ones who came with their wishes, blessings and gifts on the baby shower. Let your guests know that each gift is appreciated and how you plan to use the item or how you plan to teach your child how to use the gift. During a baby shower it is a good idea to have someone write down a list of all the guests that attend the baby shower along with what each person gave as a gift so afterwards the mom to be can write personalized thank you notes. It's great to have people who love you contribute to the new baby's necessities but never take it for granted and don't forget to let them know just how much you appreciate everything. Here are a few examples of ways to say thank you for all those cute baby shower gifts:
Thank you for attending our baby shower. We had a great time talking with you and hearing your advice on how important it is to start a savings account for our child. We graciously accept the check you gave us to begin that savings account. Thank you so much!
It was great to see you at our baby shower. Thank you for the wonderful gift certificate to the baby store. We plan to attend the department store this weekend for some baby shopping. Thanks again!
Thank you so much for attending my baby shower. We love all the soft stuffed animals you gave us. I really like the big brown soft teddy bear and I can't wait for the baby to snuggle with it. See you soon.
Thank you for coming to the baby shower and giving us all those adorable gifts. Our family is so fortunate to have such an amazing friend. I'm exciting to see the baby in the adorable princess onsie and the cute pink frill socks. Thanks for helping make my shower so special.
I just want to say we enjoyed spending time with you at our baby shower. We appreciate all the bath items and bath toys you provided for the baby. Im so excited to give the baby his first bath with all the fun items you gave him.
I'm happy you were able to come celebrate our baby shower. The diaper cake you made was beautiful and very thoughtful. I am so blessed to have such a great friend in my life. Thank you for your gorgeous gift.
Your gift card is such a wonderful and thoughtful present. There is so much we still need to get for the baby and this gift card is just the thing we needed to help us get those items. Thank you for your generosity it's greatly appreciated.
Thank you for the wonderful baby supplies and all the diapers you gave us. Your gifts will surely come in handy. Also, Thank you for the amazing gift basket for mommy and daddy which included gift certificates to a couples massage along with gift certificates for a night of dining. We truly appreciate everything you have done for us.
Thank you for the amazing quilted diaper bag you got for us. It has so many pockets and storage space to store all my baby items. This bag will help me to stay organized and be my lifesaver for the next year or so.
We are so grateful for the baby monitor you gave us. This is a gift that we will surely use every day. This has given us peace of mind when it comes to the safety of our child. Thanks again for such a generous gift!
Thank you for the baby monitor. Our baby will be safe, dad will be stress free and I will be relieved. Your gift will remain unique. Allow me to thank you for this.
Thank you for the wonderful toddler's shoes you showered me with. It was just a symbol of how smart my child will grow up. Again allow me to thank you.
Thank you for the gorgeous baby gifts. The baby will forever enjoy the stroller. Thank you for the generosity you showed.
Thank you for the cute booties. The baby will actually walk with long strides in life and feel comfort in the booties. Thank you so much.
Thank you for thousands of precious gifts. You really showered the celebration with baby gifts. Thanks so much.
Thank you so much for the baby toys you brought. I was already looking for those types. Thanks for the gift.
Thanks a lot for the nice baby caps. Our baby will forever feel warm in them. I really appreciate. Thank you so much.
Thanks for the gift certificate you delivered. My baby will grow to read it. It actually reminded me of my childhood days.
Thank you for the thoughtful baby gifts. It will make our lives easier. The blessings too will make our baby's life richer. Thank you again.
Your attendance was a real blessing. I feel happy for friends like you. Thank you for your gift.
Thank you for the toiletries you delivered. My baby will feel loved and cared for a lifetime. Thanks
Thank you for the present. My unborn baby can't wait to see what you brought. I will walk with the baby with memories. Thank you a lot.
Thank you for the baby diapers of all types you brought. Your baby shower gifts will remain a remembrance. What can I say if not to say thanks?
Thank you again for the wipes of all kinds you brought. You almost made our baby to jump out. Thank you very much.
All kind of toys you gave us are pretty. I can't imagine you brought what we have been thinking to buy. The baby will be happy for having the best aunt. Thank you.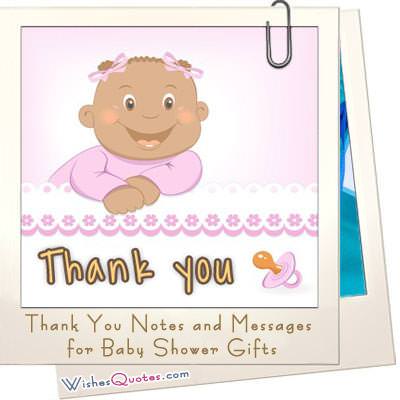 Thank you for the warm comfy blankets. They look pretty and beautiful. Our baby will be comfortable during cold nights. Thank you a lot for the wonderful gift.
Your wishes and inspiring prayer will make my child safe from the storms of life. The gift you brought is even amazing and was beyond my thoughts. Thank you!
My baby boy will love and enjoy playing with the gun toys you showered us with. You made me feel indebted for what you bought for us. Thank you again.
Thank you for the beddings. The baby cannot wait to lay his/her body on the beautiful beddings you showered us with. The baby is already kicking my tummy. Thank you a lot.
My unborn toddler will be smiling all through because of the gifts you showered us with. Even more smile will be to you than anybody else. Thank you again.
Thank you my friend. The gifts you showered us are the personification of how my baby will grow up.
Thank you for the flower you showered us with on my baby shower. I will keep the flower for the baby's birth day.
Your shower card gift will remain drawn in my heart. Thanks for showering me with all this.