Eid Mubarak Wishes, Happy Eid Messages
Eid is the prime holiday for Muslims. The Almighty Allah blessed them with two festive eid days every year. The first one that occurs is known as "Eid-Al-Fitr" which comes right after one month of fasting during the holy month of "Ramadan." The Eid ul Fitr falls on 1st of Shawwal, according to the Islamic calendar which is the lunar one. The next one is called "Eid-Al-Adha" which is known as the "Sacrifice Feast," and is the second of two biggest Islamic holidays celebrated each year universally. It falls on the 10th day of Zil Hajj, again according to the Islamic Calendar. Greeting a happy Eid day and saying Eid Mubarak to your closest and loved ones is not only satisfying but also echoes the importance of this day to you. As a result, we have gathered some of the most unique Eid Mubarak messages for you to help you find the best one that appeal to you, for your friends, family, girlfriend and boyfriend, and even for your husband or wife.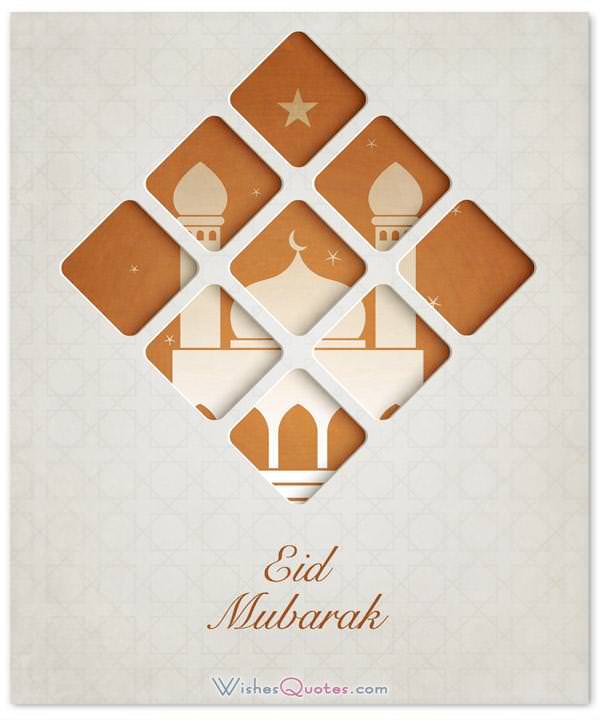 Happy Eid Mubarak Wishes Messages
May Allah accept your sacrifice and may He fulfill all of your aspirations and yearnings. May your life be blessed, may you find joy and contentment at today and at all times. Eid Mubarak!
Take a pause from living in constant worry, as this is Eid, and it's time to celebrate! You are welcome to be a part of this with us. Life is so infinitely delightful. Happy Eid Day!
Begin living at the moment and end distressing about tomorrow. Life is too short to waste in worrying. Simply relish each and every second of each and every day. Thinking about you on this Eid Day.
Eid Mubarak! Grab hold of the instant and be blissful. Because not much is required to create a happy life, it's all inside of yourself and your manner of thinking. Wishing you the all the best, right now and forever.
May this Eid brings you delights unrestrained, may all your desires get fulfilled on this holy day and may you and your family be blessed by the grace of Allah. Eid Mubarak!
Let this exceptional time of Eid decorate your life with the colors of heaven. I wish a magnificent Eid day to you and your family.
May this Eid be the commencement of another prosperous year in your life. Eid Mubarak to you and your beautiful family!
Don't care about your diet, care less about fat, eat more meat and gain some weight. Joyful Eid Al Adha Mubarak!
Delight in like a kid and be grateful to Allah for He has given all the Muslims such a lovely day. Eid Mubarak to you!
May this lovely time of eid offers you all the reasons to make your life even more perfect than it already is. Wishing you a joyful Eid day! Eid Mubarak!
Let this Eid be the time of distributing the love, and adoring the individuals who need to be loved and cared for. Eid Mubarak to all!
Eid Mubarak messages for Friends
Great food, great friends, and great laughs. I'm contented no matter what ensues or what alters along the way. Happy Eid Day!
One more Eid day is going to be shared with my best mate in life. Let's brand this day an unforgettable one. Eid Mubarak!
Every Eid is more pleasurable with support groups like you. I love you all and wishing the most exceptional Eid Mubarak to all of you!
Let this holy time of Eid be an extraordinary landmark for our friendship. Wishing you and your family an unforgettable Eid this year! Eid Mubarak.
The delights of Eid are unfinished without a pal like you to be with. You are the reason why my Eids are so exceptional. Eid Mubarak beloved friend!
Let's have fun on this holy event with the pleasure of spending one more remarkable year of friendship. Wishing you a beautiful Eid day!
On this extraordinary time let's take an undertaking that no matter what ensues, we will keep on being best friends of each other for the remaining of our life. Eid Mubarak.
I have faith that Almighty Allah put us in this jovial world to be cheerful and delight in our life. So he produced some festive occasions, and this Eid is truly a distinctive one. Have a very amazing Eid celebration!
Let's make merry on this joyous Eid time wearing the new outfit, consuming sweet dishes and lots of tasty food. Best wishes for an exceptional day, Eid Al Adha Mubarak!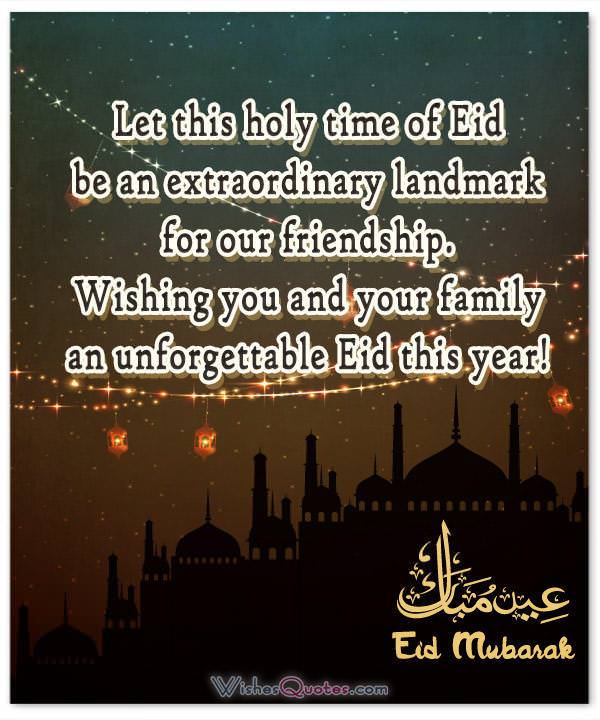 Eid Mubarak Messages for Family
As the holy day is impending, I feel like I can't wait any longer to be reunified with you people. Love you from the depth of my heart. Eid Mubarak to you all!
Dear mom and dad, I feel so fortunate to have parents like you to pass the day with. You have been the purpose why every Eid day appears like a day I spend in paradise. Eid Mubarak to you!
Wave a farewell to one more astounding year and be prepared to welcome the crescent moon, lovely new outfits and of course all the delightful food. Eid Mubarak to my adoring family! I love you all!
I'm sending the moon tonight to wish Eid Mubarak to my beautiful family. I hope it can reach to you before I make it back home. Advanced Eid Mubarak from me!
Even if I'm not with you on this eid day, I want you to know that my heart will always be with you to share all the delights and pleasure. Appreciate this Eid to the maximum. Love you all!
I am grateful to Allah for the reason that he blesses me with two delightful days in a year to be with the persons I love and care about the greatest in my life!
Don't disremember that every day you are living is a special event. Every second, every minute, every hour and even every breath that you take is a present from Allah. Be grateful to Him on this Eid day for everything he has blessed you with!
Eid Mubarak Messages for Husband/Wife
Every Eid spent with you is like a blessing from Allah. Thanks for being with me there at all times. Eid Mubarak to the being I love the most.
Your love makes my every day so exceptional. And when it comes to Eid, my liking intensifies as I have you to spend the day with and share the delights together.
Nothing feels more brilliant than spending a lovely day with a beautiful I love you. Eid Mubarak dear!
You are the purpose why my life is so colorful every day. Let me make this Eid such a lively one for you! Eid Mubarak my love!
Eid is not just a day to celebrate for me. It's a day that makes me feel appreciative to Allah for blessing my life with so many favors, including the one I'm wishing Eid Mubarak now!
With you, every Eid is more perfect than the previous year. Thanks for being with me all these years and making me feel thankful to Allah for you! Eid Mubarak!
Eid Mubarak Messages for Girlfriend/Boyfriend
Finding a flawless soulmate in this day and age is hard. I am too fortunate for that I have found a perfect soulmate and true love in the same individual. Eid Mubarak dear!
My life has become a romantic film since I met you. Let's release this loving movie on the Eid this year! Eid Mubarak dear!
Eid Mubarak to the most gorgeous person in my life! I love you more than you can envision and want to spend a thousand Eids with you!
Wishing my cherished dear an exceptional Eid day. Let's pray to Allah that he continuously keeps us together repeatedly like this.
Thanks to Allah that he brought us together to share the same journey. Now, let's share the same contentment and pleasure as the holy Eid is almost banging at our door! Eid Mubarak!
Let this Eid be the day that we promise never to let go each other and dedicate our lives to serve the holy purpose of mankind, forever and always!
Eid Mubarak Card Messages