200+ Inspirational Indian Proverbs and Quotes
Enjoy the finest collection of Indian proverbs and inspirational Indian quotes. Dive into the rich culture of the Indian philosophy, which contains endless wisdom stemming from the ordinary townsfolk. Below, you will find our collection of inspirational, wise, and humorous Indian quotes that reveal an apt understanding of human life and the hardship that revolves around it.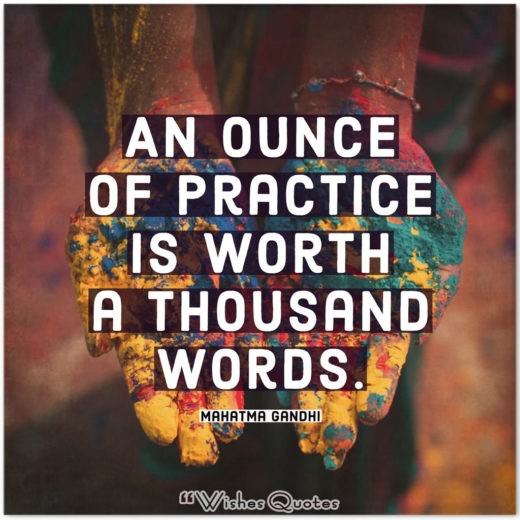 The Most Inspiring Indian Proverbs of All Time
An ounce of practice is worth a thousand words. – By Mahatma Gandhi
Every dog is a tiger in his own street.
There is nothing noble in being superior to some other man. The true nobility is in being superior to your previous self.
A guilty conscience is a hidden enemy.
What is now in the past was once in the future. – By Ramachandra Guha
Patience is the most beautiful prayer.
Pearls are of no value in a desert.
A tree starts with a seed.
Every one looking downwards becomes impressed with ideas of his own greatness, but looking upwards, he feels his own littleness.
A thief thinks everybody steals.
To the mediocre, mediocrity appears excellent.
Freedom is not worth having if it does not include the freedom to make mistakes. – By Mahatma Gandhi
Poverty makes thieves like love makes poets.
A house without children is a graveyard.
Don't judge any man until you have walked two moons in his moccasins.
Greatness is not the fruit of birth, but of effort.
The friendship of a right person is not easily interrupted, and if lost is soon regained: a golden bowl is not easily broken, but if broken is soon repaired.
Before his appointed time, a person cannot die though thrown into the very jaws of death; but when that time arrives, even a straw destroys him.
A person of excellent qualities is like a flower, which, whether found amongst weeds or worn on the head, still preserves its fragrance.
Why can't we control our anger? Because we love perfection. Make a little room for imperfection in our lives. – By Sri Sri Ravi Shankar
Only mad dogs and Englishmen go out in the noonday sun.
The tree casts its shade upon all, even the woodcutter.
I have lanced many boils, but none pained like my own.
A monkey that amuses me is better than a deer astray.
Don't bargain for fish, which are still in the water.
Whoever eats a pancake never counts the holes in it.
Never stand in front of a judge or behind a donkey.
Death is a camel that sleeps in everyone's house.
Dependence on another is a perpetual disappointment.
He, who has a true friend, has no need for a mirror.
If you live on the river, befriend the crocodile.
September blows soft till the fruit's in the loft.
Strolling, even the donkey will reach Lhasa.
An obvious mistake is better than an unknown truth.
Don't be serious, be sincere. – By Chetan Bhagat
The eyes do not see what the mind does not want.
The worst kind of poverty is to have many debts.
Yesterday is but a dream, tomorrow but a vision.
The Best Indian Proverbs and Sayings
Great anger is more destructive than the sword.
A book is like a garden carried in the pocket.
He that is bald-headed has no need for a comb.
A fly, a harlot, a beggar, a rat, and gusty wind; the village-boss and the tax collector – these seven are always annoying to others.
The sight of the eyes is not sighted, but he is blest with vision who possesses knowledge; the ignorant are the blind.
Let no human being be despised, for who can tell how soon even the lowest may be raised; and how the arrogant fall.
The doer must do only when the receiver is ready to receive it. Otherwise, the act is wasted. – By Khushwant Singh
Harsh words cannot pierce your body. If anybody speaks ill of you, just continue on unperturbed. – By Sai Baba
I measure the progress of a community by the degree of improvement which women have achieved. – By B. R. Ambedkar
Think about many things. Never place your happiness in one person's power. Be just to yourself. – By Vikram Seth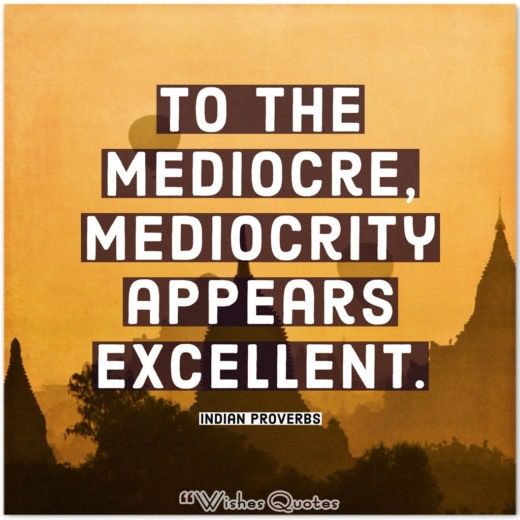 The more you see the good in them, the more you will establish well in yourself. – By Paramahansa Yogananda
He who delivers another from danger, and he who removes terror from the mind, is the greatest of friends.
The earth trembles while she sustains a person who seeks to injure a generous, faithful, and holy person.
Let the traveler fainting on his journey take rest under a tree which contains both fruit and shade.
The only people who see the whole picture are the ones who step out of the frame. – By Salman Rushdie
Yoga teaches us to cure what need not be endured and endure what cannot be cured. – By B.K.S. Iyengar
You may look up for inspiration or look down in desperation but do not look sideways for information.
A foolish ruler, a weak child, and a person mad after riches, desire that which can not be procured.
A man cannot be precisely the way he wants to be and also dream of keeping his wife. – By Manu Joseph
Devotion is that which generates knowledge; knowledge is that which fashions freedom. – By Tulsidas
Don't limit a child to your own learning, for he was born in another time. – By Rabindranath Tagore
People are not naturally either friends or enemies: friendship and enmity arise from circumstances.
Service that is rendered without joy helps neither the servant nor the served. – By Mahatma Gandhi
The hunger for love is much more difficult to remove than the hunger for bread. – By Mother Teresa
To control the mind is like trying to control a drunken monkey that has been bitten by a scorpion.
A coward is incapable of exhibiting love; it is the prerogative of the brave. – By Mahatma Gandhi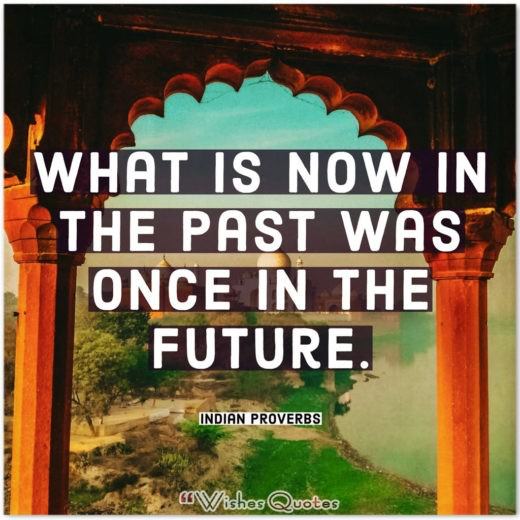 Remember, no one is stopping you from lighting a lamp on a dark night. – By Harivansh Rai Bacchan
He is a real teacher who not only instructs others but practices the same instructions himself.
To sing to the deaf, to talk with the dumb, and to dance for the blind are three foolish things.
Man needs his difficulties because they are necessary to enjoy success. – By A.P.J. Abdul Kalam
Comfort is no test of truth. Truth is often far from being comfortable. – By Swami Vivekananda
Having a soft heart in a cruel world is a sign of courage, not weakness. – By Baba Bulleh Shah
Live as if you were to die tomorrow. Learn as if you were to live forever. – By Mahatma Gandhi
The more you nourish the anxiety of the heart, quarrels, and disorders, the more they increase.
The only lies for which we are indeed punished are those we tell ourselves. – By V. S. Naipaul
Be so busy improving your self that you have no time to criticize others. – By Chetan Bhagat
By plucking her petals, you do not gather the beauty of the flower. – By Rabindranath Tagore
Do not blame God for having created the tiger, but thank him for not having given it wings.
No one is wise by birth, for wisdom results from one's own efforts. – By T. Krishnamacharya
That's what careless words do. They make people love you a little less. – By Arundhati Roy
Great minds discuss ideas, medium minds discuss events, and little minds discuss people.
Speak like a parrot; meditate like a swan; chew like a goat; and bathe like an elephant.
Depth of friendship does not depend on the length of acquaintance. – By Rabindranath Tagore
A hundred divine epochs would not suffice to describe all the marvels of the Himalaya.
Facts are facts and will not disappear on account of your likes. – By Jawaharlal Nehru
And when all the wars are over, a butterfly will still be beautiful. – By Ruskin Bond
I will not let anyone walk through my mind with their dirty feet. – By Mahatma Gandhi
What we possess is temporary, but what we become is permanent. – By Devdutt Pattanaik
Need is not transitive. One may need without oneself being needed. – By Amitav Ghosh
Famous Old Sayings and Quotes from India
Even a cat is a lion in her own lair.
When you are in the water, you swim.
A dog always bites under the knee.
Justice is better than admiration.
One and one sometimes make eleven.
Wisdom assists more than strength.
Any water in the desert will do.
Clouds that seldom thunder rain.
A significant desire is an endless poverty.
Regularity is the best medicine.
One finger can't lift a pebble.
One 'no' averts seventy evils.
Stolen sugar is the sweetest.
Faith keeps the world going.
To lend is to buy a quarrel.
The weakest go to the wall.
Anger ends in cruelty.
A person who misses a chance and the monkey who misses its branch can't be saved.
Under the mountains are silver and gold, But under the night sky, hunger and cold.
If you are up to your knees in pleasure, then you are up to your waist in grief.
Agriculture is best, an enterprise is acceptable, but avoid being on a fixed wage.
If they don't exchange a few words, father and son will never know one another.
If you are wealthy, be humble. Plants bend when they bear fruit. – By Sai Baba
The three great mysteries: air to a bird, water to a fish, mankind to himself.
Blaming your faults on your nature does not change the nature of your faults.
Better to have a diamond with a few small flaws than perfect rock.
Sit on the bank of a river and wait: Your enemy's corpse will soon float by.
Even an emperor is no match for a man with no wants. – By Maharishi Raman
When an elephant is in trouble, even a frog will kick him. — Hindu Proverb
It is better to be blind than to see things from only one point of view.
Evil will befall him who regards not the advice of a benevolent friend.
It's better to pick a fight with your in-laws than with your neighbors.
We can't change the direction of the wind, but we can adjust the sails.
Eat fire and your mouth burn; live on credit, and your pride will burn.
A mother is a school, preparing her is like preparing a good nation.
If you live in the river, you should make friends with the crocodile.
A bandicoot is lovely to his parents; a mule is pretty to its mate.
In a tree that you can't climb, there are always a thousand fruits.
I had no shoes and complained until I met a man who had no feet.
If we dig precious things from the land, we will invite disaster.
Something done at the wrong time should be regarded as not done.
They who give have all things; they who withhold have nothing.
Could fulfillment ever be felt as deeply as loss? – Kiran Desai
It is better to make a vow of silence than to utter falsehoods.
It is little use to dig a well after the house has caught fire.
Truth, contentment, patience, and mercy, belong to great minds.
Wherever you go becomes a part of you somehow. – By Anita Desai
Danger should be feared when distant, and braved when present.
Death, dreaded through life, is not perceived when he arrives.
They who give have all things; they who withhold have nothing.
You can often find in rivers what you cannot find in oceans.
You do not stumble over a mountain, but you do over a stone.
Better a hundred enemies outside the house than one inside.
Only two things matter in this world: a son and a daughter.
The sieve says to the needle; you have a hole in your head.
Drops join to make a stream; ears combine to create a crop.
Fate and self-help share equally in shaping our destiny.
If you want to know what a tiger is like, look at a cat.
Smiles that you broadcast will always come back to you.
Be first at the feast, and last at the fight.
Don't eat your bread on someone Else's table.
Follow the river, and you will get to the sea.
Happiness consists in the absence of anxiety.
It is a more excellent gift to give than to receive.
You can only lean against that which resists.
A friend advises in his interest, not yours.
He who does not climb, will not fall either.
The tongue is safe, even among thirty teeth.
An old patient is better than a new doctor.
Those who hunt deer sometimes raise tigers.
What was hard to bear is sweet to remember.
Believe what you see and not all you hear.
Learning is a treasure no thief can touch.
Where the needle goes, the thread follows.
A man without a woman is only half a man.
A problem is solved when it gets tougher.
Call on God, but row away from the rocks.
You can never enter the same river twice.
Consult the wise and do not disobey him.
The way to overcome the angry man is with gentleness, the evil man with goodness, the miser with generosity, and the liar with truth.
To keep your mind and nature cleansed of impurities, make a hut for your critics in your backyard and keep them close. – By Kabir
The accurate measure of spirituality is generosity, as it is indicative of detachment—even to your own ideas. – By Devdutt Pattanaik
An autobiography can distort, facts can be realigned. But fiction never lies. It reveals the writer totally. – By V. S. Naipaul
Life is not a continuum of pleasant choices, but of inevitable problems that call for strength, determination, and hard work.
Life is like a game of cards. The hand you are dealt is determinism; the way you play, it is free will. – By Jawaharlal Nehru
When you work, work as if everything depends on you. When you pray, pray as if everything depends on God. – By J.R.D. Tata
Like the body that is made up of different limbs and organs, all moral creatures must rely on each other to exist.
No one was ever lost on a straight road.
There is no evil without its advantages.
No strength within, no respect without.
Separation secures manifest friendship.
The nose didn't smell the rotting head.
The cruel are feared even by the wise.
Read More Proverbs and Quotes