Letter and Email Closing Examples (Business and Personal)
So, here you are, having written the best formal letter you could have possibly written, no matter what the reason. But a letter is only as good as its closing am I right? Well, finding the right words to close out a letter is not as easy as it sounds. It's a task that requires you to perfectly sum up everything you have said, without adding the slightest thing that could alter the meaning of the letter. Confusing, I know. But this is why we are here! We have already done most of the dirty work for you! We have provided you with templates on how a proper formal letter closing should be. Beware, that these should not by any means be used as they are. We are just trying to get your own creativity started since your letter should be closed in your own words. You should write something that comes from you, not something you saw on the internet. It's your letter after all! But, anyhow, here you have it, the best formal letter closings on the internet!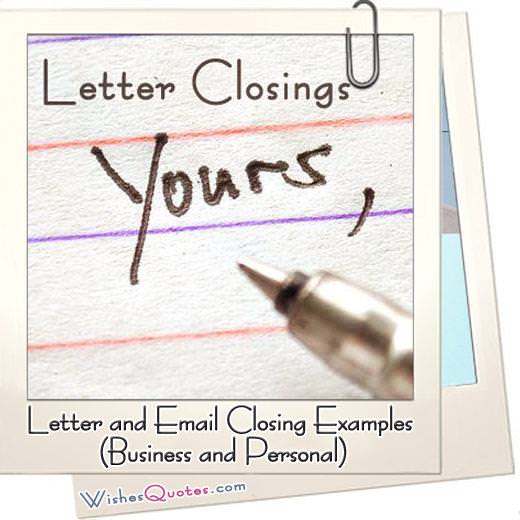 Closing Off with a Signature
First and foremost, one of the most common ways you close out a letter formally is by leaving your signature. So, if your letter is actually a hard copy, leaving some space under the end of the letter will be enough for your signature to fit.  Alongside your signature, you can write things like your name, address, phone number, and plenty of other things. Oh, and always remember to check for any spelling mistakes! For example:

Yours respectfully,
(signature)
[your Name]
[Your Title], [Name of the Company].
Yours sincerely,
(signature)
Jamie Wilson,
Sales Management, [Name of the Company].
jamie.wilson@bestmail.com
With Appreciation,
(signature)
Marie McMillan,
CEO, [Name of the Company]
555-7461
With Regards,
Billy Shire,
Customer Service, [Name of the Company],
BillyTheBilly@billymail.com
General Overlay
As you have probably noticed on your own, there are some distinct features shared by all aforementioned examples. First of all, it is distinctly separated by commas. So, right after your complimentary close, you should follow it up with a comma, write down your signature if the letter is a hard copy, and then, right after a coma, you follow it up with any additional personal information you might want to include.

What are complimentary closes and how should they be used:

Complimentary closes are the phrases you use to close out your letter, they are used right before your signature. They show your appreciation towards the person your letter is addressed to. So for example, phrases like "Yours truly,..", "Respectfully,.." and so on so forth, are commonly used to close off letters of both personal and formal origin. But a question that is most likely to arise, is which ones should be used to close off formal letters. Alongside the two mentioned above, things like "Sincerely,..", "With sincere appreciation,..", "Cordially,.." and "With Gratitude,…", among many others, are very decent options for you to close out your formal letter with.

What to avoid:

Since this is a formal letter, you should really try to avoid closings that are overly friendly. Things like "Later" and "Cheers" should not really be implemented in your formal letters, since they give off a friendly vibe, which is something you most definitely want to avoid.

Using Capital Letters:

This is more of an advice than a general rule, but you should always use a capital letter to start off your closing sentence.

Other Options for a Complimentary Closing:

Yours truly, Cordially, Best regards: These kind of closings are the most personal touch you can give your formal letter. They are quite formal but are actually considered appropriate once you have gained enough familiarity and knowledge about the person.

Best Wishes, with Appreciation:

These sorts of endings, even though they are quite personal, to an extent, can link the closure of the letter with the rest of the content. So, depending on the content, you might want to consider building them.

Thank you for your consideration/assistance/opinion, With deepest sympathy:

Going back on the part where the closure of our letter relates to the rest of the content, we can use a closure that directly corresponds with the content, but yet again, you have to know the content.

With Gratitude, Sincerely yours, Respectfully yours:

Now we are getting in the true essence of a formal letter. These are straight out formal letter closings and should be used when you do not have any sort of familiarity with the recipient whatsoever.
Business Letter Closing Examples
    Yours truly
    Most sincerely
    Respectfully
    Sincerely
    Thank you
    Thank you for your consideration
    Sincerely yours
    Regards
    Best
    Best regards
    Kind regards
Personal Letter Closing Examples
Looking for creative suggestions on how to end your letter? Choose among a large range of selection of the best Letter Closings and proper goodbyes you can find on.
Adios
All best always
All best wishes
Always in my thoughts
As always with affection
As ever
As usual
Be good
Be well
Best Regards
Best Wishes
Best wishes for your future,
Bye for now…
Cheerio
Cheers
Chill
Cordially
Cordially yours
Enjoy
Enthusiastically
Faithfully
Faithfully yours
Farewell for now…
Fond regards
Forever yours
God be with you
God bless
Godspeed
Good wishes always
Goodbye
Gotta boogie
Grace and peace
Have fun
Health & Happiness
Hope all is well
Hope to hear from ya soon
I hope to receive news from you shortly
I look forward to hearing from you shortly
I'll be thinking of you
In appreciation
In sympathy
Best desires for your future
Just to keep in touch with you
Keep smiling
Keep the faith
Kind regards
Kind thanks
Kind thoughts
Kind wishes
Later
Later alligator
Later Vader!
LET'S GO
Looking forward to seeing you again
Lots of love
Love
Many thanks
May I always live to serve you and your crown
May the Force be with you
Miss ya
More later
More shortly
Most sincerely
Onward and upward
Over & Out
Over and out
Peace
Peace & Love
Peace and Blessings
Peace be with you
Peace Love & Happiness
Peace out
Prayerfully
Regards
respectfully
Respectfully yours
Rock on
Season's blessings
See ya
Sincerely
Sincerely yours
Smell ya later
SMILE!
Smiles
Ta ta
Take care
Take good care
Take it easy
Talk to you later
Thank you
Thank you for your assistance in this matter
Thank you for your consideration
Thank you for your kindness and consideration
Thank you for your recommendation
Thank you for your time
Thank you for your time and consideration
thanks
Thinking the best for you
Till we meet again
Toodles
Truly
Until next time
Until we meet again
Very truly yours
Waiting for you
Warm regards
Warm wishes
Warmest greetings to all
Warmest Regards
Wishing you a safe journey
Wishing you all the best of everything
Wishing you the best
With all best wishes
With all good wishes
With appreciation
With confidence
With deepest sympathy
With gratitude
With kind affection
With kindest personal regards
With love
With sincere thanks
With sympathy
With warmth
Write Soon
Yearning for you
Your friend
You're in my prayers
You're in my thoughts
Yours
Yours always
Yours ever
Yours faithfully
Yours most sincerely
Yours regardless
Yours respectfully
Yours sincerely
Yours 'til the cat meows
Yours truly